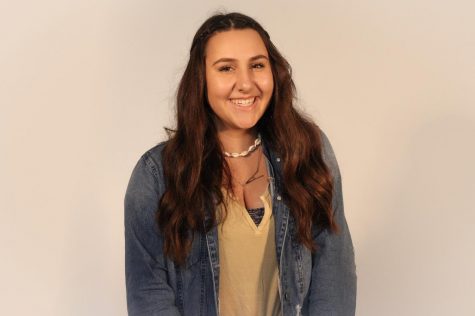 Visual senior Amanda Cohen is the graphics editor and a second-year staffer on
The Muse.
Outside of
The Muse
, Cohen is Co-Vice President of Senior Class Council and Co-Captain of the volleyball team. Cohen aspires to pursue a career in medicine but intends on creating personal art for enjoyment when she is older. As a visual major on
The Muse
, Cohen is looking forward to exploring communication arts from her peers and teachers. 
If you would like to contact this editor, you may reach them at
[email protected]
Amanda Cohen, Graphics Editor
Dec 05, 2019

STUDENTS AND THE STOCK MARKET

(Media)

Dec 05, 2019
Nov 22, 2019

11/11–11/17 NEWS BRIEF: SWIM SENIOR SEND-OFFS, MULTIPLICITY, OSPREY PARK CLEANUP, AND MORE

(Media)

Nov 21, 2019

THE DUST IS NOT SETTLED IN THE DEBATE ON SCHOOL CHOICE

(Media)

Nov 20, 2019

11/4–11/10 NEWS BRIEF: GIRLS SOCCER JAMBOREE, BAND CONCERT, CHS INDUCTION AND MORE

(Media)

Nov 09, 2019

'MORE CHOICES' IN THE ACT: STUDENTS REACT TO RECENT CHANGES

(Media)

Nov 09, 2019

TEACHERS GO ON LEAVE TO START A FAMILY

(Media)

Nov 08, 2019
Oct 17, 2019

THE CASE AGAINST VAM SCORES

(Media)

Oct 18, 2019

WHEN RECYCLING DOESN'T WORK

(Media)

Oct 14, 2019

NEWS BRIEF FOR 10/7-10/13

(Media)

Oct 11, 2019

IN HONOR OF OCTOBER

(Media)

Oct 06, 2019

THE CASE AGAINST CLASS RANK

(Media)

Oct 02, 2019

9/23–9/29 NEWS BRIEF: BLOOD DRIVE, VOTER REGISTRATION, FIRST BAND CONCERT, AND MORE

(Media)

Oct 01, 2019

BROADWAY ALUMNA CRISTA MOORE VISITS THEATRE DEPARTMENT FOR MASTER CLASSES

(Media)

Sep 29, 2019

APPLYING TO COLLEGE? HERE ARE THE SCHOOL RESOURCES AVAILABLE TO YOU

(Media)

Sep 18, 2019

DREYFOOS ANSWERS: WHAT IS ART?

(Media)

May 21, 2019

WE NEED TO ADDRESS LOCAL ANTI-SEMITISM BEFORE IT'S TOO LATE

(Media)