The room shook with noise as the theatre students worked on their warm-ups—arms flailing, voices bellowing, and feet pacing. But an awe-filled silence washed over the class when a Broadway star walked through the doors. Crista Moore, smiling at the students who leaned to the edges of their seats, came in sporting a binder, cardigan, and years of experience.
First on Ms. Moore's Tuesday afternoon agenda is teaching theatre students how to use their bodies while performing vocal-oriented pieces, as well as providing insight from her years on the national tour of this year's fall musical, "Crazy for You," which is set to open in Meyer Hall on Oct. 25. 
"[The] stakes always have to be really high," Ms. Moore said to students about performing musical pieces. "[You] always have to have a reason to be singing a song."
Ms. Moore led the students through a set of musical pieces with help from theatre teacher Andrew Gilbert on the piano. She offered students a safe place to improve by encouraging them to sing louder and understand their character's stories.
"She began to really get into our pieces and work alongside us, so we felt comfortable," theatre junior Isabella Schwartz said. "She made the environment really encouraging."
During the master class, Ms. Moore coached students on their vocal abilities and character embodiment. Students were given the opportunity to choose any song from a classic musical to perform. Her workshop also emphasized becoming familiar with the story they were telling.
"I learned that freeing my body is connected to freeing my voice," Schwartz said. "Now that I understand the role my physicality plays in my work, I can use this technique to prepare for performances, which will help me a lot."
Ms. Moore also encouraged the students to engage with each other's performances by raising their hands to provide input on the musical perspectives Moore offered.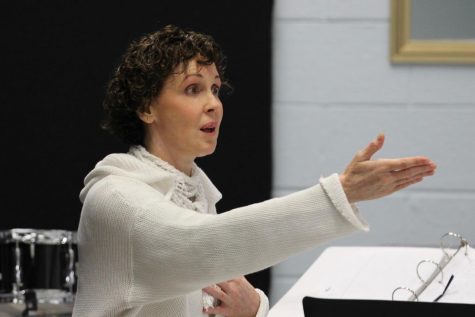 "Singing is physical," Ms. Moore said. "Dancers learn to use their body," and according to her, that is why many dancers have techniques to become improved singers, both common talents for those in musical theatre.
Ms. Moore pursued singing, dancing, and acting for much of her professional career. It scored her numerous Tony nominations and Broadway experience, as well as local recognition. 
"The reason why we knew about her is just because our community is kind of intimate," Mr. Gilbert said. "We know what professional actors are around."
With many of the students from the master class joining the cast of the fall musical "Crazy for You," Moore discussed her run on its national tour. Much of the conversation centered on the musical composition of the show.
"It's pretty fast-paced," Mr. Gilbert said. "It sounds like an old classic because the music is from the '40s, but the show was written and put together in the '90s."
Ms. Moore's touring experience has also aided in preparing theatre students for their own roles in the upcoming performances of the musical.
"She'll help those [actors] who are in the show explore those characters more deeply," Mr. Gilbert said. "I think what she's going to give us [is] the aesthetic and the style [of the show]."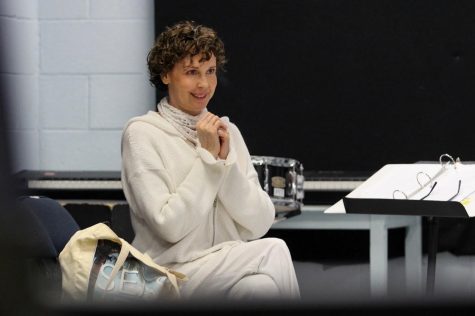 Additionally, Ms. Moore's master class emphasized the importance of studying musical theatre from previous centuries, especially the music.
"It did connect that they both have a classical style to them, so it gave me more of a skill set on how to interpret those kinds of songs," theatre junior Jaime Brustein said of "Crazy for You" and the compositions from the master class, both of which were composed in the 1960s.
As Moore stressed the importance of classical music, she also said, "That's where it's our job to personalize it". 
"I was pleasantly surprised," Brustein said. "She was very encouraging to everyone who worked and was more than passionate about helping each student better themselves, and she always had insight as to how to get to that."
Look out for Issue 1 of The Muse for more on this year's fall musical: "Crazy for You."