COPING THROUGH MUSIC
Students listen to music for a multitude of reasons;sometimes it's because they like the beat, the artist, or they simply just want to fill the silence surrounding them. While music has been around for generations, it is constantly evolving. Recently, the world of music has taken a turn, changing its focus to some of the most serious issues at large today. Ranging from topics like suicide and mental illness, artists have begun to create music that attempts to reach their fans on a deeper level.
Sia, a 41-year-old pop singer, has put out many songs centered around emotional support and well being. Her song "Elastic Heart" promotes strength and growing a thick skin. This an essential quality for teens when they are faced with emotional obstacles.
More artists have used their music as a tool to advocate for raising mental health awareness. Recently, XXXTentacion came out with a new album entitled, "17" on Aug. 25. This 22 minute track is centered around depression and hardships that the 19 year old rapper has faced. In the album Logic hopes to connect to his listeners by conveying that he understands the struggles of mental illness. The very first song on the album, "The Explanation," is what sets up the tracks as a healing aid for listeners across the world. It can almost be seen as a podcast rather than a song, because it discusses his intent to reach those with mental illnesses and depression. He speaks into the microphone instead of rapping, making his message more personalized and relatable.
"Here is my pain and thoughts put into words. I put my all into this, in the hopes that it will help cure or at least numb your depression," XXXTentacion said in "The Explanation."
The album continues this trend with songs like "Depression and Obsession," which seems to convey a similar idea, expressing his struggles with mental instability. When insecurities run high, music like this can be seen as an escape by any individual. It likely comforts many to know that other people, especially their favorite music artists, are sympathetic and understanding of their personal issues.
It doesn't end here; many more songs and albums have been released with the hope of mentally benefiting their listeners. In an age where rappers are extremely popular among today's youth, it is interesting to see the position many are taking on social issues among our society, and the way they are going about improving it. This can be a tool students are able to utilize when they are stressed and feel overwhelmed. Listening to calming music can help them cope with personal issues they encounter and could help improve the mental health of the youth in our society. Music may be what it takes to reach those who see no way out.
About the Writer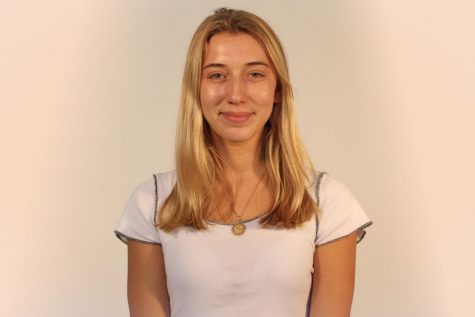 Rebecca Boss, Editor in Chief
Communications senior Rebecca Boss is an editor-in-chief of The Muse. She has loved writing and appreciated artistic creativity for as long as she can...