BAND CONCERT HONORS VETERANS
Hang on for a minute...we're trying to find some more stories you might like.
Silence reverberated throughout the auditorium as audience members recollected on the importance of celebrating U.S. veterans. As the first note broke the silence, commemoration towards veterans evolved into heartfelt appreciation. The second annual Veterans Day Band Concert was held on Nov. 7 in Meyer Hall. Being one of the most anticipated concerts of the year, the audience turnout reflected the concert's popularity.
"The preparation for this concert differed from others because we seemed to focus more on this performance than others," band junior Jason Doss said. "Usually when we have a performance, we're rehearsing other songs that don't end up being used in that specific concert. [For the Veterans Day Band Concert,] we stuck to what we were playing from the beginning. We even had a rehearsal after school on the day of the concert to perfect our repertoire, which ended up sacrificing some of our down time. But it was all worthwhile in the end."
Since band students held another concert only three weeks ago, performers underwent extensive preparation through after-school, lunch, and in-class rehearsals. All the pieces chosen to perform centered around patriotism, love, and commemoration for fallen soldiers.
"['Each Time You Tell Their Story'] is a narrative piece that uses music and poetry to tell the story of sacrifice," band director Evan Rogovin said. "The 15 measures incorporate a somber mood that shows the sacrifice and love that military veterans experience."
Separated into two segments, the first part of the concert featured the Symphonic Band, followed by the Wind Ensemble. The concert began with the Star Spangled Banner, as audience rose from their seats, many mouthing the lyrics of the patriotic piece.
"I hope that when the people in the audience heard us play, that they felt proud of our country and of the men and women who serve this nation," band junior Jessica Dennis said. "[Veterans] allow us to have these concerts to celebrate the troops and America."
Students also welcomed Guest Conductor Jamie Groves from Bak Middle School of the Arts, who conducted a collection of pieces from "The Wizard of Oz" with the Dreyfoos Symphonic Band.
"It was an interesting experience to work with Mrs. Groves because every band director has a different approach to teaching a band," Dennis said. "She was a really great teacher to work with for this concert."
Unlike the typical performance, "Each Time You Tell a Story," composed by Samuel R. Halo, and "Arlington," composed by Paul Martha, both featured spoken words by social studies dean Thomas West. As this is rarely done in concerts, the spoken words brought forth a sense of intimacy between the audience and performers.
"We pay tribute to American service men and women, and we carry the sheer weight of Memorial Day," Mr. West said during the performance. "We look at the courage, strength, and sacrifice for the [fallen soldiers] that lie at Arlington."
The last piece included a slide presentation of veterans who are related to students and staff. Audience members who were retired veterans were also told to stand, as students played the melodies of "Armed Forces Salute" composed by Bob Lowden. Leaving the concert, audience members felt a greater appreciation and understanding to the celebration of Veterans Day on Nov. 11.
"It was very important that we put on this concert because sometimes it seems that our troops don't get the respect they deserve," Doss said. "With all the political issues and diversity, we all seem to forget about our veterans. They are the reason we have all that we have, and to put on a concert in honor of them is probably the least we could do for them after all they do for us."

About the Writer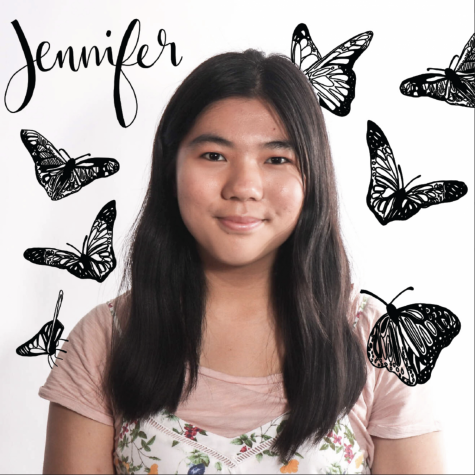 Jennifer Jia, Editor-in-Chief
Communications senior Jennifer Jia is a third-year staffer and the Editor-in-Chief of The Muse. She is also a member of the Speech and Debate Team, the social media manager of her local nature center, and a member of her school's honor societies. When she is not obsessively researching about college or attempting to study 12 hours straight for her AP classes, she enjoys writing, drawing, and taking nature hikes—yes, even in Florida's melting heat. Her goal as the Editor-in-Chief is to provide quality journalism that the newsmagazine's audience can enjoy, whether that would be articles, videos, social media posts, or layout designs. Undoubtedly, her time in the publication has given her a voice, a passion for journalism that she hopes to continue, and most importantly, The Muse family who she considers to have created lifelong friendships. While the publication can be stressful at times, she embraces a positive attitude and can thoroughly say that The Muse has been the highlight of her high school experience.
If you would like to contact this staffer, you may reach them at