Attendees peek into classrooms, grab cookies from volunteers, and find spots to sit and see students perform their respective speech and debate events for Speakeasy. Dispersed throughout classrooms, students could be heard from every hallway speaking about a variety of topics. From cross examinations in Public Forum debate discussing increased military in the arctic to speeches in Program Oral Interpretation on varying topics, like new laws restricting the youth.
Speakeasy is the Speech and Debate team's annual fundraiser, hosted this year on Oct. 19, where Speech and Debate members can showcase the events they participate in to their friends and family – something they aren't regularly able to do at the tournaments they compete in.
"It allows the students to show off their performance skills," said communications dean and Speech and Debate team sponsor Angela Anyzeski. "It also allows parents to see their own children perform, which, when we go to tournaments, even if the parents come to judge, they can't judge their own children, so they really don't get to see them in a tournament or competition setting."
Speech and Debate members can spend hours writing, memorizing speeches, and researching about their topics but are not able to show their work to friends, family, and teachers. Communications sophomore Hanna Masudi, who competes in Public Forum debate, said that Speakeasy was "a fun opportunity" for her to show her skills to her parents.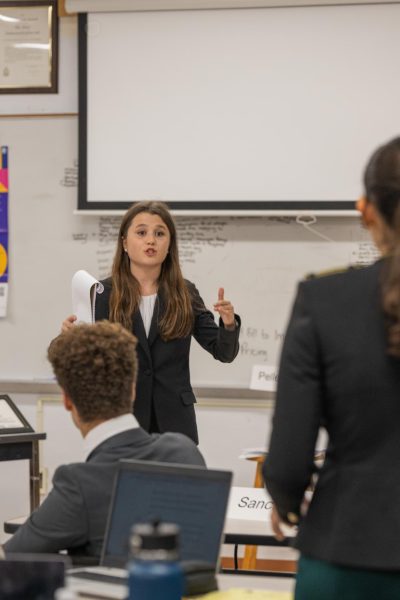 "I think (performing at Speakeasy was) really exhilarating," said Masudi. "You get that sort of fluttery stomach feeling, but once you start speaking, it's really exciting. My dad was there so it was nice to have him watch, and he gets to see my progress."
Tom Wayne, father of communications senior Capri Wayne, who is a captain for the Public Forum team, attended Speakeasy this year to see his daughter and the Speech and Debate team in action.
"I like to see them perform what they (are doing) every month," Tom Wayne said. "We don't actually see them when they do their competition, so (we) get an idea of what they do (at Speakeasy)."
Throughout the school year, students on the Speech and Debate team participate in tournaments held throughout the country. Speakeasy attempts to recreate the events in these tournaments for outside spectators to see, however, it also creates a more "relaxed" environment for the speakers.
"I get really nervous performing in front of other people," communications junior Anna Chavez said. "It's different performing in front of parents instead of a judge, especially at Speakeasy, because they're not critiquing you. You're not getting ranked, you're not getting put in a place, you're not getting given a trophy. It's just fun, and it's more casual."
Speakeasy allows friends and family the opportunity to see Speech and Debate events, while also allowing for the members to witness each other perform. Speech and Debate members are typically unable to see their peers in round even if they are in the same event, and (excluding Congressional Debate) are unable to debate against each other. Speakeasy allows for the members in other events to watch their peers' performances, and debate against one another.
"It's a lot of fun for us to get to see what our classmates are up to as well," Speech and Debate team president and communications senior Jasmine Mullings said. "Debate is a special kind of craziness. I think having the opportunity to see your friends actually do what they always talk about doing is really cool. And it also helps expose people to what debate actually is (and) what speech actually is, which might help increase their interest or just their appreciation."