Theatre students tore apart a bloody human hand.
During rehearsal, the rubber Halloween prop replaced a rag doll that actors will fight over in the new play, "We Make the Future." The play is the department's first devised production, meaning the actors wrote the script.
"The first step was coming up with a small concept," said Dr. Tabitha Chester, an artist in residence and director of the show.
"We were trying to figure out what we're going to do, what we want, and I was talking with [theatre dean] Michelle [Petrucci] and I was like, 'Hmm, the future.'"
Before typing on laptops and scribbling on notepads, students improvised scenes together and took the best moments from those performances to create a script.
"We're just trying to get a feel first and then we'll write it later," theatre sophomore Carsten Kjaerulff said. He had just improvised a scene in which a child refuses to take the garbage out.
Dystopian Comedy
The final script is a dystopian comedy about what the world might look like in 3021. Instead of having one central plotline, it is divided into vignettes that each describe the pitfalls of new technologies created by the evil Every Tech Corporation.
In one scene, dozens of side effects of a new robot — the "Everybot" — appear on a green screen behind the actors. These side effects include "that weird feeling you get when you hit your funny bone" and "radiation poisoning."
"It's an overwhelming[ly] bleak picture of the future but it's portrayed in a comedic light," theatre junior and scenic designer Sunaina Singh said. "It's like if Guy Montag [from Fahrenheit 451] was in a comedy sketch … And I definitely believe that the pandemic played a part in that bleak painting of the world."
The play incorporates student-written music, which appears in a cheerful but frightening commercial for the Everybot that theatre senior Rachel Robinson helped write. In the jingle,the Everybot is described as a robot that "sets your house on fire but makes your lawn look so serene."
"When I started at Dreyfoos I was struggling a lot with friends and feeling sort of alone," Robinson said. "Music was my creative outlet … I didn't know that they were going to want to actually use [one of my songs] in the show, but all of my friends and teachers were super supportive and everybody really ended up loving the song."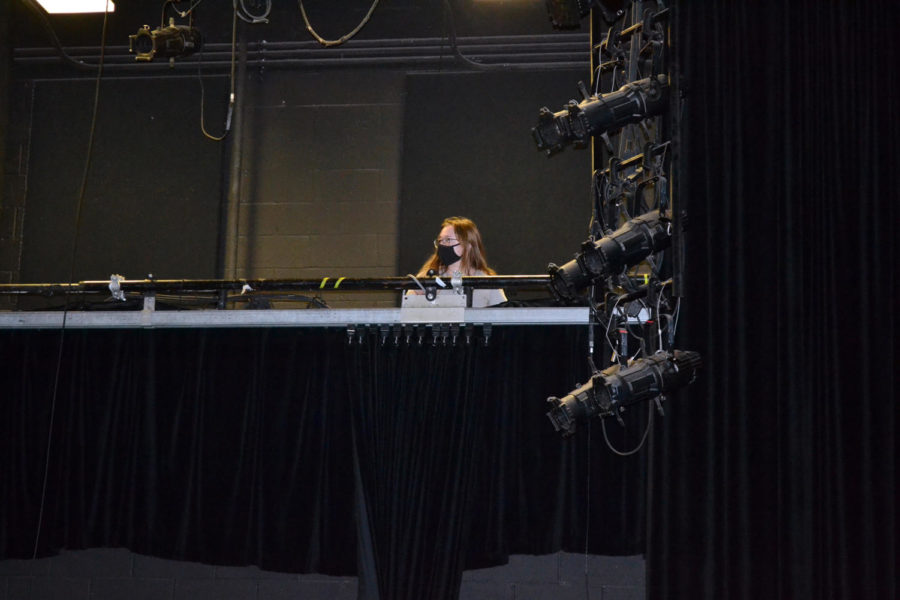 Scenic Design
Generally, Singh finishes designing the set before the show is even cast. However, without a script early in the production process, designs couldn't be solidified until two weeks before.
"I have to design the set before the script has even been created," Singh said. "I don't have a time period, other than the future, vaguely. I don't have any illusionary effects. I don't have motifs to rely on. I'm creating my own sort of playground."
Since the script is constantly changing, designs and props also have to be constantly created and discarded. For instance, only three weeks before the show, the two Periaktos — rotatable triangular prisms with painted backgrounds — were replaced with a green screen.
"It's this idea of a betrayal in a perfect image," Singh said as she described the set. "A very perfect line of cubes but the end of the line shows you a bunch of brushstrokes. A deep red brushed rust look with a gradient that feels sinister like you're in the inferno."

On an empty Black Box stage, a spotlight shines on theatre junior Schandè Saintil. Photo by Natalie Ryder.


Theatre teacher Kristina Leljedal records Saintil. Photo by Natalie Ryder.


Saintil performs in the first scene of the show. He optimistically introduces the future as a time when "our own culture will be revolutionized. Photo by Natalie Ryder.

Filming the Show
Instead of performing live, actors will be filmed. While this will allow for lighting and camera angle changes and music layering in post production, it can also create challenges for the actors.
"We're going to have to shift around the stage, keep actors in place and keep that moment, keep that energy and keep that tension between people floating in space as we move to a different spot," theatre junior and stage manager Trey Mazza said. "It's almost like a film, but we're trying our best to maintain what a live experience would feel like."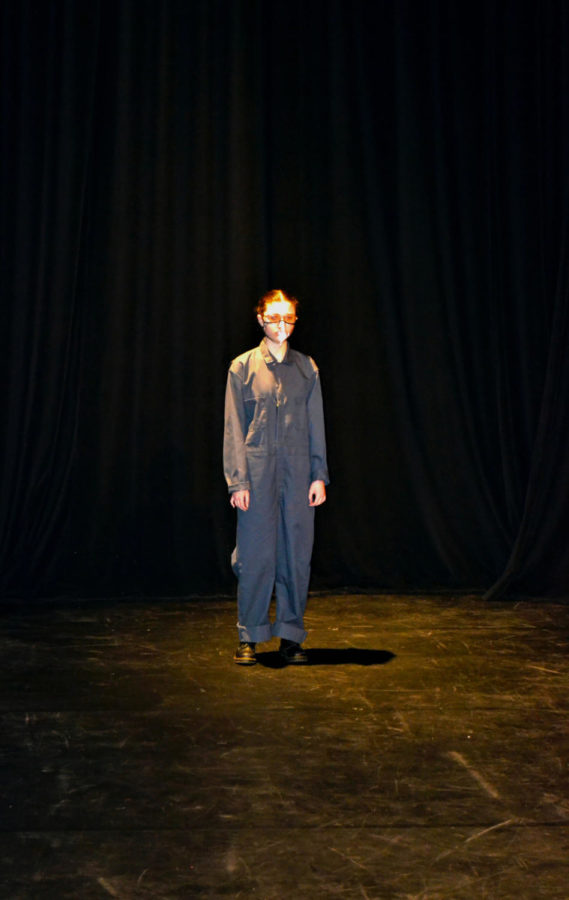 Seniors' Final Scene
Seniors created and performed the play's last scene.
A group of refugees, banished by the government for their creativity and artistic talent, are hiding out in the Brandt Black Box Theater — an ancient and abandoned site in 3021. A vintage theater spotlight flickers on the stage.
Scared, Robinson says, "I bet it's the same dude who followed us last week."
Under threat from government spies, the seniors have a choice — hide in a warehouse or separate and attempt to spread their art to the world. This departure from the theatre and separation from each other is a nod to graduation — their final curtain call.
"In this final scene we really want to show how we will carry art with us forever," theatre senior Miranda Sampaio said. "Using our creativity and artistry is a part of being a Dreyfoos student that will never go away, no matter what profession you go into. So it's not really a goodbye from art, but a goodbye from being with each other when doing that art."
The show will be broadcast over video at 7 p.m. on April 16th and 17th. Tickets are available at: http://www.seatyourself.biz/AWDSOA.