As the seats flooded with audience members, various jazz groups stood behind the curtains awaiting their performance, a culmination of weeks of preparation. The band department held the first Jazz Combos Concert of the year on Oct. 24 in the Brandt Black Box Theatre. Featuring improvisation and lively melodies, students took this opportunity as a chance to feature their talents to friends and family.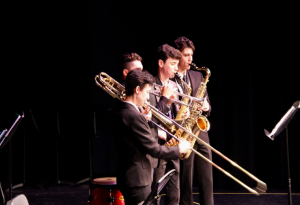 "Preparing for the Jazz Combos Concert is unique because you get to decide what you would like to play," band sophomore David Galli said. "[Band teacher and director Pedro Hernandez] gave us very useful information from setting up the sound systems to the art of improvisation. We use this information to construct a successful program every concert."
In preparation for the concert, students met with their jazz groups and selected their song arrangements. Students then worked cohesively to intertwine the original song score and their own interpretation of the music with their pieces in mind. This resulted in every performance being unique to the audience, as students accentuated improvisation.
"[The process of preparation] began with making arrangements of the songs, and rehearsing them a few times," band sophomore Jonah Sutinen said. "My personal favorite song was 'Seven Steps to Heaven' because I feel like I did best on that song."
"Seven Steps to Heaven" was the final song of the night that was performed by the Red Eye jazz group. Because it was the last arrangement of the concert, students strived to deliver a well-rounded performance to end the night on a good note.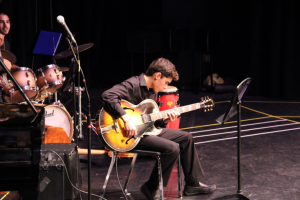 "'Seven Steps to Heaven' is definitely a great tune to end the show," Galli said. "It is an exciting Miles Davis arrangement with a quick and intriguing melody."
While many students enjoyed playing music curated by composers, others also took the initiative to compose their own song arrangements inspired by well-known artists. This unique opportunity allowed students to feature their own music, as opposed to playing the works of others.
"[Playing] 'Chinoiserie' was definitely my favorite song since it was an arrangement that I wrote of an old Ellington tune," band
junior Leo Markel said. "That's what I love about jazz, it's always open to interpretation, and nothing is ever played the same exact way twice."
The Jazz Combos Concert is one of the few concerts held every year in which student improvisation and interpretation is prioritized, rather than playing solely off of sheet music. In turn, audience members heard different elements of the music including rhythm, tone, and delivery.
"[When we play,] I just want the audience to feel connected," band junior Leo Markel said. "There's a difference between playing correct notes and actually making music. I feel it is so important to communicate that to the audience by the way we play."