"Sing Street" Review
The drama of "Sing Street," a musical film, left audiences laughing, crying, and humming the songs for days. The film is set in 1980s Ireland and follows a Dublin teenager who forms a rock 'n' roll band as he tries to escape his strained family life and win the heart of an aspiring model.
Ferdia Walsh-Peelo made his debut as Connor, the protagonist. Connor portrays a boy whose parents' marriage is crumbling and he is being transferred to an all-boys Catholic school. To try and escape his uneasy home life and bullies, he forms a rock band called Sing Street. Additionally, he is trying to impress Raphina, played by Lucy Boynton, a girl living in the group home across from his new school. Connor's brother Brendan, played by Jack Reynor, forms a closer relationship with his younger brother by showing him the ins and outs of music, giving him a musical education, and a few life lessons as well.
Although the plot line may seem simple, there is a beauty to it. While watching the film, I noticed there were so many deeper levels to the characters and their backgrounds. Each character had their own  subplot such as Raphina, an aspiring model, who seems like a plain character, yet deals with abusive boyfriends, broken dreams, and the death of her father as a 16-year-old trying to make a living. Director John Carney continues on his track of success by showing people how they can grow, heal, and connect through music. Viewers will rediscover their love for classic '80s music.
"Sing Street" exceeded my expectations and I was amazed. I fell in love with Carney's other films such as "Once" and "Begin Again," so I knew that the film would be great from the beginning. ach Duran Duran and A-ha songs that filled the scene transitions kept me captivated from start to finish. I couldn't help but dance in my seat during original songs including "Drive it Like You Stole It" and "The Riddle of the Model." The moment the movie ended I had to check and make sure that the soundtrack was available on Spotify, and I was overjoyed to discover that it was. I left the movie with a huge smile on my face, and I can honestly say that I listen to the soundtrack everyday. I would definitely recommend everyone see "Sing Street" and have a blast to the past that is filled with romance, drama, comedy, and '80s hits.
About the Writer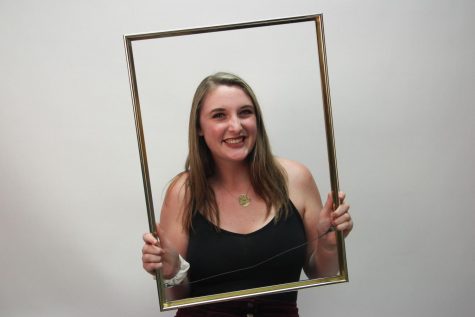 Carly Schwamm, Assistant Managing Editor
Communications senior Carly Schwamm is an Assistant Managing Editor for The Muse, and she enjoys working on stories and spreads. She can always be found...