Artist Spotlight: Zachary Rapaport
In art, there are no rules, no hierarchy, no order. There's no moral implications, no right and wrong. Therefore, art embodies spontaneity, personal expression, and freedom of the soul. Some would argue that math is the exact opposite; the very concept of mathematics preaches uniformity and methodical thinking in order to derive a "right" answer. Yet, visual alumni Zachary Rapaport seeks to defy these laws of nature: combining engineering and art to create unique pieces that impact not only the global art community, but society itself.
"Art and mathematics both 'solve' for me, both require crossing pathways," Rapaport said. "As an artist, my inspiration encompasses the dimensions of encircled space, and the interactions that occur within that space; as an engineer, I find a paradoxical liberation within the confines of a mathematical problem. Essentially, through engineering I can impact society, but I also know my artistic impulses will allow me to amplify that impact to its greatest potential."
Rapaport has been an artist for as long as he can remember. However, when he attended sixth grade at Bak Middle School of the Arts, his outlook on art gradually morphed into something more conceptual and analytic. He began to focus on centripetal movement and the perception of time, utilizing unwanted everyday items items to help convey his abstract ideas.
"Through my artwork I abstractly represent cycles, movement, and continuity," Rapaport said. "I recycle parts of unwanted, common objects such as splintered chairs and broken printers. Circles are used to represent cycles of continuity and endlessness. Therefore, my work makes endless use of the shape."
His unique take on art quickly garnered public attention, leading to a plethora of great opportunities for the aspiring artist. In March, Rapaport had his own exhibition at Mandel JCC Gallery in Palm Beach Gardens called "Ultimate Creativity." Spectators from all over Palm Beach County witnessed Rapaport's unique collection of artwork, which included 3-D paintings of marine creatures, photography from the Galápagos Islands, and an enormous sculpture made of 7,800 white pipe cleaners wrapped around over 200 feet of wire.
 In addition, Rapaport has been recognized by the National YoungArts foundation as a Presidential Scholar of the visual arts–an honor extended to only 60 students in the United States. Rapaport largely credits his success to the Dreyfoos visual arts department, as teachers including visual dean Lacey Van Reeth nurtured his creativity and provided a safe space for him to grow as both an artist and an individual.
"Being named a 2016 Presidential Scholar was a tremendous honor," Rapaport said. "The work and dedication of my family, educators, and friends is what allowed me to propel into that position. Keeping an open mind has exposed me to opportunities that have shaped the way I lead my life. I owe so much to those who have helped me  achieve my goals and show me what is possible."
 Rapaport is known for creating various "drawing machines," which are essentially kinetic devices that feature an arm revolving around a central point to create residual drawings on two-dimensional surfaces.
"The performances of me using my drawing machines imitate the revolutions of how cycles are ongoing," Rapaport said. "Movement is essential in all my work because a cycle relies on movement to continue."
All of Rapaport's pieces are designed to encourage interaction, to perplex and even confuse viewers in order to make them ask questions about themselves and society. Furthermore, he records people's experiences with his artwork–and uses those findings to help him create new works.
"My artwork is public and expressive, because it's a reflection of my desire to impact society, offering a creative viewpoint to unanswered questions about the world in which we live," Rapaport said. "I want viewers to walk around, under, or inside of a piece to experience the entirety of it. Developing a viewer-artwork relationship is very important to me."
Rapaport will be attending college at Carnegie Mellon University in the fall, where he plans to major in engineering and continue to develop his unique artistic style.
"Art functions to create order in my life," Rapaport said. "When I begin a piece I also begin a process of evolution during which I learn about the environment and myself. As I move forward into my life, I know that being an artist will allow me to solve problems and find creative solutions that enhance both my life and the lives of others."
About the Writer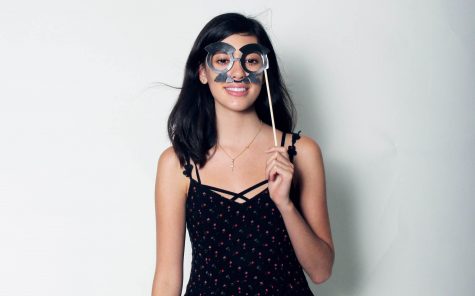 Ashley Brundage, Arts Editor
Communications junior Ashley Brundage is the Arts Editor and a second-year staffer on The Muse, and it's been one of the greatest experiences of her...