ARTIST SPOTLIGHT: GIANCARLO LLERENA
As the last note of "Beethoven Piano Concerto No. 2" echoed throughout the halls of the Steinway Piano Gallery in Miami, piano junior Giancarlo Llerena secured his place as the soloist in the Greater Miami Youth Symphony's Holiday Gala Concert.
To earn his spot, Llerena competed in the symphony's Piano Concerto Competition in October, which was open to all middle and high school pianists, ages 12 to 18. The competition was sponsored by the Greater Miami Youth Symphony (GMYS), a non-profit organization that aims to serve as a complementary facet to in-school orchestra instruction.
"I was hoping for good results and comments—that's what I usually get—but I never place first for many things," Llerena said. "That was a pretty big accomplishment for myself and I was excited for that."
Preceding the performance, students applied online with four-minute videos of themselves performing a piano concerto movement. After the preliminary rounds, eight students were chosen for a live audition with the concerto competition committee. Winners will appear with the GMYS Symphony Orchestra during the Holiday Gala Concert on Dec. 9 at Florida International University's Wertheim Performing Arts Center. Along with the performance opportunity, winners also received a $250 scholarship.
"It's everyone's dream to perform in the orchestra when you're a soloist," Llerena said. "I want to see a picture of me in front of the orchestra. I've just been dreaming about that for a very long time."
Before Llerena auditioned for the GMYS competition, he attended the Boston University Tanglewood Institute (BUTI) piano program over the summer. The institute is a pre-college program sponsored by Boston University and the Tanglewood Music Center that provides opportunities for musically-inclined students to foster their skill sets. Llerena credits BUTI for his success in performing his concerto audition piece.
"[Tanglewood] is a prestigious music institute, and they really helped me," Llerena said. "They have a festival with well-known artists like Yo-Yo Ma, John Williams, and some other wonderful people. It's an amazing atmosphere, everyone is driven the same way. It's very inspiring."
Through participation in programs such as the GMYS competition and the BUTI summer institute, Llerena gained experiences that will transcend into his future musical ventures. His advice to students wishing to compete and audition in the world of classical music is to believe in their own abilities and talents no matter what.
"Just be optimistic and don't compare yourself to anyone else," Llerena said. "Other people's progress has nothing to do with your own, so as long as you put your mind to something and work hard for it, you can achieve anything. At the end of the day, just be proud of how far you have come and how much potential for success lies ahead of you."
About the Writer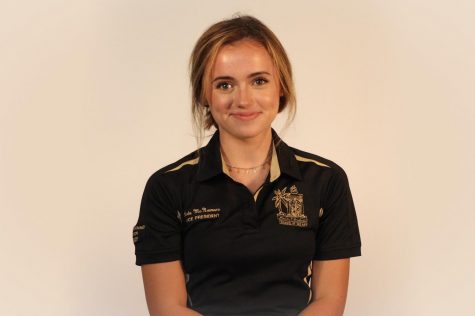 Kate McNamara, Editor in Chief
Communications senior Kate McNamara is a third-year staffer and one of the editors-in-chief of The Muse. McNamara is also one of the vice presidents of...