A TREK THROUGH MICHAEL LAURITO'S SKETCHBOOK
Visual junior Michael Laurito is a walking museum, sporting his own custom-painted shirts, memorizing facts about his favorite artists, predicting the future art capital of the world, and brainstorming his next project—all while simultaneously jotting it down in his sketchbook. 
 "I approach [a] sketchbook as a place to put down my thoughts at that moment," Laurito said. "If you approach it as something more than a sketchbook, then you are limiting what you are able and allowed to do. I want people to look through it and feel me."
Laurito works across many mediums, including drawing, painting, and printmaking. He also runs an art account on Instagram, where he posts his favorite pieces. Although a lot of his pieces are online, there are many more behind the scenes.
"I remember drawing, and I have all of these old sketchbooks from when I was 2 […] and onward," Laurito said. "I can't get rid of stuff, so I have all of these sketches that I like to look back on." 
Though he started drawing for fun, Laurito has also done commissions upon entering the professional realm. The more he immerses himself in the art world, the more he searches for inspiration. 
"You look at [past artists' works] and you're like, 'This is revolutionary,'" Laurito said. "'Water Lilies' by Monet: You walk in and you start crying; the Sistine Chapel: You walk in and you start crying. And if you are open to it, everything you've ever seen is your favorite piece, because everything you've ever seen is going to influence how you view the world." 
Over time, Laurito has collected bits and pieces of professional artists' techniques to create his own style.
"I draw these men, but they have the heads of birds," Laurito said. "They can be super realistic, or they can be like the cave paintings of these other humans. But, they all have something religious about them. When I look at them, they are holy."
His artistic choices also garner the attention of his fellow artists. 
"He's very consistent," visual senior Abby Van Roekel said. "I think that's a really good thing. His style is pretty much there, so his artwork is easily recognizable."
 Laurito's distinctive aesthetic has left an impact on what his peers in art class decide to create.
"Normally, I'll just draw a pretty lady," Van Roekel said. "But then, with [Laurito], I'll draw [a] lady with a chameleon mask or something."
Laurito tries to generate similar challenges for himself, and they all begin in his sketchbook.
"I know that I'm not a good artist," Laurito said with a smile. "There's so much that I can improve upon. If I continue to try to be the best I could possibly be, I will sooner or later get better."
           Having taught Laurito for three years, visual Artist in Residence Margaret Jahn has seen his efforts manifest into pages of sketches and finished art pieces alike.
"Michael is one of those kids who [you] give an assignment, and he'll take it and run with it," Ms. Jahn said. "He puts so much time and effort into the sketchbook. Every page could be a finished piece because he's so dedicated to working on it."
When Laurito graduates, he vows to continue to follow his passion.
"Whatever I work on is going to become art," Laurito said. "Maybe it's going to be fabric design, maybe it's going to be printmaking, maybe I'm going to sell my work at fairs and festivals, but I will be doing art. That is a promise."
To see a full tour of Laurito's sketchbook, check out the video below.
Your donation will support the student journalists of Dreyfoos School of the Arts. Your contribution will allow us to purchase equipment and cover our annual website hosting costs.
About the Writer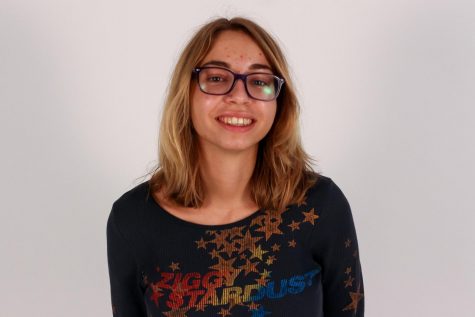 Kaja Andric, Content Team Editor
Kaja Andric is a third-year staffer and Content Team Editor on The Muse. If Andric isn't writing about Florida, planning her great escape from Florida,...