MONDAY: MUSIC GENRE DAY
Freshmen: Country 
Ripped jeans or jean shorts, boots, and a flannel all coalesce into the classic cowboy or cowgirl look. As for accessories, bandanas and cowboy hats easily complement the southern style. Girls can curl their hair and put it in a ponytail or pigtails, while boys can leave their hair to fall downward and scruffy.

Sophomores: Techno Pop
For this genre, neon clothing and bright colors are essential. Students often wear silver trash bag shorts with neon fishnet tops and bright tank tops underneath. As for boys, brightly colored shirts, shorts, and bright socks are great options. Glitter can be added onto your face to make the overall look pop! Space buns are also a trendy hairstyle for this genre, and you can even spice things up with some hair glitter.

Juniors: Indie 
Floral clothing is a common aspect of the indie music genre. Patterned dresses or knit shirts with jeans are perfect for the style. Vintage sunglasses, jean jackets, beanies, and wide-brim hats easily spruce up the bohemian-style outfits. Soft eyeshadows and light pink blush are perfect accents to the indie look.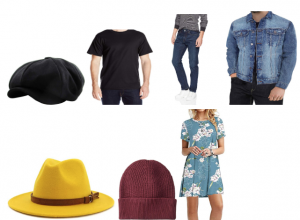 Seniors: Early 2000s 
The early 2000s mainly entails low-rise jeans, yoga pants, and capri pants. Different shades of dark blue pants and baby pink tops were very common in this time frame, and some seniors wear full tracksuits in these colors. Tube tops and trench coats, along with headbands, created an overall funky look that matched the 2000s music genre.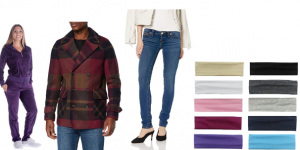 TUESDAY: HOLIDAY DAY
Freshmen: Fourth of July
American flag print is a big part of this style. Whether it be leggings, shorts, or a t-shirt, there is an abundance of red, white, and blue print available for this holiday theme. Bandanas, Fourth of July face stickers, and beaded necklaces can be found on Amazon.
There are various videos available online, like this one, that give a step-by-step tutorial on how to complete an easy and fun eyeshadow look for this holiday.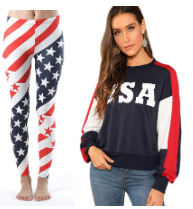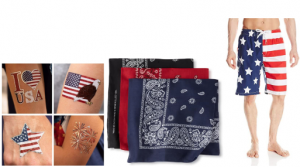 Sophomores: St. Patrick's Day
Green clothing and shamrock print popularly complement this holiday. Green beaded necklaces and green glitter can be used as extra accessories. Facial stickers of pots of gold and rainbows can also be found on Amazon, and stickers and green beaded necklaces are available at Claire's. As for makeup, tutorials on YouTube, such as this one, give special step-by-step instructions on how to prepare for St. Patrick's Day with a green glitter eyeshadow look.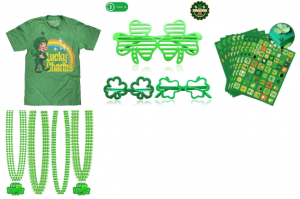 Juniors: Valentine's Day
Heart-adorned clothing and leggings are perfect for Valentine's Day. Pink and red clothing paired with heart-shaped sunglasses are an appropriate combination for the holiday, along with pink and red body glitter.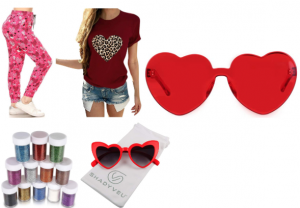 Seniors: New Year's Eve 
Gold and black are popular colors for this holiday theme. Black jeans or leggings with a sparkly top are fitting, along with "Happy New Year" headbands, black and gold beaded necklaces, and plastic 2020 glasses. Dark, sparkly eyeshadow and lipgloss colors such as navy blue and red can easily complete this look.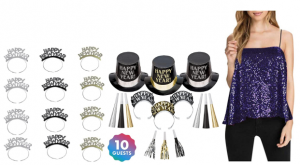 WEDNESDAY: GENERATION DAY 
Freshmen: 1950s 
For the '50s, freshmen can wear leather jackets, jeans, and bandanas. Girls can also add on red lipstick and vintage pink and black glasses to complete the look. YouTube tutorials, such as this one, give historically accurate instructions on how to dress and do makeup for this era. Girls can curl their hair or tease it with hairspray, and boys can gel their hair to the side and wear leather jackets. 
Sophomores: 1960s
Girls can wear dresses and skirts with simple patterns, such as polka dots, and boys can wear button-up shirts and slick their hair back or part it to the side. Bows and hair pins are also good accessories. Sandals, such as Jack Rogers, also complete this style.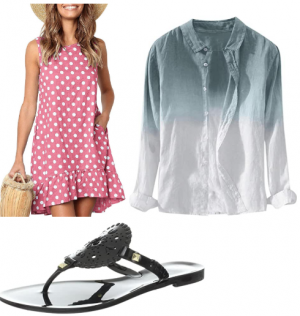 Juniors: 1970s
For this hippie theme, juniors can wear flowy pants with bright patterns, as well as tight tops with loose sleeves. Vintage crochet patterns were very popular during this time, and vests and sunglasses can also be added. Unique, colorful belts found on Amazon can be worn with bell-bottom jeans.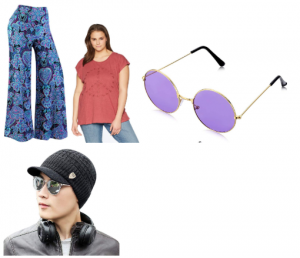 Seniors: 1980s
One of the most popular traditions on campus is the "jazzercise" '80s, where students wear bright, neon vintage exercise clothing. Scrunchies are a popular addition to top off this look, along with fanny packs and leg warmers, which can both be found at FiveBelow and Claire's. For boys, jean jackets can be worn with tight, neon biker shorts. Overalls are also another addition to this style that can be paired with big, loose graphic t-shirts. 

THURSDAY: CLASS CLIQUE DAY 
Freshmen: Nerds
For girls, plaid skirts and long sleeves with glasses are suitable for this genre. Boys can wear crew neck sweaters and khakis. Girls can tie their hair back into a bun or ponytail, while boys can gel it to the side. Suspenders and bow ties are quirky accessories that fit the nerd stereotype.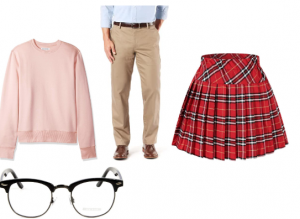 Sophomores: Preps
Khaki skirts and shorts are a common aesthetic of this theme. Vineyard Vines sweaters, pearl necklaces and earrings, and thick headbands properly exhibit the preppy look. You can also opt to dress as the stereotypical frat boy, with a sweater tied around your neck and a button-down shirt. Sunglasses and backward hats are also trendy accessories for this outfit.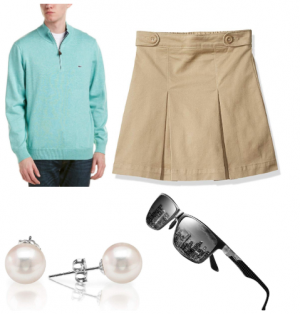 Juniors: Jocks and Cheerleaders
Jock outfits consist of jerseys and athletic shorts with black paint strokes across the cheeks. Also worn for this genre are letterman jackets. Cheerleaders can wear skirts and cheerleader tops along with pom-poms to accessorize. A possible hairstyle for cheerleaders would be a high ponytail tied up with scrunchies or oversized bows. As for jocks, hair can be parted to the side or left scruffy and messy.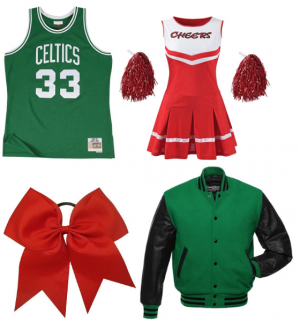 Seniors: Goth
For this genre, seniors should wear dark clothing and dark makeup. Biker tops and black jeans are a good idea, along with black lipstick and eyeshadow. Here is a youtube makeup tutorial for beginners on how to do goth makeup easily at home.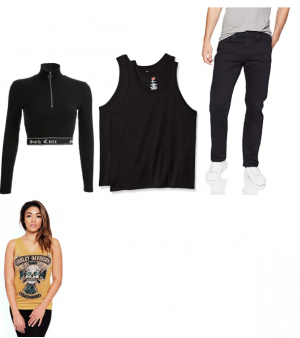 FRIDAY: Spirit Day
Freshmen: Monsters, Inc.
An oversized blue and green t-shirt with the main characters of the movie, Sully and Mike Wazowski, is an easy costume idea for this day. Boo is another character who can be imitated by wearing an oversized pink t-shirt and purple leggings, along with two pigtails. 
Sophomores: Shrek
Students can wear Shrek socks, available on Amazon, and purchase green hairspray to add to the color and school spirit. Ogre hats and all-green clothing are essential to this style. 
Juniors: Firefighters
Juniors can wear plastic firefighter hats, available on Amazon or at stores like Party City; red makeup, including lipgloss and eyeshadow; and belts with jean shorts or pants. As for tops, firefighter vests can also be found on Amazon.  
Seniors: Space
Silver clothing and trash bag shorts are trendy clothing articles for the space theme. Glitter can be worn as an accessory, along with space glasses. Space buns also correlate with this genre, along with hair glitter. 
With the annual spirit week, students arrange and plan out the week based on their outfits to showcase their best school spirit. With many ideas and decisions, use this guide to put together your spirit week best!
Photos courtesy of Amazon, linked respectively