A FRESHMAN'S GUIDE TO SPIRIT WEEK
As a former freshman class president, there aren't many students that know the joys and the disappointments of Spirit Week on the same level that I do. Although the week is full of excitement, for some, it is one of the most stressful times of the year. Class councils and Student Government Association (SGA) work countless hours to prepare to please the student body. It's a lot harder than it sounds. This being said, there are mistakes to be made. As a freshman, chances are that nobody tells you how to do Spirit Week; this was certainly true in my case. Our class council had some major challenges while facing extreme pressure from the class, so we made some mistakes that I'm hoping you can learn from. Here is some advice for the easiest ways to do Spirit Week from someone who knows it best:
Work together

If there is a time for a class to be united, it's Spirit Week. If you want to be competitive in the activities, you need to be able to work as a team. Cheering each other on is an important aspect of showing school spirit, so getting along is key. Oftentimes, students tend to find little things to argue about which can sometimes show during Spirit Week and be hurtful to the cohesiveness of a class. For just five days, at the very least, try to be kind and supportive of each other for the most memorable experience possible.
Ask for help

There is so much to Spirit Week that you do not know. Every year, freshmen go in blind to the events and dress-up days unique to our school, not knowing what to do. Fortunately, my class stayed away from complete and utter disaster thanks to the help of the class of 2016. Throughout the week, the seniors helped us through our confusion. But now, as upperclassmen, we have been in your shoes and we know that figuring this out for the first time is hard. Reach out to students who are more experienced in Spirit Week than you and ask for advice. Most of them would be happy to advise you on anything from what to wear to what to expect.
Stay caught up in your classes

With all of the buzz around Spirit Week and the constant commotion, it is easy to get caught up in the fun and lose sight of the importance of academics. Students often spend so much time worrying about what to wear the next day rather than studying for their classes. School is still in session even with the ongoing campus craze, but don't brush off schoolwork because it WILL hurt you in the long run. Try to maintain a healthy balance of fun and seriousness throughout the week.
Sign up and show up

The best way to be involved in Spirit Week is signing up for activities that will happen during lunch. In these activities, you will compete against other classes for points to go toward your class's overall point count so this is crucial if you don't want to lose hard to upperclassmen. Check with your class council officers to see what activities you can sign up for. And if you do sign up, do not fall through. Flaking on class council creates a problem for everyone. But if competing in activities in front of other students isn't your thing, you can still attend the lunch events held on the field and in the gym to get the full experience. The lunch activities are worthwhile experiences and are the best way to be fully immersed in the excitement of the week.
Plan ahead To relieve some of the stresses of Spirit Week, one of the biggest being trying to figure out what to wear- plan your outfits as far in advance as possible. See the link to our Twitter for the dress-up schedule below and keep your eyes open when you go shopping or search your closet for the perfect ensemble. Also, look online for outfit inspiration. Pinterest has some really great ideas. When it comes to shopping, my go-to for outfits for Spirit Week are always either nearby thrift stores or Party City. You never know what you will find at thrift stores for theme days and you definitely can't go wrong at Party City to find accessories for class color day. Now's your time to load up on all the blue you can get.


Spirit week starts in #7days and today starts our countdown! Seniors, if you would like to be featured on our social media please direct message this account. Be sure to use the hashtag #dsoaspiritweek2018 and follow The Muse on all our platforms to see our coverage! pic.twitter.com/c97dUU9qwo

— The Muse (@themuseatdsoa) January 22, 2018

Turn in dress-up tickets for points

During Spirit Week, one of the easiest ways to rack up competition points is by turning in tickets. For those spirited students that come to school in costume complying with the day's theme, tickets will be handed out and then be brought to lunch to be given to an SGA representative. Each day, the tickets are counted and added to each class's overall points for the week. It's super easy to earn these points as long as you dress up and turn in your tickets, so make sure you hold onto them until lunch and get them to where they need to be.
Have spirit

If you are worried about dressing up for Spirit Week because you think that you are too cool to have school spirit, then you are sadly mistaken. Spirit Week is a

huge

deal here. It's not at all embarrassing to dress up or get involved in activities. In fact, it's embarrassing not to do so. Get involved as much as you can and show that you care if you want to make the most of the week.
Check social media and The Muse for updates

You can stay caught up with scoring and updates in multiple ways. Social media often plays a big role in displaying scores and highlights throughout the week. Some of the most efficient and reliable accounts to follow on social media are SGA's Instagram (@dsoasga) and

The Muse

's social media accounts (@themuseatdsoa on Instagram, Twitter, and Snapchat). Also check the Muse's website for frequent updates throughout the week.
Accept your loss ahead of time

Spirit Week will be very fun and enjoyable for you, but it is likely the freshmen will not win; that's just how it works. Freshmen are often hopeless during Spirit Week, losing dramatically every year as the seniors take the spirit stick. Hopefully this list will give you some insight to how Spirit Week will go, but other classes are more experienced and more likely to perform better so don't get upset when you finish in fourth place.
Enjoy yourself At Dreyfoos, we are so lucky to go to a school where we can have events such as this. It's not every day that you get to go back in time with beautifully choreographed decades dances or witness an epic karaoke showdown with the most talented singers in Palm Beach County. Spirit Week always manages to display the raw talent that our students possess and the commitment and passion they have to their art and to the school which is what makes it so great. Get excited because you are about to witness a week that makes being a student at Dreyfoos even more rewarding than it already is. Enjoy every minute of it because you will only have four weeks like it and they will go by way too fast.
Your donation will support the student journalists of Dreyfoos School of the Arts. Your contribution will allow us to purchase equipment and cover our annual website hosting costs.
About the Writer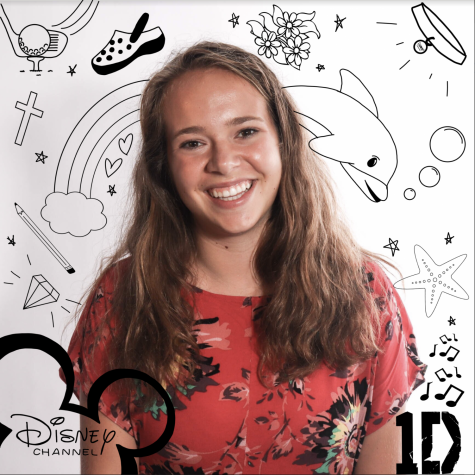 Lilly Randolph, Assistant Managing Editor
Communications senior Lillian Randolph is a third-year staffer on The Muse. Before becoming Assistant Managing Editor, Randolph was a Sports staffer for...