Freshman Class of 2024
Moving to the sound of "It's On" from the Disney channel original movie "Camp Rock 2," the freshman class' pep rally dancers performed their first dance, without a packed gym. Choreographers, dance freshmen Amanda Brown and Isabella Passos, formed a schedule and posted choreography videos on Google Classroom to keep the eleven dancers organized.
"Watching the video made [us] feel so happy that we were a part of this during our first year at Dreyfoos," Brown said. "I was talking to the seniors, and it's a big role to fill, so [we] were happy to be a part of Dreyfoos traditions and we plan to continue throughout our senior year."
Dancers for the freshman pep rally dance, who filmed the group dance on Monday, March 8, had four days to memorize the choreography. To keep the dancers socially distanced during the group performance, they were split into the following groups: hip-hop composed of non-dance majors and s jazz group composed of dance majors. The gym floor was marked with 8-by-8 foot taped squares, each box designated for a dancer.
"I signed up because usually for the pep rally dances, it is somewhat expected for dance majors to do it," vocal freshman Aileen Pereda said. "I thought, 'Let's break some boundaries.' I really enjoyed it and I'm super glad I signed up."
Despite the tight time frame, the final dance, inspired by classic Disney songs, took shape during their two hour filming block. The first 30-45 minutes were spent rehearsing and finalizing steps, and the rest of the time was spent doing multiple takes.
"I love the choreography they did and it was a really good experience," dance freshman Anna-Sofia Machadl said. "Dancing with my friends [was fun] because we all come together even if we're different majors."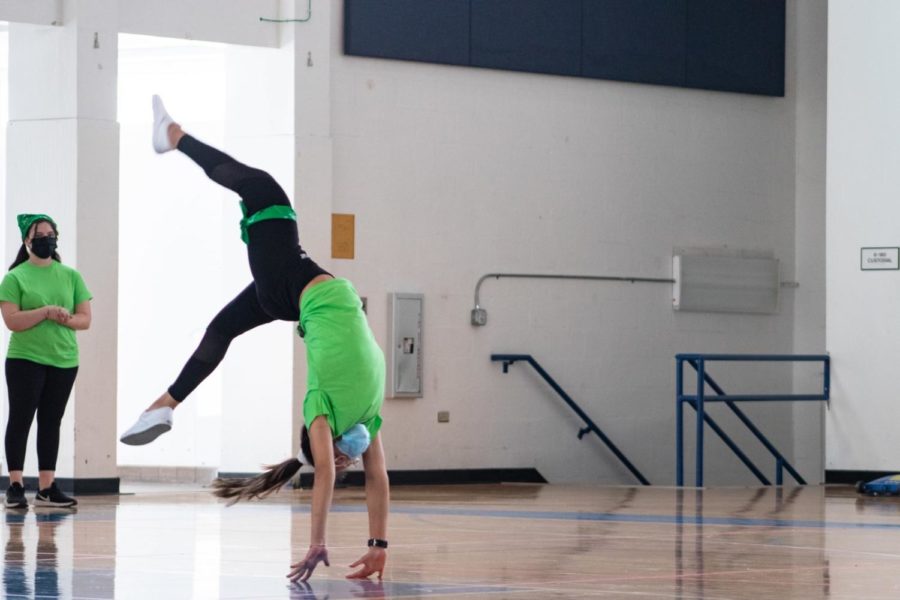 Sophomore Class of 2023
Sirens and the "Ghostbusters" theme song instrumental play as dancers leap into front aerials and straddles, moving from one side of the gym to the other. Dance sophomores Alexis Carter, Emily Jones, Gabrielle Kaminyo, Kamren Blake, Eva Gladwin, Alyssa Dicembrino, and digital media sophomore Okaisha Bryant choreographed the sophomore class pep rally dance, incorporating hip-hop influenced steps into the choreography. For Carter, her love of hip-hop is what propelled her to sign up as a choreographer for a second year.
"Hip-hop is a fun style, but it's not something that is mainly focused on while being at school," Carter said. "I thought it was a fun way to step out of the more day-to-day based dance at school." 
To get inspiration for the choreography, Carter repeatedly listened to the selected music, taking her a week to finalize the moves. During the process of turning ideas into reality, Carter was challenged to schedule virtual meetings for the dancers to practice, all while assessing their progress. The group performance was filmed Friday, March 12 from 4p.m. to 6 p.m.
"It was surprising [watching the final dance] because it was our first rehearsal [which was] the same day we were filming for the real thing," Carter said. "It was definitely cool to watch everything come together."
Gladwin and the other choreographers, who began choreographing one month prior to the pep rally, set up a group chat and met virtually twice a week on Google Meet to discuss their song selections and choreography. The dancers had a separate group chat and would attend Google Meets with the choreographers for questions and to run through the dances. The choreographers uploaded videos of the dances for dancers to learn them on Google Classroom as well. 
"Finalizing the music was challenging, figuring out what songs are appropriate and what we could use, and what would look best with the dances," Gladwin said. "Keeping everyone focused [was challenging], and trying to get them all to come to meetings and make sure everyone was on board."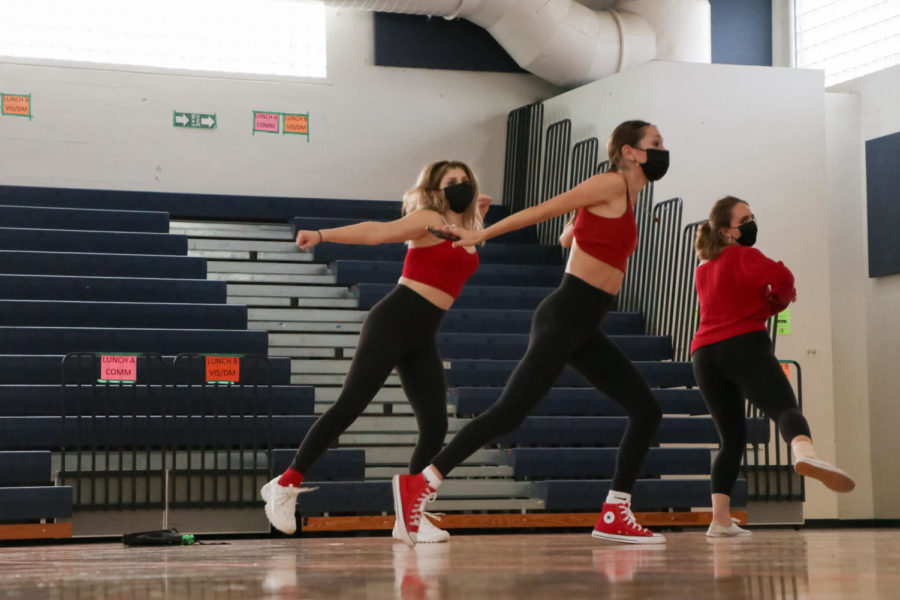 Junior Class of 2022
Backs turned facing the bleachers, dancers jump and turn when "What Time is It" from "High School Musical 2" plays. Dance juniors Kailey Woronstoff, Caroline Kern, Sophia Chambers, Jacqueline Albanese, Emma Jaffe, and Lauren Hopta choreographed the junior class pep rally dance. This was Woronstoff's third year choreographing the pep rally dance, and when junior class council presidents communications junior Jade Lichtenstein and digital media junior Nicolette Carew asked if she would choreograph this year, she said it would be an honor.
"It's fun to do with all of your friends," Woronstoff said. "I really want to choreograph when I'm older, so this is a mini intro into that."
Initially, Kern and Woronstoff attempted to host a rehearsal over Zoom, but due to lack of availability, they improvised by sending the choreography to the dancers a week before the group performance. 
"Trying to help those at home learn [was challenging] because in the videos, a lot of the moves would be mirrored, so they couldn't tell what side to do everything," Kern said. 
Another challenge that arose was having people sign up for the dances. However, Kern and Woronstoff were able to organize a group of seven dancers, including communications junior Caroline Murray.
"[Murray] did an amazing job; I was super proud of her because she was the only one that was virtual and she's also the only non-dance major we had in it," Kern said.
The choreographers had two weeks to choreograph the dance, leading them to take time during lunch and after school to arrange the moves and formations. For the song selection, they used songs from the "High School Musical" saga to incorporate the theme along with songs that are currently popular on TikTok. 
"We wanted to pick songs that were hype songs that would get the crowd going even though there wasn't a crowd, but what would normally get everyone up on their feet," Woronstoff said.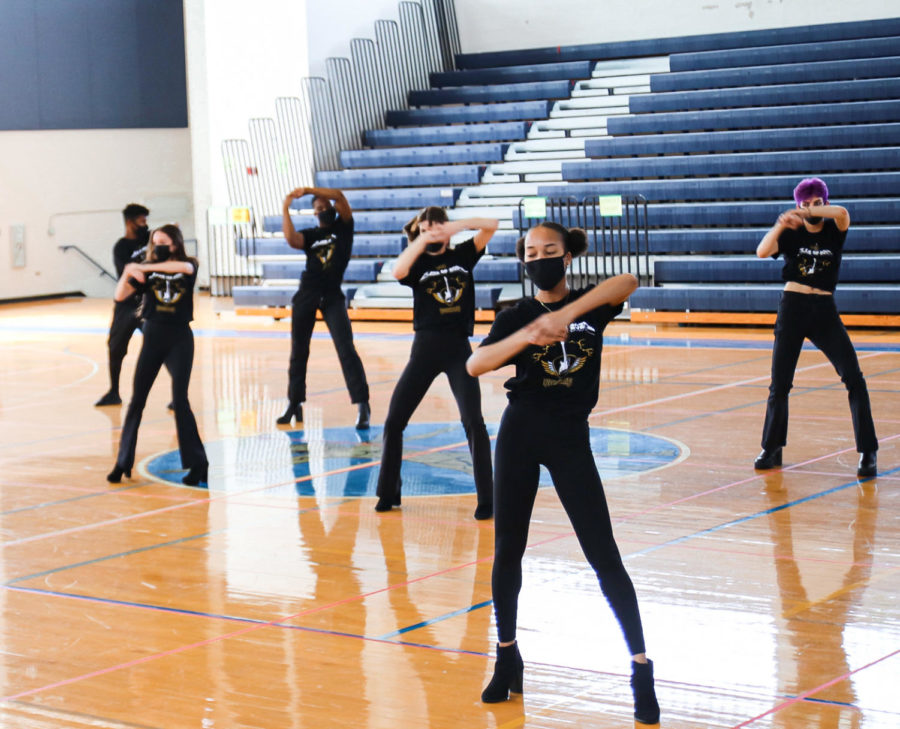 Senior Class of 2021
High heels hit the gym floor in unison as the senior pep rally dancers lifted their hands in a "rock-on" position. The senior pep rally dance was choreographed by dance senior Emma McCue, making this her fourth year choreographing the pep rally dances.
"When I was a freshman, my sister was a senior, and the juniors of the 2018 pep rally took it very seriously, so my sister instilled it in me," McCue said. "The freshmen were also known for having bad pep rallies and not being put together, so I wanted to be the one to change that."
Since McCue was on a short timeframe for the choreography and music selection, she chose songs from a variety of genres including hip-hop and rap, going beyond songs pertaining to the senior class theme of rock and roll. Despite the challenge of having to work quickly, McCue saw the dance take shape.
"I feel like when you're on that stage, I black out and I'm like 'Did that just happen?'" McCue said.
Dance senior Gracie Galeon also participated in the dance, and in previous years worked alongside McCue to choreograph, a goal they had since eighth grade.
"In eighth grade, me and Emma McCue always planned on choreographing," Galeon said. "We would have a meeting and we'd get the music together and then we would split certain songs, divide and conquer, and choreograph." 
Through McCue and the dancers, the seniors were named the winner of the 2021 pep rally, earning them the "Spirit Stick" for their remaining months at campus.