"Is it Really a Dreyfoos Senior Year Without a Generation Day?"
Seniors share why generation day is a significant part of spirit week
The freshmen class of 2021 cheers as fluorescent leggings, vibrant jackets, and metallic leotards dance on the gym floor. That freshman class of three years ago reached the senior generation day rite of passage today — maybe not through dancing — but with the outfits that filled halls and computers.
"
"Generation day is dedicated to show[ing] off the creative ways of dressing up as a generation. '80s day is special to me because of how differently we dress from the rest of the grades … [Generations day is] special and different from what other schools do. As a lowerclassmen, I remember how exciting it was to see the seniors dress up. I couldn't wait for that day.""
— Visual senior Natalia Sanchez
"
Generation day has always been the most fun day of spirit week. It's normally the day everyone goes over the top for … I've been looking forward to my senior generation day since freshman year; we all have. Watching the generation dance as a freshman, I couldn't wait until it was me. The '80s is the most fun generation to dress up as because of the colors and music. … Is it really a Dreyfoos senior year without a generation day?"
— Theatre senior Alena Serrano
"
"My friends and I love to go all out with our looks, and getting to dress up for the '80s has always seemed like a rite of passage as a senior … I've been looking forward to my senior year generation [day] since my first spirit week because it felt like something to work up to. '80s is the best decade for generations day because the outfits and makeup are so bright. It has always felt like every year of generation day was getting closer to the one we were all waiting for." "
— Communications senior Jenelle Pollock
"
"As artists, it was obviously a big deal for us freshmen to look up to them and now that it's here, it's cool to watch. Knowing that the '80s [was] a creative generation, it represents how we as artists are expressing ourselves in our senior year and [how] we're going to go off in this next chapter of our lives.""
— Vocal senior Hope Sears
"
"I always enjoy generation day because it gives people an opportunity to be creative and to get a glimpse into what life was like a few decades ago. I've been looking forward to '80s day because I've always wanted to participate in the aerobics outfit tradition, and '80s is the most different from how I usually dress. I enjoy matching with my friends and taking photos with them … Since my junior year didn't have a traditional ending and I did virtual school for the first semester of this school year, it was hard to process that I'm a senior and that this is my last year at Dreyfoos. Spirit week defines the school year and signifies what grade level I am in.""
— Theatre senior Alexa Rubenstein
"
"For the seniors this year, since a lot of our traditions are being canceled, it's a big deal to everyone [and] it's my favorite day of spirit week. I love all the outfits and usually everyone looks the same and all the seniors get the same stuff from Amazon. I love the tradition about it. It never gets old. The best part is when everyone takes pictures in the field and they're like, 'We have to go back to lunch,' and unfortunately it wasn't like that this year. Everyone has to keep their masks on and only half the people were there, but I love how for years and years people have been dressing the same." "
— Communications senior Natalie Cohen
Your donation will support the student journalists of Dreyfoos School of the Arts. Your contribution will allow us to purchase equipment and cover our annual website hosting costs.
About the Writer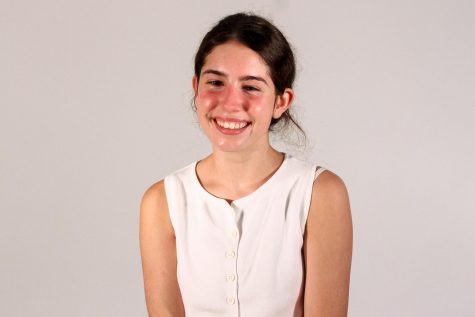 Bridget Frawley, Coverage Editor
Bridget Frawley is a second-year staffer and coverage editor on The Muse. When she is not writing stories, she is either shopping or playing with cats...