VALENTINE'S GIFT IDEAS
Hang on for a minute...we're trying to find some more stories you might like.
Every Valentine's Day, red, white, and pink decorate the halls as students pass by with heart-shaped boxes of chocolates and bundles of flowers. But this day is about much more than a teddy bear and bouquet; it's about appreciating those dearest to you (whether they are a significant other, friends, or family) and showing affection through a hug, kiss, or even a thoughtful gift. Since chocolates and roses can be considered cliché, The Muse compiled a few alternative gift ideas to inspire you for the upcoming holiday.
CUSTOMIZED JEWELRY
Couples
While regular jewelry might seem typical, step outside the box by personalizing jewelry for your partner. For a bold accessory, a name necklace allows your partner to wear your name around their neck, symbolizing a close relationship with one another. If you're looking for something more subtle, initials, nicknames, or a cute phrase can convey the same idea. The same can apply with a bracelet. With a bracelet, not only can you wear each other's name or initials, but you can include charms that represent one another. If your partner prefers rings, a cute gift—and date—idea would be to go get rings engraved together, which can be done at stores such as Things Remembered at the Boynton, Wellington, and Gardens malls.
Friends
Heart-shaped pendants on necklaces with the pair of words "best" and "friend" might be a fad of the past, but gifting jewelry is not. Giving your friends new earrings, necklaces, bracelets, or rings is always appreciated. If you'd like to give it a personalized touch without going overboard, find jewelry with their initial or birthstone. You could also go on a friend-date to the mall and have a jewelry shopping spree or buy matching jewelry for each other.
DIY PROJECTS
If you're looking for a more budget-friendly option, creating a gift for a loved one might be a better choice. Here are a few DIY projects that you can do with household items and craft supplies.
Scrapbook
A collection of memories can be a priceless gift. Photos, movie tickets, receipts, and writing can capture the essence of time spent with your partner or friend. By putting it together in a scrapbook, both of you can flip through time and reflect on the memories you've made together, making not only a meaningful gift, but also quality bonding time together. All you need are pictures, a scrapbook (or hole-punched paper if you want to save even more), decorative tape, and a pen. Plus, as you make more memories together, you can continue to fill the scrapbook and make it a timeline of your relationship.
Love Jar
Show your partner or friend how much you love them by making them a "love jar." With a mason jar, some pieces of colored paper, and a pen, you can write little messages that say your favorite things about them. For example, one piece of paper might say, "I love your laugh," a message that's short but sweet. After writing all your messages, you can either fold them or roll them up and put them inside the jar. Finish it off with a ribbon, and you've got a perfect, sentimental gift.
Explosion Box
Don't settle for a bland Valentine's Day card. Instead, create a fun way for your friend or partner to open up what can be a combination of a card, a love note, and a scrapbook. Although this takes a little more craftiness, the final product will leave your loved one surprised and in awe. Made out of cardstock, glue or tape, colored paper, and stickers, an "explosion box" is a gift box that, when opened, reveals a flat, card-like surface decorated with writing and pictures. With an explosion box, you can get as creative and personalized as you'd like, and you can even include pockets filled with notes or drawings. Because the pictures and writings can be glued or taped to the inside, you can go the extra mile by including a small gift in the center of the box.
DATE NIGHT
If your friend or partner prefers experiences over gifts, treat them to a date night. Below are a few Valentine's date ideas for both couples and friends.
Couples
While going out for a movie and dinner may be customary, it doesn't always fit a teen's budget. Instead, make your own candlelit dinner by opting for a picnic with your partner at a park. Both of you can pack each other's favorite foods and share an intimate dinner together, all while watching the sunset. If you'd still like to see a movie, have an at-home movie night and watch a classic Valentine's Day rom-com. If one of you has a car, you can even visit a drive-in movie for a new romantic experience together.
Friends
Instead of worrying about spending Valentine's Day alone, invite all your single friends for a dinner, movie, and self-care sleepover. Cook or order food from your favorite restaurant and share a meal of appreciation and friendship. Put on face masks while watching your favorite Nicholas Sparks movie and eating popcorn. Spending time with your closest friends will help you discover the true meaning of Valentine's Day: love and care for anyone, including your friends. There are no other people you would rather be spending time with — make that even more true this Valentine's Day.

About the Writer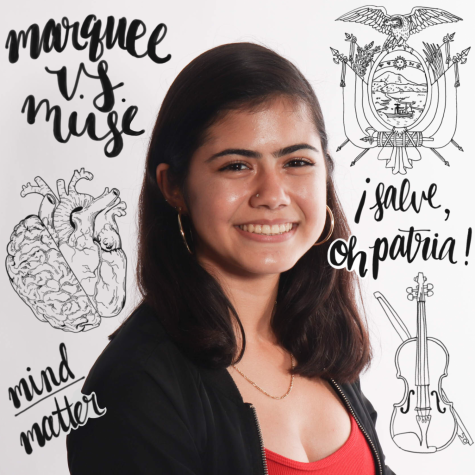 Isabella Ramirez, Assistant Managing Editor
Isabella Ramirez is a sophomore and first-year news staffer on The Muse. When she's not stressing over AP Chemistry, she's frantically working on Dreyfoos'...