During the holidays, our close circle is what matters most, where families and friends gather together to appreciate one another's love. Not everyone always thinks of those outside of their inner circle, but if you are looking to extend your gratitude, here are a few places you can give back to as Thanksgiving approaches.
Aurelia's Animal Sanctuary
Location: Jupiter Farms
Phone number: 561-301-4714
Mission statement: "Aurelia's mission is to provide a safe and loving environment for animals that have been in unfortunate situations."
Website: http://aureliasanimalsanctuary.com/sts/  
Ways to help: This rescue takes volunteers, donations, and visitations. When volunteering here, you will spend time with a variety of animals, including dogs, cats, horses, donkeys, goats, pigs, emus, peacocks, and many other types of birds. Depending on your experience, you can tend to the animals or work in the office. For more information on helping the sanctuary, contact the sanctuary using its phone number.
Locks of Love
Address: Locks of Love
234 Southern Blvd
West Palm Beach, FL 33405
Mission statement: "Our mission is to return a sense of self, confidence, and normalcy to children suffering from hair loss by utilizing donated ponytails to provide the highest quality hair prosthetics to financially disadvantaged children, free of charge."
Website: https://locksoflove.org
Ways to help: Locks of Love accepts hair donations, which will be made into wigs and donated to children who need them. All you need to do is fill out a form on the website, and then you can find a location to get your haircut. It's a simple process and is a great way to make fellow teens happy.
Palm Beach County Food Bank
Location: 525 Gator Dr
Lantana, FL 33462
Mission statement: "Our mission is to alleviate hunger in Palm Beach County."
Website: https://www.pbcfoodbank.org
Ways to help: Palm Beach County Food Bank appreciates both donations and volunteers. You can volunteer by working in the office, assisting with events, or sorting food for the warehouse. This food bank will also provide community service hours.
Peggy Adams Animal Rescue League
Address: 3100/3200 N Military Trl,
West Palm Beach, FL 33409
Mission statement: "The Mission of the Peggy Adams Animal Rescue League of the Palm Beaches Inc. is to provide shelter to lost, homeless, and unwanted animals. It's to provide spay and neuter and other medical services for companion animals, to care for, protect, and find quality homes for homeless and neglected companion animals, and to advocate for animal welfare, community involvement, and education to further the bond between people and animals."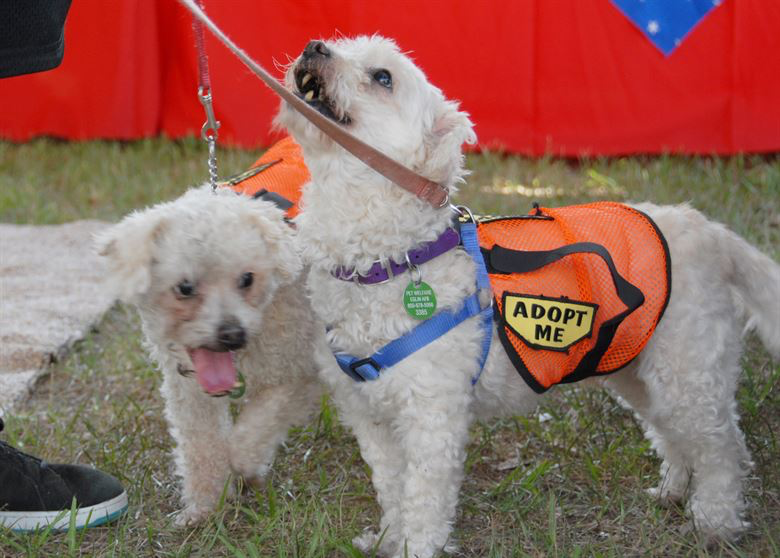 Photo by Eglin Air Force Base
Website: https://www.peggyadams.org/how-help/foster
Ways to help: This foster care service invites adopters, fosters, and volunteers. When you foster, you will be given kittens to care for until they are old enough to adopt. By fostering a kitten, you help with animal shelter overcrowding and make room for other animals that need to be at the adoption center.
OneBlood
Address: 75 E Indiantown Rd #505
Jupiter, FL 33477
Mission statement: "To enhance the health and well-being of others through our work with blood and stem cell products and by facilitating scientific research."
Website: https://www.oneblood.org/about/our-footprint/mission.stml
Ways to help: OneBlood gladly welcomes people to come and donate blood. By donating, you can assist others who are in need of blood or even  a part of research for other medical advancements. All you have to do is go to one of the many locations that can be found on the website, and the employees will take care of you.
TOPSoccer
Location: Florida Youth Soccer Association
2828 Lake Myrtle Park Rd
   Auburndale, FL 33823
Mission Statement: "TOPSoccer was formed to perpetuate the US Youth Soccer mission statement, which is, in part, 'to foster the physical, mental and emotional growth and development of America's youth through the sport of soccer at all levels of age and competition.'"
Website: https://www.usyouthsoccer.org/programs/topsoccer/
Ways to help: You can become a buddy or coach in the TOPSoccer organization. TOPSoccer works with children with disabilities and allows other teens to either play with them or coach them. The corporation also gives volunteer hours if you are in need of them.
During the holiday season, it is easy to get wrapped up in everything that has to be done, from feasts to festivities. Through organizations such as these, you can find some time to give back to those in need.