Prom Dress Season Takes Over Dreyfoos
As prom approaches, the excitement becomes more and more palpable. The night that many students have been anticipating since their childhood is finally almost here. With the biggest factor of prom being the dress, girls get a head start on finding one that makes them feel fabulous for the special night, themed this year as "A Midsummer Night's Dream." To avoid accidentally matching, the juniors and seniors of Dreyfoos created a Facebook page to post their purchased dresses. With at least one post per day, the stress of not having a dress increases.
There are two perspectives on posting to the Facebook page. The first, and probably most popular, is that it is crucial to post whatever dress you plan on wearing, so no one else will wear the same one. Many girls are worried that they will wear the same dress as someone else because they don't want to be perceived as unoriginal; the goal is to stand out. Many girls pay a between $100 and $400, according to PromGirl.com, to look phenomenal in their new favorite dress. It's like when you show up on the first day of school and someone else is wearing the same exact outfit as you — it's embarrassing, and everyone points it out.
"I was thinking why wait [to make the prom page on Facebook?] I'll just do it," visual junior Tiffany Breen said. "Everyone wants to start looking for dresses; they were just waiting for someone to take initiative and get it done. I actually think it's really important [to have a page where everyone can post their dresses] because a lot of schools don't, and many girls come to prom with the same dresses, have a little drama between each other, and have catfights. It's unnecessary."
However, some still hold the perspective that the prom dress Facebook page is pointless and unneeded. Those who don't care for posting their prom dress may feel this way for a few different reasons. For one, some don't think anyone else will have the dress, and also, some people don't care if they are matching dresses with anyone else.
"I think that the prom page can be effective, or it can be extremely destructive," piano junior Ariana Richter said. "I feel like [someone afraid to post their dress on the prom page] might be kind of intimidated in a way that someone's going to say they can't get that dress, but they really like it, and it's the dress they want. There is a lot much time and energy spent on all these prom sites and trying to find your dress at a reasonable price [because] these dresses can cost up to $700."
As would be expected with so many postings, there have already been a few incidents of matching dresses on the page. There is no stopping a girl when she sees "the dress." Usually if two girls get the same one, they will message each other and figure out an arrangement for one of them to either get a new dress, or they will agree to wear the same dress.
"I've wanted the same dress since my sophomore year when I saw my friend had it," visual senior Sophia Beaubien said. "I ordered it super early on, before the prom page had even started, and as soon as I posted the dress, three or four girls texted me saying they had the same dress in different colors. I got the dress and ended up not liking it as much as I should have for the trouble I went through for it; I ended up selling it and got a new one."
Prom dresses are getting snatched off the racks left and right. Anybody without one right now is starting to itch with the nervousness that they won't find their perfect dress because someone else might have already bought it. The dress race has already begun, and there's no stopping a girl when she sees the perfect one.
About the Writer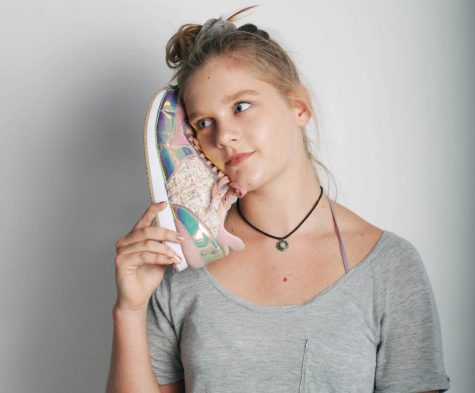 Emily Sweetz, Entertainment Staffer
Dance junior Emily Sweetz is a first-year Entertainment staffer for The Muse. After Sweetz won a writing contest in elementary school, English has been...