Nikki Lickstein hosts album release party for charity
Ever since strings junior Nikki Lickstein began working on her debut album, Six Twenty Six, she has been dreaming of her first album release party. Lickstein hosted a charity concert where the proceeds went to Impact the Palm Beaches on Aug. 20 at the Don & Ann Brown Theater in West Palm Beach. Impact the Palm Beaches' mission is to make philanthropy accessible in the community. Lickstein fronted three professional musicians and played eight songs in front of a sold-out venue. Friends and family attended to support her work. Among the audience was one of her best friends, band junior Rachel Gebeloff.
"I was just so proud," Gebeloff said. "There were a couple times I got chills because I remember when she first wrote the songs and would pull me into a practice room. I knew all the lyrics, so it was really special."
Lickstein writes all of her own lyrics and composes all the music for her songs. At the album release party she performed two covers and six original pieces, one that is not on her album. She is signed with Broadcast Music Inc, and works with producer Jeff Harding and sound engineer Ron Taylor. Throughout the course of her career, she has attended multiple award ceremonies including both the Country Music Television Awards and the Latin Billboard Music Awards.  Lickstein has had to miss out on a lot of activities and school to pursue her dream of making her own music. In her sophomore year, there were many times when she would miss whole weeks of school to go and record in Nashville. Even through her traveling, she managed to maintain high grades  with the help of her parents and teachers. English teacher Valerie Bauer first met Lickstein at the beginning of her sophomore year, she taught Lickstein's  favorite subject and formed a close relationship with her. Ms. Bauer attended the concert and brought her family as well.
"[The show] was amazing, it captured the voice of the teenage generation," Ms. Bauer said."Her voice doesn't sound like every other popstar out there, there's something just a little bit different that makes her stand out. As a musician she is phenomenal. I went to support her and was blown away."
Lickstein has experience performing in front of large crowds from many different venues. However, this was her first concert performing her own work.
"I always feel better as soon as I start playing, and see all my friends out in the audience," Lickstein said. "I knew my family was just beyond supportive. It was really cool once it was happening, and when it was over, I felt relieved that it all went well."
About the Writer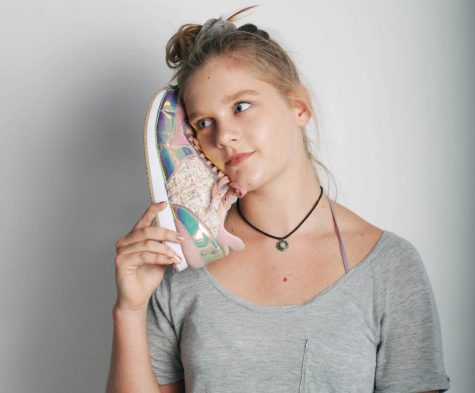 Emily Sweetz, Entertainment Staffer
Dance junior Emily Sweetz is a first-year Entertainment staffer for The Muse. After Sweetz won a writing contest in elementary school, English has been...