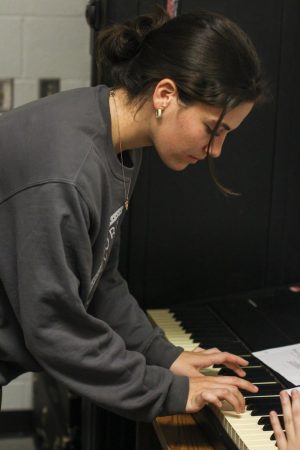 Laughing and playful bickering resounds through the orchestra room as violinists match metronomes while violas and cellos are tuned in accordance with the pianist's keys. In the practice room tucked away in the vocal room of Building 7, vocalists harmonize with one another, trying to find the right pitch to sing at.
Small ensemble groups began practicing for the annual Prism concert during summer break, preparing for auditions to get their chance to shine more individually, outside of the large group performances at Prism every year. 
For those who are playing in small ensembles for the first time this year, the experience has presented challenges. However, for those who have previously performed in these groups, the year has been easier to navigate, as they are already familiar with the "whirlwind" that is Prism preparations.
Small Ensemble Novices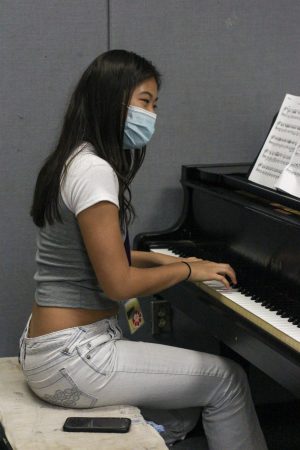 Since small ensemble performances are completely student-managed, first-timers have had to adapt to take on a lot more responsibility. Newcomers had to manage setting up practice times and working on their pieces, all on top of the larger group pieces involving their entire department.
"When you're organizing your small group, it's hard to find time when everyone's available and find a place where everyone can go," first-chair violinist for the "Sleigh Ride" sextet and strings sophomore Mia Hakkarainen said. "When you're playing in orchestra, the director just tells you when to be there and where to be, and you just have to show up … But we managed to find time, and everyone was finding ways to get there, so I'm glad we made it work."
The additional responsibility also offers small ensemble performers musical freedom since they get to choose their own pieces and how they want to play them.
"Having that flexibility (with musicality) was really nice," pianist for the "Sleigh Ride" sextet and piano sophomore Josetta Wang said. "We (were) able to talk about and pitch in different ideas when the score wasn't as clear, and we could combine our own different musical insights to achieve the best product."
Communication plays a crucial role in ensuring that the groups are able to handle the responsibility of being completely in charge of their own piece, allowing them to navigate working together as a small ensemble.
"We really had to listen to each other and try and find that balance (in our sound)," Wang said. "We would pay attention to not only our own parts but also how it sounded when it was together. It was a lot of communication and working together and listening, and I'd say that was the biggest part in ensuring that we were still able to play well together without a conductor."
Coming from playing mass pieces in orchestra, band, and choir, those new to small ensemble performances may feel a sense of pressure on them when they play in more "intimate" groups. With no one to cover their mistakes, performers agree that they feel they have to be much more accountable for their parts during their performances.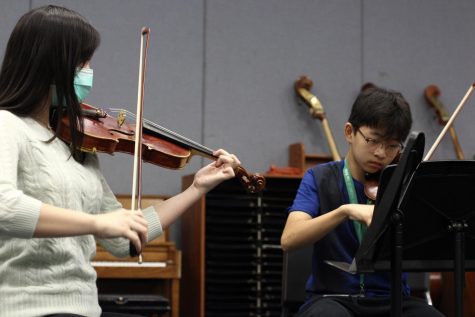 "It's much more transparent, so you have to be prepared for your part," second-chair violinist for the "Sleigh Ride" sextet and strings sophomore Andrew Zhu said. "You can't hide in your section. For orchestra, you can kind of blend in with other people and not play out as much, but for groups, you've got to carry your own weight."
Small Ensemble Veterans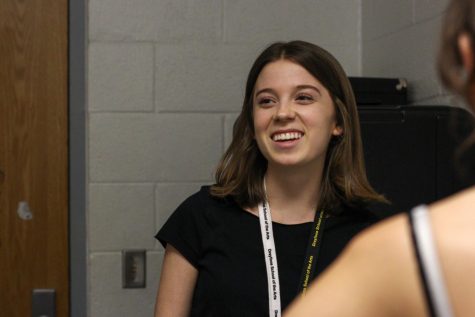 Most performers who have done small ensembles in the past and participated in Prism before no longer feel the same stress as their first concert. However, there can still be an occasional bout of nerves before their performances.
"(Performing in Prism) is not as big of a deal as it used to be. I used to get actually nervous," vocal senior Ruby Steigenga said. "I'll probably be nervous for our small group but (for) our mass pieces, I won't be."
The anxiety present for performers during their first Prism tends to fade away as they gain more experience.
"(Our first time performing in a small ensemble), it was a lot more stressful because we'd never done that before," vocal senior Erin Crossey said. "Also we were juniors, and most of the time it's seniors who are picked, so the pressure was on us."
Steigenga and Crossey, along with vocal seniors Amelia Giuliani and Amelia Williams, make up the four vocalists in their singing quartet Armonia, meaning "harmony" in Italian. The vocalists in Armonia have been singing together since their freshman year and performed together in Prism as a small ensemble last year. Since the vocalists in the Armonia quartet have already performed together, they felt more secure in their preparations for this year. 
"It's a lot easier preparing for Prism this year because we (Armonia) did a small group last year, so we kind of know what to expect," Crossey said. "(We) definitely feel more comfortable now doing it."
While the newcomers' favorite part about playing in small ensembles for Prism is the freedom that comes with preparing pieces, those who have already undergone the experience feel the freedom comes after the show is over. 
"My favorite thing about performing in the small groups is that we work so hard for our performance, and then we finally perform," Crossey said. "We're all just performing together as Armonia, and it's just a lot of fun. It's also a relief when we get it over with. There's a rush."
The Prism Experience
However, what newcomers and performers with past experience can both attest to is that playing in small ensembles is, as violist for the "Sleigh Ride" sextet and strings sophomore Jeffrey Bai puts it, "a part of the classic Prism experience, and we wanted to also be a part of it and get to experience that in our years here."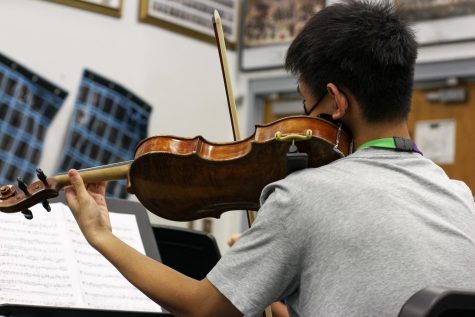 "I think it's honestly such a wonderful experience playing on that Kravis stage, performing in front of everyone and being able to do it alongside your friends," Wang said. "(It) is just such a magical experience, and I'm really happy to be able to do it this year and hopefully next year."