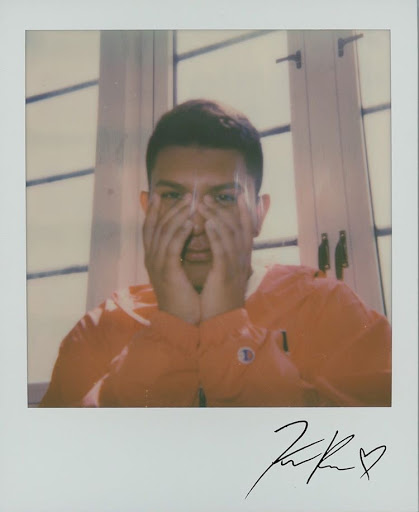 Of his 16 pieces, digital media sophomore Kadmiel Rivera-Gomez's latest creation is a long, burgundy dress with a tight neckline and flowing train. Designing this dress involved driving to Miami to buy his favorite fabrics, designing the item, and conducting his own photo shoots. His main focus has been working to create art that people can see themselves in. This passion developed after watching an episode of Project Runway when he was little. Rivera-Gomez saw himself pursuing fashion in the future.
"[Project Runway] projected an urge that clicked in my brain, and, ever since then, my love for fashion grows even more every day," Rivera-Gomez said. 
Since freshman year, Rivera-Gomez has focused on fashion and photography, though his goal is not to just create "pretty" pieces.
 "The art I create isn't just so that it's curated and perfectly positioned to look like it took millions of hours to make; it's art that represents my ups and downs," Rivera-Gomez said. "It's a way where I can truly just be me."
Digital media dean Melissa Glosmanova is Rivera-Gomez's Visual Technology teacher  and has watched him develop his pieces every step of the way. She watches the process of creating all of his fashion designs.
"[Kadmiel] comes up with these fabulous gowns, dresses, and garments that are always based on an idea," Ms. Glosmanova said. 
 His pieces are meant to promote the idea of body positivity in women—a purpose driven by his love for his sisters. 
"I love making clothes for women that make them feel empowered and make them feel like a boss," Rivera-Gomez said. "Growing up with only sisters, you see that women have it hard in this society, and my goal is to make all types of women feel like themselves and love who they truly are. I love to make clothes that make them feel like they don't need any opinion from men or society because they truly feel powerful and unbothered."
Rivera-Gomez gathers his inspiration for his designs from Vogue and the brand Yves Saint Laurent, as well as from his favorite fashion designer, Karl Lagerfield, the late creative director of Chanel and Fendi. These icons motivate Rivera-Gomez to "get up and design more clothes."
Along with photography and fashion, Rivera-Gomez writes in his free time. Two years ago, he began his first book, titled "Getaway Car." In the book, Rivera-Gomez follows the idea that making mistakes causes us to feel as though we have stolen from all of our friends or loved ones, when all you want is a getaway car to escape the crime scene. Despite hesitating to publish it, when he worked on another book, he realized that he wanted them to be published together. 
"One day I decided to re-read 'Getaway Car,' and I realized that if I didn't publish it, then my new book wouldn't make as much sense," Rivera-Gomez said. "I started to experiment and see how they both connected to one another, and I saw that it was vital for them both of them to be published."
Now, Rivera-Gomez is continuing to experiment artistically and is starting a polaroid collection in addition to a new dress collection. The most recent collection he's created is called "Not An Angel." 
"It's all based on just being the best person you can be," Rivera-Gomez said. "It's about innocence and power."
Digital media sophomore Mia Lopes watched Rivera-Gomez become his current self as his close friend over the past few years. She has watched him grow as an artist while creating an everlasting bond. 
"Kadmiel is one of the few people I know who creates for himself and doesn't let other people's criticism filter through," Lopes said. "He has taught me that it is possible to breathe and live though your work, and you can really speak your truths through a camera lens or a canvas."