Choreographing Spirit Week
Spirit Week dances gain traction online each year. Meet the people behind them
In 2017, a video of the Spirit Week pep rally dances racked up 1.5 million views. While students — and the internet — only see the final product, the choreographers behind the dances plan each turn and step. 

Riley Flynn

Freshmen Choreographers: Emmy Esquivel and Jasmine Rivera

When the freshman class council asked dance freshman Jasmine Rivera to choreograph the Spirit Week dances, she knew she would need help. 

"I was like 'who has a dance background and a leadership role?'" Rivera said. "Emmy would be good. I kind of threw her into it."

Now, dance freshman Emmy Esquivel has been working alongside Rivera for over a month, marking, teaching, and perfecting the routines.

"When we're in the gym, we do spacing," Esquivel said. "Mostly when we're in the studios, we just learn it (the choreography) and make sure everyone has it down."

Rivera and Esquivel enjoy interacting with people outside of their major more than anything, they said. While choreographing the pep rally dance was "a fun experience," they both admitted they struggled with the generation dance. They relied on YouTube for '50s dance references, as well as the direct influence from the music of the decade. 

"We had a hard time with that one (the generation dance)," Rivera said, laughing. "But we were thinking of swing dancing, so we want to do a lot with partners." 

While it's only their first year at Dreyfoos, Rivera and Esquivel know the Spirit Week dances' reputation. They believe that the dances' appeal is the energy and exuberance they generate.

"Not all schools have the same opportunity to have a long dance and show everything and have fun with it," Esquivel said about the dances' popularity on social media. "It's cool when other students get to see other schools having fun like that."

Sophomore Choreographer: Aileen Pereda

Vocal sophomore Aileen Pereda has been studying all things '60s. She has introduced Elvis-inspired moves to her dancers, as well as teaching them the twist and swim, hallmark steps of the period.

"We dug into the '60s to see if we could find some stuff," Pereda said. "Some of it is a little niche, but it's good because it just opens people up to things that aren't big and popular."

Pereda explains that during past Spirit Weeks, the choreographers have almost always been dance students; however, she stepped into the role this year as a vocal major. 

"Not only am I representing people that might be seen as underdogs, but it just makes me feel proud of myself because I made the commitment to do something that I'm not used to doing, and I was able to accomplish it," she said. 

Students from all majors can participate in Spirit Week dances. Pereda believes Spirit Week is a unifying event for the student body, and the dances are no exception. 

"It's like a little family," Pereda said. "Nobody is judging each other. We're all just having fun. I think we've all gotten the opportunity to get much closer and put out a performance that makes us feel good and should make the audience feel good as well."

Junior Choreographer: Kamren Blake

Dance junior Kamren Blake faces two challenges as junior dance choreographer: avoiding cliches and working alongside 12 other choreographers. 

But he's choosing to handle one at a time. First, Blake avoids leaning into convention when it comes to their '70s themed generation dance.

"All the songs are obviously from the '70s, but we try not to be super generic this year," Blake said. "We tried to think outside of the box."

Similarly to the freshmen, the juniors used YouTube videos to refresh their knowledge of iconic '70s dance moves. Blake and the dancers used classic disco steps and "tried to make it work from there" by modernizing and expanding them. 

When it comes to handling the Marvel pep rally theme, Blake and the choreographers decided to take a more subtle approach, using "little things that reference Marvel" to convey the inspiration behind the dance.

But how do 13 choreographers agree on anything? According to Blake, fairly easily. "It's really cool to see what everyone can bring to the table," Blake explains. "We all have different visions and styles, so it's fun learning everyone else's choreography and being a part of their vision."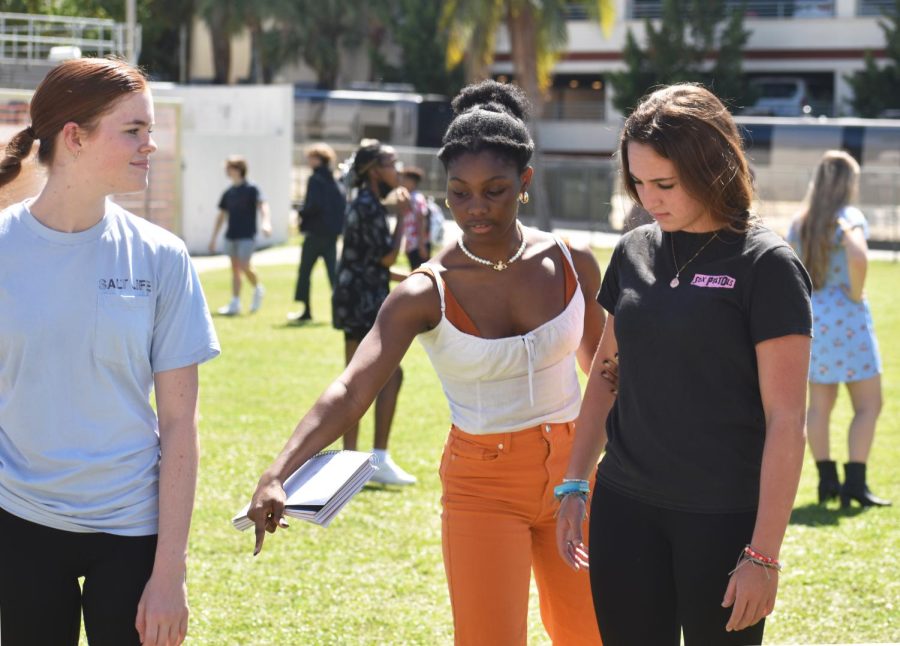 Senior Choreographer: Emma Jaffe 
In 2019, dance senior Emma Jaffe was featured for helping to organize the freshman Spirit Week dances. After a two-year hiatus, she is back to choreographing. 
"It (taking a break) gave other people the opportunity to choreograph it and be involved in it," Jaffe said. "It was nice getting back into it. I haven't done it (choreographed) in a few years. It was exciting."
Jaffe had little experience choreographing when she first signed on to do it as a freshman. At the time, she "didn't know the ins and outs" of Spirit Week. 
This year, she is working with fellow choreographers and dancers on both the pep rally and Generations Dance, and she is much more familiar with choreography. 
Jaffe's process began with establishing formations, figuring out how many people each section of the dance will include, and marking spaces. Then, she chose steps and sequences of moves with her fellow choreographers. 
Like other choreographers, she takes the dancers' opinions into account and adjusts the routine based on each person's skills and comfort level.
Above everything else, Jaffe values the inclusivity that the spirit week dances bring. 
"It's been a really great environment to bring the whole school together and show our art form," she said, smiling. "It's great to include everyone and have it be a community effort."