GENERATION DANCE CHOREOGRAPHER SPOTLIGHT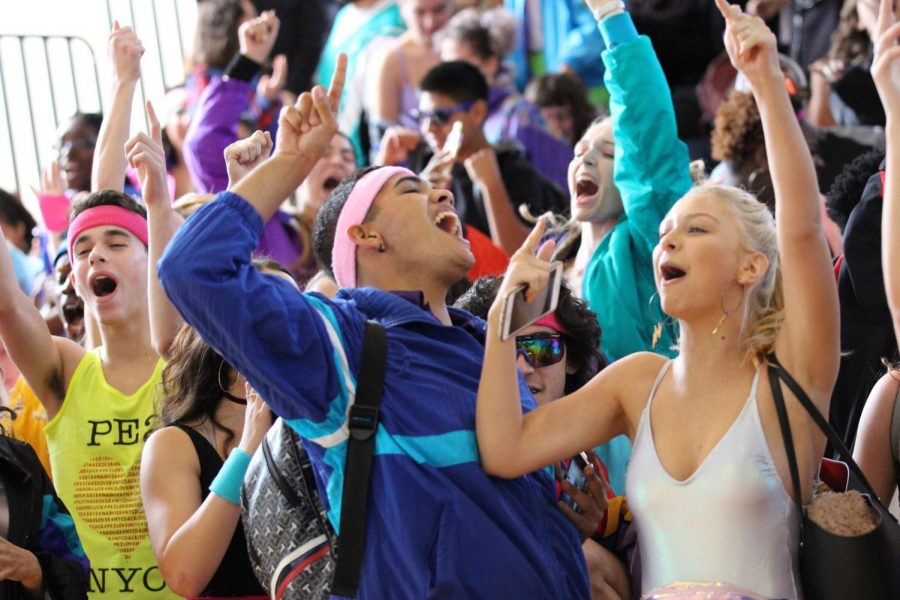 '50s GENERATION DAY DANCE
    Having never choreographed a full dance before, Generation Day choreographer and dance freshman Emma Jaffe jumped to the occasion, aware of her lack of experience in choreography and unfamiliarity with Spirit Week.
    "We just went in with really no idea what we were supposed to do," Jaffe said. "They didn't really give any instructions to what to do, so I asked older kids from the different grades what they did, and they gave us some help."
    For their choreography, Jaffe used inspiration from Elvis Presley and '50s swing dancing YouTube videos and incorporated it into the dance by "putting a little spice to it." She found that thinking of different moves to use in the dance was her greatest challenge.
    "It was more challenging than just doing a normal dance because you had to think of normal moves and '50s moves," Jaffe said. "It was difficult to get everyone together to cooperate and work together to get it done."
    Jaffe had to make last-minute changes to the finale of her dance after being told she couldn't have mixes in her music. The night before the final performance, Jaffe and her fellow dancers learned new choreography and put it together the morning of the performance. Despite this, Jaffe knew it was "going to come together."
    "My brother is a junior here, and he told me that the freshmen are not supposed to win, so we all had that in mind," Jaffe said. "We tried our hardest, but we knew that we weren't going to win anything. We just did it for fun, and it was cool."
'60s GENERATION DAY DANCE
    This year, choreographers and dance sophomores Ekko Greenbaum, Grace Handel, Nicholas Lamaina, and Carson Van Popering wanted to go outside of the box with their generation dance by taking a different approach: beach '60s.
    Greenbaum wanted to stray away from the "big dress, hairspray-esque theme" and go with something that hadn't been done in previous years.
    "Ekko, Nick, Grace, and I chose the beach theme because we wanted to be original and do something that hasn't been done for the '60s dance yet," Van Popering said. "Beach '60s is basically a beach in the '60s where everyone is happy, smiling, and having a good time. It is also a place full of singing and dancing."
    Because the Class of 2020 lost points for using music not made in the '60s for their generation dance last year, the choreographers were careful when choosing music. Instead of choosing music from Hairspray, they used music by artists such as The Beach Boys and The Beatles.
Handel believed that sticking to the '60s era was one of their main challenges, and that choreographing for the generation dance was "both exciting and frustrating." Lamaina found it difficult to find a way to "engage the audience" with a '60s dance.
    "The '60s is kind of hard to recreate dance-wise since it was a transition period between the '50s and '70s, which both have very prominent dance styles," Greenbaum said. "[The] '60s were somewhat a mix of those."
    For their dance, the choreographers chose to use both beach-themed dance moves and popular '60s dance trends, such as The Swim, The Scuba, and The Pony. In their final performance, Van Popering wanted to convey the "beachy sort of vibe" through the music and choreography.
    "For the final performance, I just hope that all the dancers have fun showing off what we've put so much effort into and that the school enjoys watching," Handel said.
'70s GENERATION DAY DANCE
After placing fourth in last year's generation dance due to the aforementioned music mishap, choreographers and dance juniors Melanie Munoz, Jordan Tortorella, Charlise Cohen, and Sasha Sagel hoped to perform better this year by putting a unique twist on their '70s dance.
"I put out the idea that we should maybe go down the rock route because it most likely hasn't been done yet," Cohen said. "After that, I just searched up '70s rock music and whichever I felt would be best for the dancers and the crowd is what we chose."
To avoid last year's mistake, the choreographers researched music and dance moves from the era, ranging from '70s rock to classic disco music. Watching movies and music videos also "played a big part in the process" for Tortorella while she created choreography.
"Choreographing a piece for the generation dance was not as challenging as I expected it to be because the music is so upbeat that the moves just came to me naturally," Munoz said. "My job was just to put the moves together so it made it pretty simple. There were many common disco steps that I needed to put in there so it truly portrayed how everyone danced back then."
Tortorella hoped that the final performance was a "real crowd-pleaser" and Munoz believed that there was "enough for everyone to enjoy" in their choreography. Sagel had high expectations for this year's dance.
"We worked really hard on a cool idea that I don't think has been done," Sagel said. "Overall, we would like to win, but it's okay if not. We are just having fun."
'80s GENERATION DAY DANCE
    Each year, the seniors take to the gymnasium in bright neon leotards and tights to perform one of the most iconic dances of Spirit Week: the '80s generation dance. Choreographer and dance senior Elizabeth Zuccaro, who has been choreographing the Class of 2019's generation dances since freshman year, strived to take a different approach with her dance.
    "The biggest challenge I faced while choreographing was trying to be different from past years and not do the same choreography as prior '80s dances," Zuccaro said. "However, I overcame that issue by using my dance training and passion for choreography to take on the challenge of figuring out new ways to execute the dance."
    Most of Zuccaro's inspiration for the dance came from watching old '80s music, dance, and workout videos. Zuccaro's mom, whose favorite era was the '80s, helped give her music suggestions from the time period.
    While the senior dancers didn't get to have many rehearsals for the generation dance, Zuccaro described the practices as having "great energy" and believed that the "hard work" and effort put in by all of the dancers would pay off in the final performance.
"It's all about having fun and that will definitely shine through," Zuccaro said. "It's going to be great. [I'm] always proud of my senior class."
About the Writer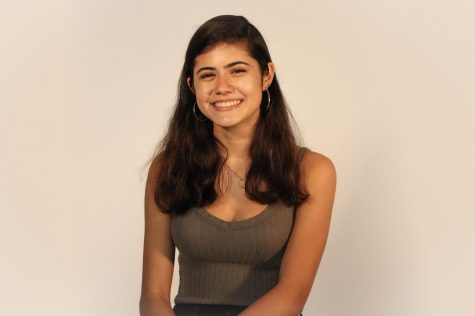 Isabella Ramirez, Assistant Managing Editor
Communications junior Isabella Ramirez is one of three assistant managing editors for The Muse. She is almost always found in the publication room, whether...