Passing steaming chicken sandwiches under Florida's heat, scouring grocery aisles to fill instacarts, or working as a server and hostess are among the tasks done daily by student workers.
Venturing beyond bed frames or school gates, students have maintained new rhythms on the job. Digital media senior Leedia Valler filled out a Chick-fil-A job application at the start of the pandemic last year.
"Sitting at home got tiring," Valler said. "I wanted to get out of the house for any reason at all, so working became my way out."
Valler's work schedule consists of two to four shifts a week, for a total of 14 to 20 hours. Chick-fil-A has established new COVID-19 guidelines to ensure the safety of customers and staff. Valler washes her hands every 20 to 30 minutes while working, receives a temperature check before interacting with customers, and wears a mask. Dine-in seating is currently unavailable, and plexiglass barriers separate the staff and guests at cash registers. While these changes help prevent the spread of COVID-19, they are taking a mental toll on Valler.
"[The changes] make work more of a struggle because it's hot in Florida and I work outside most of the time," Valler said. "It gets tough, especially with the masks; it gets stuffy and hard to breathe."
Despite these challenges, work is a getaway for Valler.
"Since I've been online, I've gone eight hours a day without saying a word," Valler said. "It's nice to socialize with people."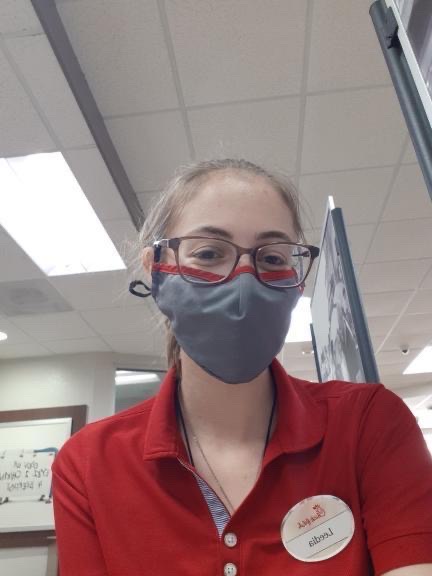 Culvers in Jupiter is another fast food chain that has implemented changes similar to those introduced by Chick-fil-A. Vocal junior Aubrey Barnes has worked 30-hour weeks there for a year and a half, and has known the owner of the Culver's location since she was 2 years old.
"My birthday was in September, so I got this job to help pay for my car," Barnes said. "I continued working there so I could pay it off each month, and it's an outlet because I haven't been able to go anywhere [during the pandemic], other than school and my job."
Balancing school and work has proved to be challenging for Barnes. She gets home at around 10:00 p.m., returning to assignments and her personal agenda.
"[When] I come home, I do homework and then eat dinner, take a shower, and if I don't finish [my homework], I would get up earlier the next morning or do some during lunch," Barnes said.
Barnes has been able to find light in the simple acts that have come from her job. While working, she encountered a customer that reminded her of a loved one.
"This one lady came through the drive-thru and she gave a 50 dollar tip to us, so everyone got ten dollars," Barnes said. "Her name was Linda, which is [the name of] my grandma who passed away last year. I was having a really rough week and I think my grandma came to visit me and helped me out."
Digital media junior Addie Wrona began working at Pizza Rustica last December. Wrona works as a server and hostess three to four days a week. Wrona has visited Pizza Rustica since she was little and has "always loved it."
"I didn't really want to work during COVID[-19], but I figured it was time for me to get a job because I'm 16, I need some sort of responsibility," Wrona said. "I [thought] it'd be a good learning experience to have my first job."
Wrona has faced conflicts with other customers over CDC guidelines.
"It gets really hot in the restaurant, my mask gets annoying and it's hard to breathe," Wrona said. "People can be mean about wearing masks. They'll come in not wearing one and then I'll ask them to put one on and they roll their eyes. Or they're like 'well I'm eating anyways, so why would I have to put it on' and they argue with me about it, which I don't understand, because it's just a basic procedure that everyone should follow."
Masks have constituted burdens not only from their heat and weight, but also from the social hindrance they create.
"I can never tell people's expressions," Wrona said. "I'll try to read their facial expressions, but it stresses me out not knowing if I'm doing a good job."
Through bonding with co-workers and being part of a productive work atmosphere, Wrona has found contentment in tiled floors and pepperoni perfumes.
"[Work] gives me something to do other than be at home all the time," Wrona said. "On Christmas, I had just started working [and] I didn't know anyone yet, but we all did Secret Santa together and it was fun trying to shop for someone who I hadn't even met yet. I [still] don't even know who my Secret Santa [was], but it was nice knowing that everyone there cared for each other. It was like a family."
Communications senior Lucy Steingenga has found a routine through nannying: picking up a 10 year-old girl from school three days a week, helping her with homework, and filling free time with childhood activities.
"I love kids," Steingenga said. "'I've been babysitting since I was 13 and now that I'm 18, it's a lot easier to get jobs for younger kids, babies, [and] multiple children. It's a fulfilling job because you get to build relationships with the kids. It's nice when you go inside and they come up and hug you and they're so excited to see you."
Steingenga currently works closely with one family, which she says safeguards against the spread of COVID-19.
"This was a job that didn't require me to be interacting with a bunch of different people," Steigenga said. "It was solely one family, rather than working at a restaurant where I'd have to see a bunch of different customers."
Over the years, Steingenga has continuously nannied, fostering connections with the children that the pandemic has not been able to break.
"There was this one family I started nannying for and the very first day I went, the two girls were super naughty," Steingenga said. "They were not listening to a single word I said [and] running around the house. They tied me up with a yarn […] Now I've been nannying for them for two and a half years and they're like my own kids, I love them. Every time they see me, they run up to me and give me the biggest hug."
Digital media senior Tea Maxwell has worked as a cashier at Publix since 2018. Recently, they have begun running Instacart curbside pickups. At the beginning of the pandemic, Maxwell took a leave of absence in caution of her grandfather's health, who, at the time, was battling kidney cancer. Maxwell has since returned, and works two weekdays, and about seven hours on Saturday and Sunday, totaling 12 to 19 hours per week.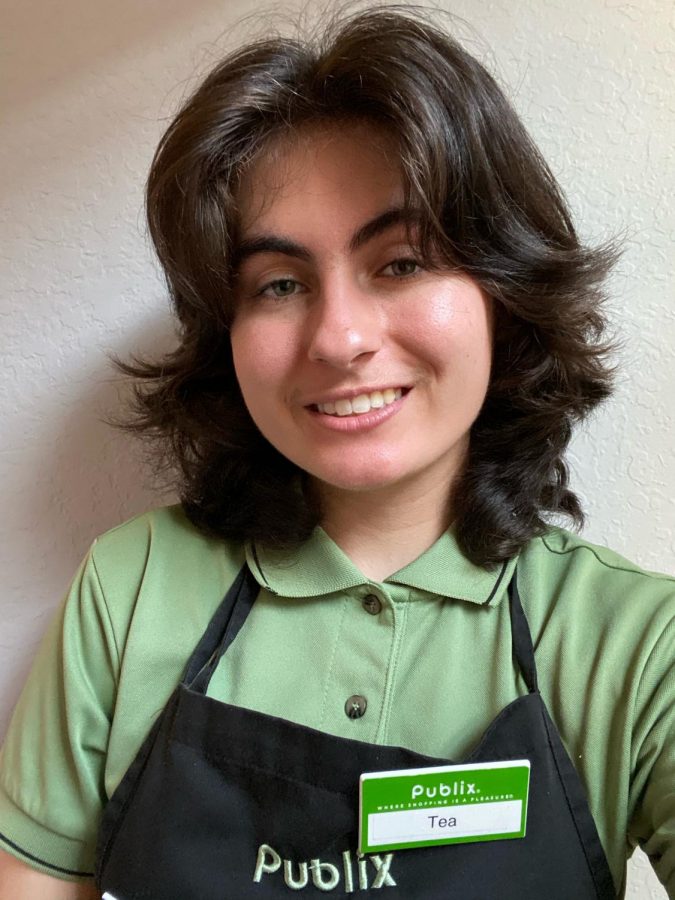 "You want to keep your line clean [and] you want to make sure that you have your mask on at all times," Maxwell said. "Originally, you were allowed to ask customers to put a mask on if you were in their cart lobby, but now you're not allowed to say anything, so it's generally me being self aware of being considerate to the customer even if they don't have a mask on."
Maxwell has been able to cultivate connections with her coworkers, using the break room as a dance floor and hangout spot.
"We're all dancing to the music in the store because it's not that busy anymore or we'll all make jokes and have a good time," Maxwell said. "That's one thing that has stayed the same pre-COVID[-19], which I appreciate because it makes it a lot more bearable to do the job. Knowing that I'm still able to be funny with my co-workers is a nice reminder of 'we're all in this together.'"