NO MORE SUMMER ASSIGNMENTS?
Summer. Summer. Summer. Summer. The "High School Musical 2" intro echoes as the last seconds of the school year crawl by. When the final bell rings, Sharpay-worthy relaxation begins. The clock ticks faster through June and July. Then, the arrival of August 1 snaps students out of their reveries, and they remember the piles of homework sitting on their desks. Cue a week of frenetic work, just in time to start the new year.
But following a school policy change for the 2019–20 school year, teachers will no longer be allowed to give summer assignments.
"Over the years, we've been getting a lot of complaints from students and parents about the amount of work that was in the summer assignments," Assistant Principal Corey Ferrera said. "So at first, we tried to just scale back and start with making them not necessarily mandatory. But then this year, we made a collective decision through administration that we were just going to eliminate them so [that] kids can have summers."
Last year's English summer assignments required reading one book for freshmen, AP Language, and AP Literature students. Other students received one book suggestion and a chance to enter the "Read for the Gold" competition for extra credit. In comparison, the AP Biology summer assignment included video notes, a photo blog, and practice essay questions, estimated by science teacher Stephen Anand to take 10–20 hours.
"Summer assignments are designed so students don't have a slump during the summer," English teacher Peggy Mellon said, "but this is Dreyfoos. We don't really have a summer slump. You guys are doing stuff all summer long. There are those of you who are actually even reading just for fun, so I'm okay with [students] not having summer assignments."
The change is hoped to de-stress Dreyfoos, where AP course enrollment is 88 percent.
"APs are killer," vocal sophomore Lacie Michaelis said. "[This change] will give students more time to focus on extracurricular opportunities like volunteering or other ways to grow in their art area and give us time to really be kids because during the school year, most of us are overloaded with our classes."
Students who work, travel, and participate in summer activities especially welcome a homework-free summer.
"My family travels a lot during the summer, and our trips tend to last the entire summer," digital media freshman Emma Shukla said. "It is the only real time of the entire year where we have time to spend with friends and family without the stress or weight of schoolwork."
While some students believe the change to be for the better, others worry about the "summer slump" and suggest an alternative: shorter, more relevant assignments.
"We should still have some type of work to keep our mind stimulated," band freshman Joshua Kopit said. "In the long run, it doesn't help us if we come back to school not remembering anything. It doesn't have to be a boring packet, but anything that makes us think."
STUDENT PERSPECTIVES:
Emma Shukla (digital media freshman):
"Having summer homework takes time away from being able to learn new skills and experiences. I spent a solid two weeks straight finishing up my summer homework when I could have instead been learning how to play a new instrument, spending time practicing skills, or hanging out with my friends. I personally think that summer should be free of homework because it is the only real time of the entire year where we have time to spend with friends and family without the stress or weight of schoolwork."
Andrea Engativa (dance freshman):
"I don't think it's beneficial for students to go over two months without any sort of academic or cognitive exercise. I'm not saying kids should be assigned long packets or projects, but I think a worksheet or recommended exercises should be recommended for students."
"The school's making a lot of changes that [are] 'loosening up' the kids, so I think this is just another change in response to kids and parents wanting less stress and work."
Amanda Ferber (vocal sophomore):
"I think that we should get small summer assignments so that we don't forget important information from the previous school year and sabotage ourselves going into the next school year. I feel that getting a little bit of school work that's not busy work would be beneficial so our brains could be in shape going into the next grade level."
"My assignment last summer was to read a book regarding world history but I don't feel the assignment was structured enough to prepare me at all for the class. It was informative, but I don't feel it helped."
"Taking notes on concepts that have not been taught in a classroom might be confusing and might cause students to lose motivation or interest in the class they are taking the following school year. However, assignment length should take extracurricular activities into consideration. Some people have many events going on over the summer, so overly lengthy assignments would take the point out of summer break."
Mackensey Moore (Vocal sophomore):
"Summer assignments are normally advertised as information or lessons you will see later on in the year, whether it's a book to read or packet to finish. Teachers generally say that it's a vital part of their curriculum and how they are going to begin the year, when in reality, most teachers never even touch upon the assignment, or the most they will do is grade it as completion. It's unnecessary stress upon the students when this is the only time where they actually get a mental break and get to prepare themselves for the next year. Students should have the summer to spend with family and friends and [to] allot the time to other activities that they may not have been able to do during the busy school year. It's summer break, meaning a break from all of the craziness and stress that being a student entails."
About the Writer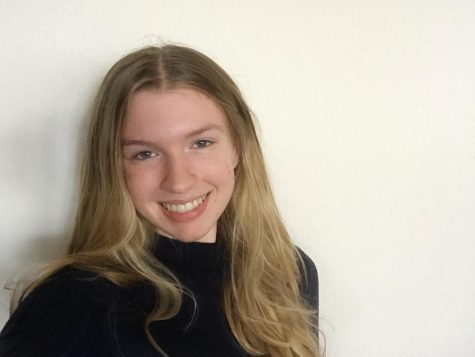 Emma Garrett,
Emma Garrett is a third-year staffer and the co-editor-in-chief on The Muse. When she's not writing, she's reading whatever she can get her hands on,...