BRIGHTLINE TRAINS HITS THREE PEDESTRIANS IN ONE WEEK
Red lights flashed as the railroad crossing gates lowered near North Flagler Drive. The new Brightline train, which can travel at speeds upwards of 79 miles per hour, was blowing its horn, but these warning sounds soon turned to those of emergency brakes as the train screeched to a halt. The train had hit its third victim in the span of a week.
The injuries sustained by the pedestrian struck during this accident, which occurred on Jan. 19, were not fatal. However, a few days prior to this event, deadly incidents with two other local residents did take place. It is possible that incidents such as these could happen at the Clematis Street crossing just one mile from Dreyfoos.
"Brightline is going to have a much more significant impact," Assistant Principal Leo Barrett said. "[Students] can't always judge how fast the trains are running."
In fact, on Jan. 17, a male bicyclist was fatally hit while crossing the Florida East Coast Railway track in Boynton Beach. His body was found nearly 100 feet from where the accident occurred, according to the Boynton Beach Police Department (BBPD).
Just five days prior, a female pedestrian suffered the same fate while crossing the tracks in Boynton Beach. In both cases, the BBPD found that the injured parties crossed while the gates were already down in an attempt to beat the train.
Questions were immediately raised regarding the functionality of these gates at Brightline railroad crossings, including the gates close to the West Palm Beach station.
Brightline has defended their safety measures, which are designed to "prevent and protect people from incidents like those that occurred in recent days," Brightline said in a press release.
Brightline has since implemented additional safety measures around their railroad crossings. Twenty electronic signs were placed at key intersections between West Palm Beach and Fort Lauderdale, informing pedestrians of the new train's hazardous potential.
In a press conference last Friday, Patrick Goddard, Brightline's Chief Operating Officer and President, said, "Increasing awareness about rail safety is of critical importance, which is why we continue working with our transportation partners to help spread the word."
The Muse will be covering this developing story regarding the Brightline train and associated safety concerns. Stay tuned for updates.
Your donation will support the student journalists of Dreyfoos School of the Arts. Your contribution will allow us to purchase equipment and cover our annual website hosting costs.
About the Writer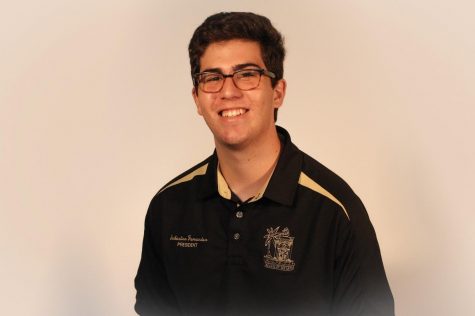 Sebastian Fernandez, Managing Editor
Sebastian Fernandez is a third-year staffer as well the digital managing editor for The Muse. Sebastian works hard to increase the digital footprint of...