Dreyfoos' 2015-2016 Orientation
The Dreyfoos family welcomes new students
Despite thundering clouds and an overcrowded Meyer Hall, New Student Orientation on Aug. 13 carried on and aided incoming Dreyfoos students. The orientation, hosted by Dreyfoos faculty members and SGA, began at 5:30 p.m. in Meyer Hall. Seeds, the communications department, the PTA and other Dreyfoos organizations set up tables with shirts and  Dreyfoos merchandise in the lobby to welcome the new students.
"The orientation had such a great turnout. Around 600 people attended, making the space very crowded," visual junior and SGA historian Marco Estrella said. "I had to give a short speech about the information provided in Meyer Hall for a few parents that did not fit in the auditorium."
After the presentation, Assistant Principal George Miller provided all new students  with information about their first period class. All incoming students who did not attend orientation will be able to see their first period class on a board on the first day of school. Before concluding orientation, SGA and Dreyfoos faculty members gave tours of the campus.
"I'm looking forward to meeting new people [who share] my interests, and I'm also looking forward to the classes since Dreyfoos is a top ranking school," vocal freshman Abbie Jordan said.
About the Writer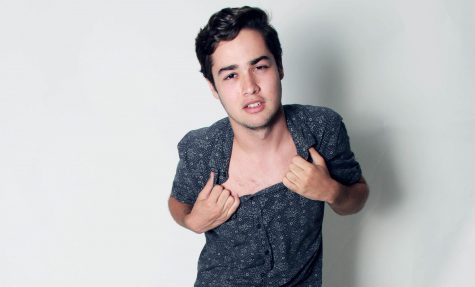 Isaac Ochoa, Editor-in-Chief
Communications senior Isaac Ochoa is a third-year journalist on The Muse. He hails from south of the border where life is much more mellow yet dangerous....