Lana Del Rey Concert Review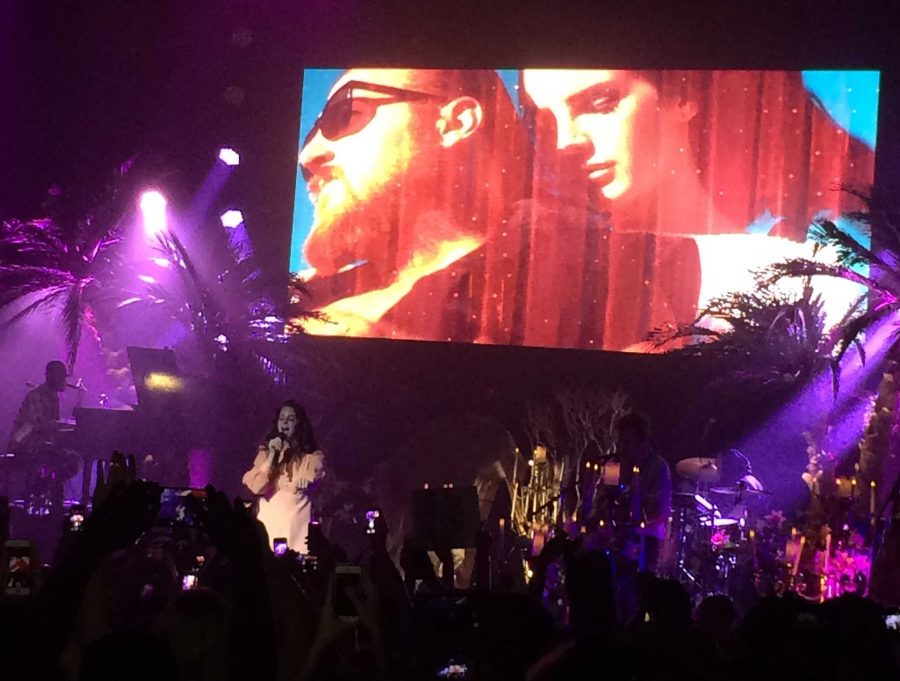 Surrounding the colorful walls of The Fillmore were hundreds of flower crowned girls, all sweaty with Miami heat and anticipation. They, along with everyone else lined up along the entrance, were anxiously awaiting the arrival of the ever-so-mysterious Lana Del Rey. Following the release of "West Coast," the hypnotic first single off her upcoming album Ultraviolence, the reclusive singer-songwriter unexpectedly announced the launch of a 2014 North American tour earlier this year, with a stop at Miami Beach's Fillmore on April 27.
Drenched in dark, moody light, the stage created the illusion of being lost in an enchanted Los Angeles forest, with candelabras and twisted trees amidst paradisiacal palms playing the perfect backdrop to Del Rey's heavily ambient music. When the self-described "gangsta Nancy Sinatra" finally set foot onstage as her band played the summery chords of "Cola," the flower crowned teens pressed firmly against the railings screamed the frenzied screams of a fan base who, for the most part, had only ever seen their idol on Tumblr and were finally getting a taste of their sweet reality.
Following a Saturday Night Live performance that would best be understated as uncomfortable, Del Rey stayed out of the spotlight during her steady rise to fame, a time she should have used for publicity. These marketing missteps, paired with the slow nature of her somber ballads, created a public image both loved and ignored by mainstream pop culture, making this concert tour a much-desired payoff for her fans.
Sumptuously swaying in a loose-fitted coral dress, Del Rey couldn't resist smiling as she witnessed the overwhelmingly positive reaction from her fans, gushing about how much she had missed them. With a giant screen projecting low-quality videos behind her, Del Rey crooned her way through the melancholy hits that established her as a 21st-century lounge singer, including fan favorite, "Summertime Sadness." The video backdrops showed clips of her iconic music videos interspersed with whitewashed beach scenes, grainy footage of brightly lit cities and all the other gritty subcultures of Americana Del Rey has strived to represent.
Style is clearly very important to Del Rey. Her determination to ensure everything onstage and everything released fits well into her many personas is admirable, even though the overall mood created by her music is one of gloomy despair. Though the songs varied in tempo and style–some sulky and wistful ("Gods & Monsters," "Ride"), some vulnerable ("Blue Jeans," "Born to Die") and others as hopeful and radiant as a Lana Del Rey song could get ("Young and Beautiful," from last year's Great Gatsby soundtrack)–they all flow seamlessly together into a dreamy, trouble-in-paradise beach that could only exist in an artist's imagination.
Del Rey's voice effectively portrayed the many emotions conveyed through her lyrics, alternating between high-pitched Lolita squeals ("Body Electric") and brooding low tones ("Video Games"). In stark contrast to previous criticisms, there was no denying the indulgent look on her face when hitting the right notes, especially in jazzier tunes like the astonishing crowd-pleaser "Million Dollar Man."
After covering a broad range of songs, including her highest-charting single "West Coast," Del Rey wrapped up her hour-and-a-half set with an energetic rendition of the hip-hop influenced "National Anthem." Taking selfies with ecstatic fans in the front row as clips of her and ex-boyfriend A$AP Rocky played behind her, the music disappeared somewhere between the crooked palm trees and ambient haze.
About the Writer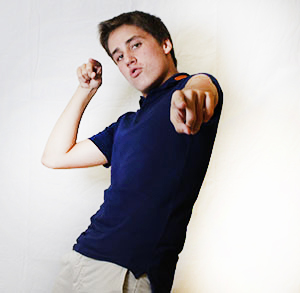 Juan Ramirez, Website Managing Editor
Juan A. Ramirez is currently in his second year on The Muse. After a year working as an Entertainment staffer, Juan is now Head Columnist for the Op/Ed...