Dance Department Takes on New York
Every year, dance juniors have the opportunity to go on a trip to New York City, giving students the chance to tour top performing-arts colleges in the United States and take master dance classes. The 2016-2017 school year was no different; 20 students went with dance teachers Heather Lescaille and Gary Lewis from Jan. 17-21. Their schedule was jam-packed every day, never being bored touring "the greatest city in the world."
Tuesday, Jan. 17
4:30 p.m. Depart from Palm Beach International Airport
Nobody could sleep on the way up with everyone excited to get to the city. I sat with Mikalla Ashmore and Kendall Aumick on the plane; we watched "Nerve," a movie set in New York City. We started deleting some photos off of our phones so we could have plenty of storage space for new pictures of us in the city.
7:15 p.m. Arrive at Newark International Airport
The New Jersey airport was bigger and nicer than we all expected. After using the restrooms, we began to rush out of the building to get picked up. Anyone could tell we were from the South once the group was outside because we were all making a big deal out of seeing our breath as steam in the cold air. We were all in awe when we emerged out of the Lincoln Tunnel to the sight of the city shining in the dark.
9 p.m. Arrive at Park Central Hotel and eat dinner
My assigned room was with Kira Lipscher and Mikalla Ashmore. Once we had gotten our room keys, we rushed upstairs to drop off our luggage, and went with Carmen Garcia, Devyn Adler, and Kendall Aumick to the diner across the street from the hotel. All of us were excited to wear gloves, hats, and heavy coats that never get put to use in Florida. We had our dinner then walked around a few blocks taking pictures and freezing.
Wednesday, Jan. 18
8:30 a.m. Eat breakfast (and explore what is around the hotel)
My roommates and I decide to wake up early and explore the shops around the hotel to get some extra time around the city. We find this amazing place called Tisserie that had the most amazing quiches, and offered so many drinks; my favorite was the nutella iced chocolate.
10:30 a.m. Tour the Juilliard school
The group got a tour of the whole building, walking past the dance rooms and learning about tuition, programs they offer, and how many dancers they accept a year. As we were walking past the dance studios, we got to see some dreyfoos alumnae, such as Hayley Mertens ('15'
11:45 a.m. Take subway to Pace and eat lunch
Gary Lewis met up with another Dreyfoos graduate that attends Pace for musical theatre. She recommended an amazing pizza place to us that was right by campus.
1:30 p.m. Tour Pace
We got to see the dance building, but no classes were going on because students had not returned from break yet.
3 p.m. Contemporary dance class at Broadway Dance Studio in Ripley Grier Studios with Salim Gaulwoos
Climbed four flights of stairs to this amazing contemporary class private to only Dreyfoos. It had jazz and ballet qualities in the style. We were taught an amazing and challenging combination, we were all sweating so much, the heater had been on due to the cold. Ms. Lescalle is having him come down to Dreyfoos to set a piece for the Spring dance Concert.
7:30 p.m. The Joyce Theatre, BODYTRAFFIC modern dance show
This was the most interesting dance show I have ever seen. The movement was sharp and abstract, all the company members (there were only about seven) were amazing. There were three sections of the show, all being completely different story lines, but consisted of the same theme.
Thursday, Jan. 19
7 a.m. Breakfast
Having an early morning calls for a big breakfast from Metro Cafe to get through the day.
9 a.m. Meet in lobby and take subway to NYU Tisch School of the Arts
9:45 a.m. Take tour of Tisch School of the arts
This was our most memorable tour. We had two dance students giving us the tour, and the building was empty of students still on break. We got to go in the dance studios in the art building which were all white and bright from the sunshine coming in from the windows filling the walls and lighting up the large studios.
12 p.m. Lunch and shopping
I went to the Yumiko store with some other dancers, a high end company that makes leotards for dancers. Their leotards range from 70-115 dollars on the sales rack usually. It was an awesome opportunity to be there with their only locations being New York, Berlin, and Tokyo.
1:30 p.m. Tour Alvin Ailey American Dance Theatre
3 p.m Fosse master class at Broadway Dance Center in Ripley Grier studios with Peter Yuen
This time, we made sure to turn on the fans! We were taught the opening and closing dances of "Chicago".
6 p.m. Dinner at Junior's Cheesecake in Times square with "Chicago" cast member, Michael Scirrotto.
Mr. Scirrotto was a Dreyfoos graduate from the theatre department that Mr. Lewis had taught. He sat down with us during dinner before his call time and talked to us about how he got to where he is now and what it's like dancing on broadway.
8 p.m. The Ambassador Theatre, "Chicago," Q&A after the show.
Mr. Scirrotto had gotten a few of hs castmates to join him on stage for a private talkback with us. They were incredibly kind, and mainly talked about how they got to be where they are today. One of them was going to school to become a neurosurgeon before taking an interest in becoming a dancer!
Friday, Jan. 20
9 a.m. Breakfast and exploring
Ms. Lescaille had given us the option to go to either Times Square or Central Park (our hotel was in the middle of them.) I went to Central Park with 5 other girls, we only got time to walk around just the edge of the park. It was huge.
10:30 a.m. Meet in lobby and take subway to upper east side Manhattan
Once we stepped off the subway, it was like we stepped into a complete different land. The station was so nice and clean, there was even an escalator to get us back to ground level.
12:30 p.m. Campus tour of Marymount Manhattan
The tour started with information on the dance programs they offer and then a Q&A. The second half was led by to other students showing us round the building.
1:45 p.m. Lunch and shopping
2:30 p.m. Ballet class at Steps on Broadway
Walking in, the place was packed. So many full classes in progress, dancers waiting in the hallway eating a snack and stretching, this studio is famous for hosting professionals. We get dressed then head upstairs to our ballet class, which is taught by a teacher we saw teaching at Juilliard earlier in the week.
4 p.m. Take subway back to hotel, eat, and get ready for Lincoln Center
6:30 p.m. Meet and greet with New York City ballet soloist Ashley Bouder and tour of back stage
Ms. Bouder looked too young to be a soloist, but then she had told us she is 33! We were all shocked. She told us much about her personal life, her husband (who is also in the company) and their dog. She really opened up to us. She wasn't some stereotypical prima diva.She was just a regular person doing a job; in her case, dancing for the New York City Ballet.
8 p.m. Watch "Balanchine Short Stories"
10:30 p.m. After the show, friends got to reunite with Dreyfoos alumna, Jules Mabie, who is now a student at School of American Ballet (SAB), who was an apprentice in the show.
Saturday, Jan. 21
7 a.m. Pack and eat breakfast
My roommates and I sadly grabbed our last breakfast from Tisserie, remembering that we wouldn't be going out into the city again that day
8:45 a.m. Meet in lobby and take bus to Newark international airport
11:30 a.m. Depart from airport to West Palm Beach and sleeping almost the whole flight home.
2:30 p.m. Flight arrives in West Palm Beach International Airport
About the Writer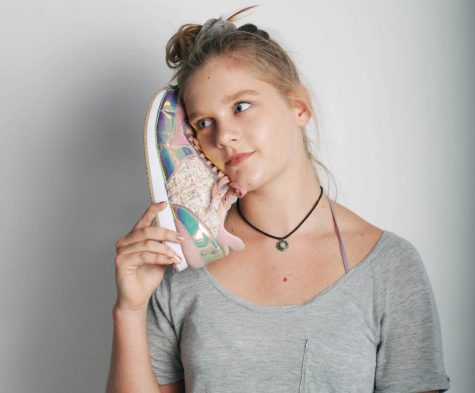 Emily Sweetz, Entertainment Staffer
Dance junior Emily Sweetz is a first-year Entertainment staffer for The Muse. After Sweetz won a writing contest in elementary school, English has been...