America "Ghosts" Halloween 2020: A Recap of Celebrations Amidst COVID-19
Simply put, Halloween is a COVID-19 nightmare. Communal bowls of candy, close interaction while trick-or-treating, and crowded costume shops may have created fear of a consequent rise in COVID-19 cases. This year, in an attempt to make the holiday less frightening in regards to sanitation, students took part in low-risk alternatives to traditional celebrations to keep the spirit of Halloween alive during a global pandemic.
Halloween fell on a Saturday this year, a full and blue moon in the sky. Although the alignment of the date and the lunar calendar were ideal for celebrations, this year's Halloween festivities were much different than those from past years. Traditional activities such as trick-or-treating, attending costume parties, and visiting haunted houses were stated to be of high risk because of COVID-19 according to the Centers for Disease Control and Prevention.
"It is important to continue the tradition of celebrating, and this year, to do so in a safe way," piano sophomore Sahil Bhandary said. "Connecting with friends and letting loose is especially important during this stressful time."
Alternatives to traditional Halloween celebrations include systems of individual grab-and-go trick-or-treating, small pods of outdoor celebration, and limiting interactions to close family members.
Bhandary planned to meet with friends in a group of less than 10 people and spend time together outdoors while wearing masks and social distancing. He also arranged an alternative to include friends from "dead neighborhoods" that did not offer opportunities to celebrate safely.
"Although they have not taken action, it is important to keep the tradition alive, and because it is basically our last year to trick or treat, my friends are coming here," Bhandary said.
Other students spent time celebrating with small groups while refraining from partaking in trick-or-treating and other high-risk activities. Communications freshman Mariana Colom planned to hang out with two friends. Compared to previous years, Colom said her night was "nothing too special."
The pandemic has also impacted student celebrations on campus. This year, SGA was unable to host its annual Halloween party and haunted house.
"Last year, I had a lot going on. I would go to my school's Halloween event, to a friend's Halloween party, and also trick or treat in my neighborhood. This year I can't really do any of it because of the pandemic," Colom said.
Theatre junior Daniel Reiter found his ideas for celebration from the news and TikTok. This year, he rented an AMC Movie theater and watched classic Halloween movies with two other friends while socially distancing.
"Throughout COVID I've had a small, close-knit group of people that I've been seeing regularly," Reiter said. "I've kind of kept the same group of people so that I know I can trust them and know who they've been around and who I've been around."
Halloween created an opportunity to spread awareness of COVID-19 and encouraged mindfulness of safety precautions among the student body.
"I wouldn't advise going with a group of more than 10 people because it is difficult to be mindful of the distance between people," Bhandary said.
With a Halloween like no other, students reflected on previous years and learned more about safety and celebration amidst the current pandemic.
"This year, I am more grateful for Halloween, and I am realizing how much fun I have at this time of year," Colom said. "But, there is still a pandemic and you still have to be cautious with what you're doing because your actions may not impact you, but they could impact others."
Your donation will support the student journalists of Dreyfoos School of the Arts. Your contribution will allow us to purchase equipment and cover our annual website hosting costs.
About the Contributor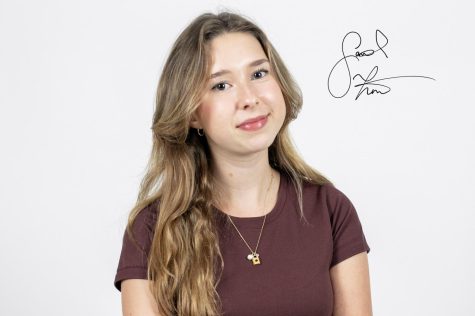 Sandra Nemes, Coverage Staffer
Sandra Nemes is a third-year staffer and coverage staffer on The Muse. She loves discovering new music, reading, participating in debate, and playing tennis....