Artist Spotlight: Tiffany Breen
Some artists are content with working in two dimensions, but visual sophomore Tiffany Breen prefers to bring her art to life by sculpting. Breen has been interested in sculpting for about two years, but she has become a more serious sculptor since arriving at Dreyfoos.
"I prefer sculpture over the other areas of art because I like to have more of a hands-on feel for what I'm making," Breen said. "Two dimensional art is just too flat and boring to me personally, because I want my artistic ideas to come to life."
Breen began sculpting with unconventional, recycled items because she likes the idea of creating new art out of old materials. Sculptures can take her anywhere between three months or three days to create.
"I have created a range of sculptures, from old plastic bottles to copper wire, or even things like bronze castings and making mold and pouring resin," Breen said. "Some of my favorites have been involving copper wire and types of plastics."
Breen's current art concentration is "the idealism of the female figure." She is creating projects like a copper wire female torso and an engraving on a plastic mannequin.
"My concentration is about the different varieties of what society has set out for the female body to look like," Breen said. "I am creating things that exaggerate certain areas of the body and trying to make my viewer feel something."
In the future, Breen is trying to implement the idea of wearable art more Her concentration was inspired by observations she has made in clothing stores and fashion magazines.
"When you go to a clothing store, sometimes they have to pin the clothes tighter to fit the mannequin," Breen said. "This really caught my attention, especially how the women in magazines all look the same."
Through her sculptures, Breen is trying to exaggerate the traits that society sees as imperfections in order to highlight how the female body is viewed.
About the Writers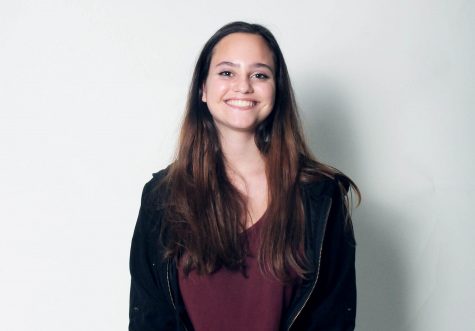 Marianna Kaimakliotis, Assistant Layout Editor
Communications junior Marianna Kaimakliotis is a second-year staffer on The Muse. Kaimakliotis is the Assistant Layout Editor this year. She loves graphic...