A correction was made to this story on 03/19/2023
In the story, it was written that Vivian Jiang, Aiza Khan, and Sienna Sossi wrote and performed "How to Become the ideal girl."  Karmiah Smith, Vivian Jiang, Aiza Khan, and Sienna Sossi co-wrote "How to Become the ideal girl." This story has been rewritten with the correct information.
The story below has been corrected with the noted revisions. 
As soft yellow lights illuminated the Brandt Blackbox Theatre, three shadowy figures stepped under the spotlight. The performers stood in a line and began speaking in unison.
"How to become the ideal girl."
These poets, along with other communications majors, performed at the annual Figure of Speech performance, a collaboration between the Speech and Debate Team and creative writing department, on March 9. Students performed works portraying themes of race, gender, love, and death.
The aforementioned first performance of the show was titled "How to Become the Ideal Girl," written by communications freshmen Vivian Jiang, Aiza Khan, Sienna Sossi, and Karmiah Smith and performed by Jiang, Khan, and Sossi. Their slam poem discussed the beauty standards society places on women, comparing themselves to the ever-idealistic Barbie doll.
"We get to teach the audience something new and show them our perspectives on feminism and what it is to be a woman," Sossi said.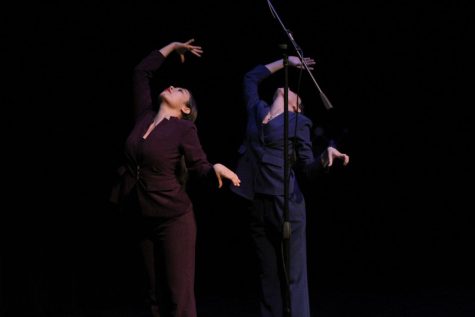 Throughout their piece, they used standard conventions of slam poetry, such as emotional and rhythmic speech. Other performances utilized other methods to portray their messages. Communications senior Angelia Capalbo and communications junior Emily Singer, who compete together on the Speech and Debate team, performed a duo interpretation. The premise of this speech event is taking material from a book, show, or movie, and transforming it into an original creation. Capalbo and Singer modeled their performance after the script from the show "Tiny Pretty Things," which involves topics such as drug usage, racism, and perfectionism in the art of dance. 
"With duo, having two people in two different minds putting something together helps create a message that is so important to share, no matter what the message will be," Capalbo said. "The element of collaboration is so beautiful and valuable and so helpful in a competition space where the goal is to share messages and to use your platform for advocacy."
Capalbo and Singer prepared for their piece by planning body movements, acting out facial expressions, and speaking in sync to further coordinate themselves beyond memorizing their script. 
"I love when the two of us speak together," Singer said. "I feel like we have spent so much time together because of our duo that we are literally half of the same brain."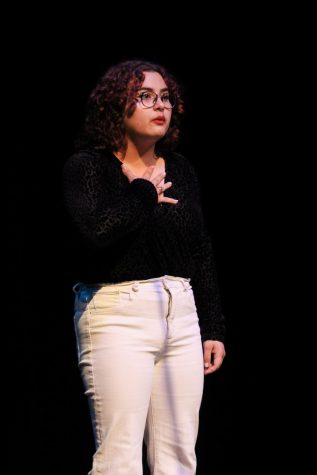 "Now it's like we share DNA," Capalbo chimed in.
Those performing slam poetry believed that the less formal format of poetry allowed for greater authenticity in their performance. 
"The thing about poetry that I find really cool, and I always say this to my creative writers, is that, if you can be a strong poet, you can be a strong writer in any way, shape, or form," slam poetry coach and creative writing teacher Brittany Rigdon said. "What poetry requires of a writer is to be clear on the message that they want to convey and distill down to its smallest parts."
Four of Ms. Rigdon's students used slam poetry to discuss the issue of racially motivated hate crimes. Communications senior Phoenix Medley,  Karmiah Smith, and communications juniors Nyanjah Charles and Eduardo Culmer collaborated in a group piece titled "My Great Grandfather." 
"The purpose of the piece is to inform people, not with just facts, but with all of our stories and how they intertwine," Smith said. 
Throughout Figure of Speech, several performances included informational facts and evoked emotion from the audience. The varied performances included a common theme: recognition of issues that performers felt needed recognition.
Before the lights dimmed on "My Great Grandfather" and the performers of the show took a final bow, the four performers called out to the audience.
"If you ignore the fire, you might as well be holding the match."