HOLIDAY TRADITIONS AROUND THE WORLD
Hang on for a minute...we're trying to find some more stories you might like.
As many Americans set up their Christmas trees and wait for Santa Claus to come down the chimney, people from around the world celebrate their own traditions. From South America to Australia, below is a list including 10 of the most diverse holiday traditions from around the world.
LATIN AMERICA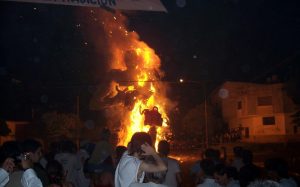 Courtesy of Wikipedia Commons
AÑO VIEJO: Lighting fireworks on New Year's Eve is a staple of American tradition, but Ecuadorians take it a step further. Instead of fireworks, they set fire to handmade papier-mâché dummies — which can represent politicians, cartoon characters, mascots, or even family members — by stuffing them with firecrackers, lighting up the streets of Ecuador at midnight. These dummies are called año viejos and symbolize the burning of the hardships from the old year and starting fresh for the new year. While some año viejos are made of straw or cardboard and stuffed with sawdust, others are complex pieces of art, ranging from masks to full body statues.
LAS POSADAS: Our famous Christmas carol describes 12 days of Christmas, but in Mexico, they celebrate nine days of Christmas in a tradition called Las Posadas, which stands for "The Inns." Starting on Dec. 16, Mexican families begin the celebration by reenacting Mary and Joseph's nine day travel to Bethlehem and their search for safety in a posada, or inn. Children in Mexico go from house to house carrying statues of Mary and Joseph, singing and asking for shelter. Once a family accepts them in, the children place the statues of Mary and Joseph on the family's nacimiento navideño, or nativity scene, and present a prayer of thanks. On the last day of Las Posadas, also known as Nochebuena, children place a figure of baby Jesus Christ on a church's nativity scene, which is then followed by a midnight mass that starts off Christmas Day.
EUROPE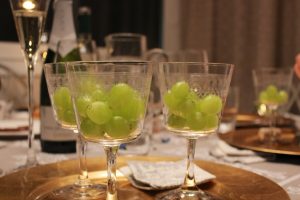 Courtesy of Flickr
TWELVE GRAPES AT MIDNIGHT: Instead of watching a ball drop in Times Square, Spaniards gather around the TV to hear the chimes of the Real Casa de Correos clocktower while clutching a bowl of green grapes. As the nochevieja, or old night, nears, the bell rings 12 times, symbolizing each month of the year. At each sounding of the bell, Spaniards pop las doce uvas de la suerte, or the 12 lucky grapes, into their mouths. If by the final bell's toll all 12 grapes are eaten, Spaniards believe that it will grant them good luck in el año nuevo, or the new year.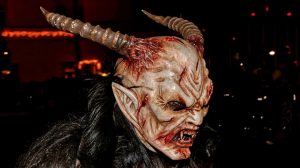 KRAMPUS: While ending up on Santa's "naughty list" in America may leave a child with coal in their stocking, Austria has a much more terrifying punishment for those who misbehave. Krampus, a creature from Germanic folklore, accompanies St. Nicholas on Christmas Eve, visiting the houses of misbehaved children and throwing them in a sack to take them back to his lair. While children cower in terror, thousands of Austrians celebrate the legend by watching Krampus impersonators in Hollabrunn Market Square, Austria. On the night before St. Nicholas Day, Austrians and other Europeans parade the streets for Krampusnacht, or Krampus Night.
AFRICA
MBOTAMA MALAMU: In the Democratic Republic of Congo (DRC), most people don't celebrate a Mbotama Malamu, or Merry Christmas, by giving and receiving presents. Christmas is a religious festival rather than a commercial one, meaning most people skip out on the expensive gift giving and the lavish dinners. For the DRC, Christmas Eve is more important than Christmas, and most of it is spent watching a nativity play in a church. These plays can last hours, as they start with the creation of the world and end with the story of King Herod and the Massacre of the Innocents. After spending Christmas Eve at church, many spend Christmas Day resting or sleeping. Most families have chicken or pork on Christmas Day.
EID MILAD MAJID: Eid Milad Majid, which means "Glorious Birth Feast" and loosely translates to Merry Christmas, is what the small population of Christians in Egypt celebrate. Most of the Egyptian Christians belong to the Coptic Orthodox Church, which follows the Coptic calendar, meaning Christmas falls on Jan. 7 rather than Dec. 25. In the 43 days before Christmas, known as the Coptic Advent, Coptic Christians maintain a vegan diet called the Holy Nativity Fast. On Coptic Christmas Eve, or Jan. 6, Egyptian Christians attend a church service that usually ends by midnight. After the service, they break their fast by eating foods containing meat, eggs, and butter. Many will enjoy fatta, which is a lamb soup with bread, rice, and garlic. Instead of leaving cookies out for Santa, Egyptians leave out kahk, or sweet biscuits, for Baba Noël.
ASIA
KFC CHRISTMAS DINNER: When Americans think of the stereotypical Christmas dinner, many think of turkey or ham, potatoes, and casseroles. In Japan, however, millions of families eat Kentucky Fried Chicken (KFC) for Christmas, calling it "Kurisumasu ni wa Kentakkii," or Kentucky for Christmas. The tradition started with the manager of the first KFC in Japan, Takeshi Okawara. Okawara came up with the idea of selling a KFC Party Barrel on Christmas and began marketing the idea. Eventually, the plan went national and diffused throughout Japan. Now, showing up with a bucket of chicken to a Japanese Christmas dinner is customary and is a tradition shared by millions of Japanese nationwide.
THE CITY OF THREE CHRISTMASES: Although most Middle Eastern countries don't tolerate the practice of Christmas or Christianity, in Israel, the denominations of Christianity converge to celebrate three different days of Christmas. Roman Catholics and Protestants celebrate on Dec. 25, Orthodox Christians celebrate on Jan. 6, and Armenian Christians celebrate on Jan. 18th. Nazareth, Jesus' birthplace and the home to Israel's largest Arab Christian community, holds an annual Christmas market street fair, with vendors, music, food, and lights. For Christians in Israel, their Christmas celebrations are not only about the birth of Jesus Christ and family, but also expression of their religious freedom.
OCEANIA
BOXING DAY: While the day after Christmas is reserved for relaxation and enjoying Christmas gifts in the United States, in Australia and several other British colonies, the day after Christmas is known as Boxing Day, a day of sports, indulgence, and shopping. Many on this day tune in to the "Boxing Day Challenge," an annual rugby match held in Great Britain. Other Australians hit the department stores for Boxing Day sales to enjoy the low post-Christmas prices. The origin of Boxing Day is believed to come from the tradition of nobles giving Christmas boxes of gifts and money to their servants on the day after Christmas. The gift giving, along with the day off many servants were given on the day after Christmas, established the current tradition.
KIRIHIMETE: As Americans pile on layers to warm up from the winter snow, New Zealanders, also known as Kiwis, are going to the beach to have a Meri Kirihimete, or a Merry Christmas. On Christmas day, New Zealanders spend the day outside, swimming, fishing, boating, or playing their national summer sport, cricket. For dinner, many New Zealanders host a Kiwi "barbie," or barbeque, cooking up food varying from the traditional turkey and ham to fresh seafood and exotic salads. On the day after Christmas, New Zealanders also celebrate Boxing Day as an extra day of relaxation between Christmas and New Year's Eve.
About the Writer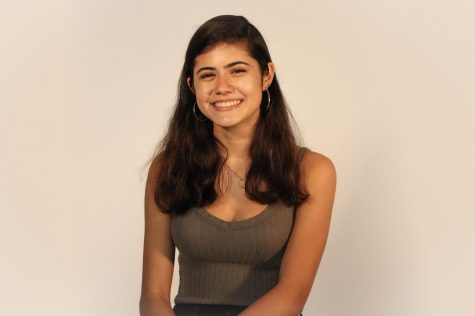 Isabella Ramirez, Assistant Managing Editor
Communications junior Isabella Ramirez is one of three assistant managing editors for The Muse. She is almost always found in the publication room, whether...