WHAT'S ALL THE HYPE?
Streetwear has found its way to Dreyfoos, with students sporting the popular urban style through brands such as Supreme, Off-White, and A Bathing Ape (BAPE). Each brand includes diverse styles and designs, leading to a new era of fashion among the teenage market and creating hypebeasts, people who follow trends in streetwear fashion for the purpose of making a social statement.
"I would define the term hypebeast as people who want to keep up with celebrity trends, like people in the fashion culture," dance sophomore Benjamin D'Addio said.
Spreading through social media, the fashion of influential celebrities and musicians have caused a rise in hypebeast clothing among the younger population. In 2001, the Diana Ross-led band The Supremes promoted Supreme by wearing their black tees before  the internet hype. Now, musicians such as A$AP Rocky, Tyler the Creator, Travis Scott, and Justin Bieber have influenced current fashion trends.
"Streetwear started to gain popularity once rappers started wearing it," digital media freshman Caroline Wiseman said. "People like to follow other people's trends."
Low supply for brands such as Supreme has directly caused a high demand amongst hypebeasts. Although some argue that the 'hype" of streetwear has increased strictly due to product design, Wiseman shares another insight on the matter.
"The demand is really high, but the supply is low, so the clothing seems rare," Wiseman said. "What makes their product special is the limited amount of items they sell per design in each season. It's not expensive [unless] you buy clothes [at] resale prices."
Making strides into the future of fashion, band sophomore Benjamin Gao has formed a business focused on buying and reselling of streetwear, more specifically, shoes. He sells products from Nike, the Air Jordan Collection, Adidas, Off-White, and Supreme on his Instagram account @sf_soles. The account currently has a following of 15.2k people, and this number continues to rise.
"On average, I make $103 per sale," Gao said. "I have $8,000 worth of inventory that I [bought] for something less than I would sell it for, then I 'flip' those items that are sitting in my closet and make a profit."
There is a high standard set for hypebeasts that students feel pressured to meet. Dressing to impress often stresses those who are immersed in fashion culture, especially at the high school level. Due to the increasing amount of students who wear streetwear brands, a few of Dreyfoos' hypebeasts have attempted to differentiate their style from the stereotypically worn sea of streetwear.
"If you truly like a shirt, you should wear it," Wiseman said. "Other people's opinions and outfits shouldn't matter. I feel like people just wear clothes to show off the value, not their own style. People 100 percent only wear certain clothes for the hype of the brand name and to make it known that you own those clothes, but I don't."
The creative Dreyfoos culture allows for students to express themselves through their clothing. Fashion has grown to hold a strong grip on the school's community, positively affecting students.
"Other schools have uniforms, but [here], you can piece anything together, which allows me to express my feelings and mood through my clothing," D'Addio said. "I find self-worth in my clothes and I wear them for myself, which [boosts] my self confidence."
About the Writer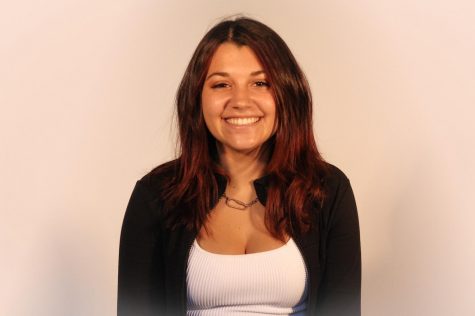 Jules Popiel, Sports Editor
Communications junior Jules Popiel is the Sports Section Editor. She is very excited to rejoin her Muse family. Outside of The Muse, she is a part of the...