Dance Seniors Shine at Solo Showcase
Hang on for a minute...we're trying to find some more stories you might like.
After hours of rehearsals, countless auditions, and hundreds of bobby pins, dance seniors presented three years of hard work and dedication at the Senior Solo Showcase in the Brandt Black Box Theatre on Oct. 20.
The Senior Solo Showcase was coordinated by dance dean Heather Lescaille, and dance teacher Branndi Lewis. It was created to provide an outlet for seniors to illustrate their growth throughout their time in the dance department.
"You're going to see seniors who are auditioning for dance programs, some that are using [the dances] as a supplement for scholarship programs to college, and quite a few students auditioning for dance companies as well," Ms. Lescaille said. "You really get to see how driven and talented they are."
Seniors performed their own solo, catered to their unique skillsets and preferences. Some students choreographed their own dances, and others worked with guest artists, local choreographers, or Dreyfoos faculty to create a dance that represents their distinctive styles.
"Twenty-five of 39 [seniors] are performing," Ms. Lescaille said. "If they aren't doing a solo, they've had a hand in it, from ushering, lighting, sound, costuming, and wardrobe. Everybody plays a part in it."
Throughout the showcase, the audience witnessed a wide variety of dance styles, from fast-paced jazzy pieces to renditions of classical ballet. This provided friends and family with an accurate understanding of the artistic diversity within the dance department.
"If someone is more specified in ballet, or more specified in modern or contemporary, they get to do whatever they want," dance senior Skylar Smith said. "In [other] shows, we get assigned a genre, so it's interesting to see what [styles] people pick."
While most of the students had their solos prepared well in advance, dance senior Maggie VanWieringen switched from a solo choreographed by artistic director
Troy Powell to a self-choreographed dance less than one week prior to the event. However, after she finished planning the solo, she suffered an unexpected heel injury.
"I strained my soleus muscle. I was working too hard, not eating enough, and not sleeping enough," VanWieringen said. "I only had a week to rehearse for [the dance] and I've just been working on it every day. Even though I finished it two days [preceding the showcase], I'm prepared to do it because it's what I love and I'm ready."
VanWieringen performed a contemporary piece set to "A Case of You" by English singer James Blake, which featured slow, staccato movements with an overall fluidity. She hopes that her solo accurately visualized the emotions represented through the lyrics of the song.
"I want [my performance] to take the audience back to memories of their relationships that they know have been toxic, but don't want to let go because it has felt comfortable for them," VanWieringen said. "When they watch me I want them to get shivers, I want them to feel something."
As each solo was less than three minutes long, students had a limited time period to tell the story behind his or her dance. Smith utilized this opportunity to further develop her rhythmic storytelling skills on stage, and show her progression as a performer.
"Because I'm doing such a short [piece of the ballet], the audience doesn't know the premise before [the performance] so you have to be able to show that aspect of your artistry," Smith said. "Ms. Lescaille would tell you that's a good thing for me to be doing because that's something that I struggle with, as I'm more focused on technique."
After all of the dancers took their final bows, many stayed behind after the show with friends and family to reminisce about the memories made throughout their years of performances together. Even though this won't be their last performance together as seniors, it represented the beginning of the end of their Dreyfoos dance experience.
"It is more intimate since it's just your class and you've been with these people your whole high school experience, so it has more of a personal aspect that goes into it," Smith said. "It was inspiring to be able to see all of my friends just do what they love and how far they've come."
About the Writer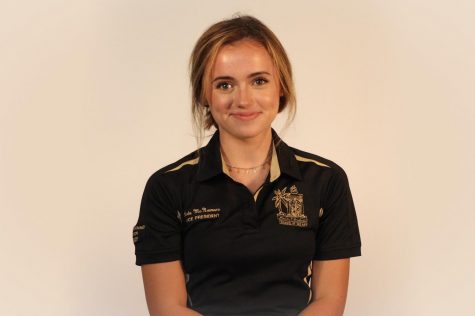 Kate McNamara, Editor in Chief
Communications senior Kate McNamara is a third-year staffer and one of the editors-in-chief of The Muse. McNamara is also one of the vice presidents of...