Spirit Week: Day 3 Generation Dances
Poodle skirts, psychedelic print patterns and neon spandex filled the halls today for Generation Day. Freshmen embodied the '50s, sophomores the '60s, juniors the '70s and seniors the '80s. Each class represented their decade with the generation dances during lunch in the gym.
Freshmen kicked off the dances, throwing it back to the era of the sock hop and hand jiving to "Grease" hits such as "We Go Together." For the sophomore dance, students played the saxophone to the opening song "Soul Man" and dancers continued with songs including "Welcome to the '60s" and "You Can't Stop the Beat" from the musical "Hairspray." Juniors got into the disco spirit with songs such as "I Will Survive" and "Boogie Shoes." The seniors got physical in their leotards and leg warmers, beginning their dance with a choreographed fight to the beat of "Eye of the Tiger" and dancing their way to first place.
In front of Freshmen Hill, artists from each class worked on chalk art. The freshmen played off the idea of "fresh meat" with "fresh fish," sophomores focused on their class' jungle theme with a feline at the center of their piece, juniors chalked "Scooby-Doo" characters and seniors depicted a silhouette of the famous "Flashdance" chair pose from the 1983 film.
Generation Dance results:
First: Seniors
Second: Freshmen
Third: Sophomores
Fourth: Juniors
Chalk Art Results:
First: Sophomores
Second: Juniors
Third: Seniors
Fourth: Freshmen
Daily Ticket Update:
Freshmen – 169
Sophomores – 142
Juniors – 134
Seniors – 243
Cumulative Ticket Update:
Freshmen – 422
Sophomores – 387
Juniors – 414
Seniors – 776
Cumulative Point Update:
Freshmen – 21
Sophomores – 18
Juniors – 23
Seniors – 27
About the Contributor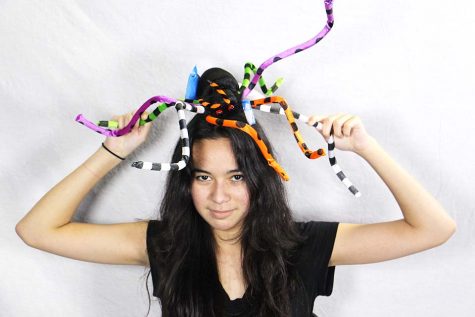 Samantha Rose, Editor-In-Chief
Communications senior Samantha Rose is a third-year staffer and Co-Editor-in-Chief of The Muse. She has had a passion for writing since middle school and...