The Collective: Bringing Music to Lunch
The Collective brings a new energy to Dreyfoos that is mind-blowing. This past school year, digital junior Isaac Acosta, theatre senior Benny Rothschild, and band alumnus ('16) Ahmad Johnson had the idea to have students collaborate on music and art at Dreyfoos' lunch hour, uniting the student body as a whole. The club consists of around 130 students, full of minds ready to bring new ideas to the table and step outside the box. They have no requirements, no expectations — they just aim to put out quality work.
"[At our events you can find] people vibing, people having a good time," Acosta said. "We all have stress, and we have school. A large number of [members of the Collective] have jobs. It's a relief to leave your class and have a good time, listen to music, and see some art. You don't have to be a music major, a band major, or a vocal major to play with us. It's really casual, it's really laid back. We invite anybody to join in; even teachers."
Band Name Pending, Jumbo Shrimp, and other school bands came together after losing musicians that had gone to college after last school year. The scare was that they wouldn't be able to find others to play with and to relieve stress through music again. However, through this, the Collective was formed. Anyone was welcome; it became group jam sessions that allowed anybody, no matter their major, to join.
"Playing [in the Collective] gives me an opportunity to mesh with others while bringing my own personality to the overall band/ensemble," strings junior and piano player in the Collective Allen Cadet Civil said. "I play with others that make me want to get better. There are those that are the pioneers of their given major by the precedents they set and how they showcase their acquired skills and talents within Dreyfoos. But we need others to carry the legacy of our school that will pass the torch too. The vision I see for the club is to push our arts to the next level by investing in ourselves first; meaning we need to embrace the school around us by using the art areas for everything they are."
Because these shows are special to Dreyfoos, they influence all students and faculty by showing that students from other art areas can get along and create something better together. Anyone can feel inspired by these collaborations and good music. Students in the Collective all are committed to sharing the arts, and are able to beautifully express it in the process. Their last shows were at the St. Baldrick's event on Feb. 9, and during lunch on Feb.10.
"I am [the main vocalist] but I help as much as I can and bring my sound system for our lunch performances and help everyone setting up," vocal senior Makayla Forgione said. "I hope to revive the arts and the love for showcasing your art at Dreyfoos. It doesn't always have to be through music, but I think every major at Dreyfoos is so important and beautiful in its own way and it would only strengthen the community if we all could see what others' majors [are like]. I hope to inspire other people to pursue their passions and to showcase their art any way they can."
About the Writer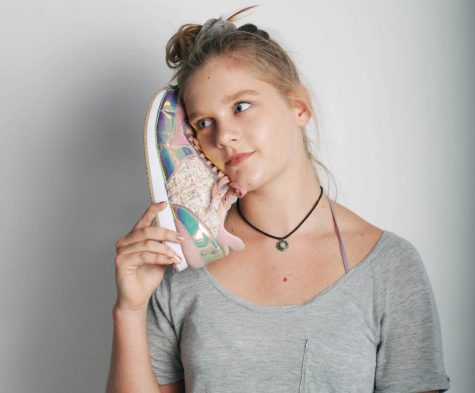 Emily Sweetz, Entertainment Staffer
Dance junior Emily Sweetz is a first-year Entertainment staffer for The Muse. After Sweetz won a writing contest in elementary school, English has been...