Piano Recital Starts Off On a Good Note
The Dreyfoos Music Department kicked off their first concert of recital season on Jan. 26 with "Klavier" in the Brandt Black Box Theater, filling the space with classical music. The setting was intimate; the theater was dimly lit and small twinkling lights hung off the side of the bleachers where the audience was seated.
Piano sophomores Alessandra Fang and Hely Lin, junior Lylybell Zhou, senior Paul Richter and strings junior Matthew Hakkarainen all performed solos and duets throughout the night from composers including Mozart, Bach, and Beethoven. Many piano majors from all grades attended the concert as well to support their classmates.
"They all played very well," piano junior Emily Johnston said. "I really did enjoy it, and I liked the fact that it wasn't broken up this year, it was kind of like block playing."
Richter plans to pursue a career in music and is auditioning for many prestigious schools around the country for piano such as Juilliard, Indiana University, and Florida State University. For his final concert at Dreyfoos, he played "Prelude and Fugue" BWV 868, "BM" by Bach, "Sonata" Op. 101 No. 28 in A Major by Beethoven, and "Etude" Op. 10 No. 4 in C-sharp minor by Chopin. At the end of the concert, Richter gave a small speech thanking his teachers, family, and the piano department at Dreyfoos for everything they have done to help him hone his craft.
"Personally, I think I did okay, obviously you can always do a lot better, but I like the way it ended, and I'm happy," Richter said.
Stings junior Matthew Hakkarainen closed the recital with a duet with Richter to Sonata in B-flat major K454 by Mozart, a combination of sounds that to the ear seem as if the instruments were conversing with one another. Hakkarainen, although a strings major, is often given the option to play at many different shows than just his strings recitals at Dreyfoos.
"[Piano concerts] are so much fun for me, and I've done a few of them before with Paul in the past," Hakkarainen said. "[Being featured] in these shows is a lot of fun because I love collaborating with other musicians–especially pianists. It's a great thing to experience."
About the Writer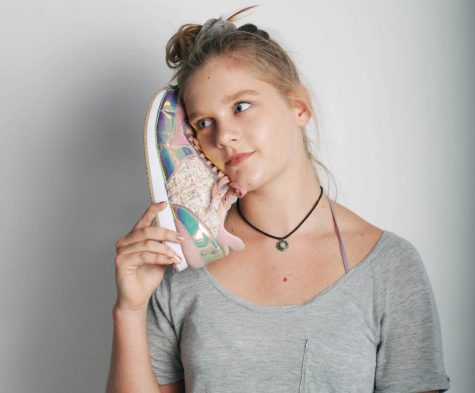 Emily Sweetz, Entertainment Staffer
Dance junior Emily Sweetz is a first-year Entertainment staffer for The Muse. After Sweetz won a writing contest in elementary school, English has been...