Bright neon leggings, white Go-Go boots, leather jackets, and bell bottoms fill hallways and grass fields as students walk to their classes, take pictures, and perform on the third day of Spirit Week. 
Generations Day has been a Spirit Week tradition where freshmen curate their outfits around 1950's inspired fashion, sophomores around 1960s, juniors around 1970s, and seniors around 1980s. This day also includes a dance performance choreographed and performed by each grade level in the gym during lunch. Each dance's music pulls from popular tunes and dance styles from the time period. 
Freshmen '50s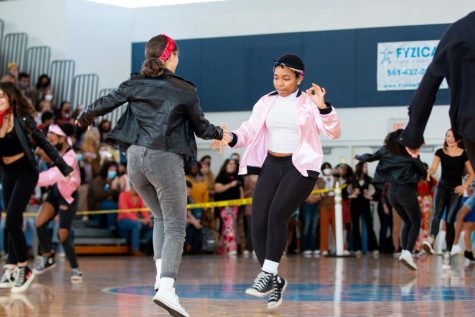 "I love the energy. Everyone is so excited and doing the dance just felt so good," dance freshman Addison Gedeon said. "I'm excited to recreate and get inspiration from (the other dances)."
"We did a lot of rehearsals, especially all this week. We've been working on it for months," dance freshman Isabella Gonzalez said. "I'm excited about dressing up (and) getting to know more people so we're more comfortable around each other, and dancing together (in future years)."
"The dance and practices were so much fun with everyone. We were inclusive and (had) fun," digital freshman Leah Gonzalez said. "It's nice being able to see it in person and not in YouTube videos."
Sophomores '60s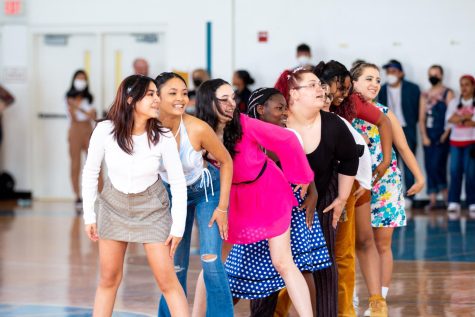 "(I watched) music videos and choreography of songs that were in the '60s, and (got) the general feel," vocal sophomore and choreographer Aileen Pereda said. "I love seeing everybody together and the competitiveness, but it's still a friendly competition."
"We had to schedule as many practices as we could because there were a lot of previous obligations. We couldn't choreograph it as a group, so we made sure we had enough practice time and sent videos so we could all get it down," vocal sophomore Lilyadny De Leon said. "I like seeing everyone's costumes. It's so cool to look around and see the different decades."
"One day I decided I wanted to be John Lennon with Emily Singer as Yoko Ono, and then I just did it," communications sophomore Eduardo Culmer said. "I'm really excited to get more pictures to interact with more of the seniors because (they) all look so good. It's been a fun day."
Juniors '70s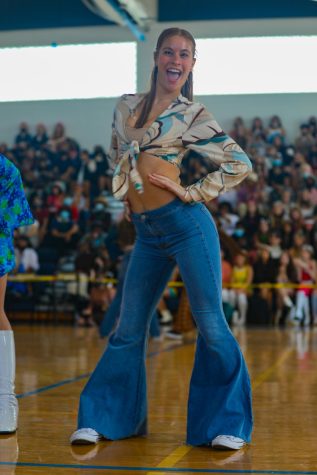 "I got to perform in the generation dance which is my favorite part because it was fun to go and dance my heart out in front of the whole school," communications junior Dakota Moss said. "I figure skate and I am skating to the song 'Build Me Up Buttercup' and my coach (gave) me a bunch of different costumes to choose from. They were all '70s themed, and today I happened to wear one she made."
"My favorite part of Generations Day is not only dressing up but seeing the group's progress. I love the dances (and) how they always get better when years go by," vocal junior Daniella Salazar said. "You see the school spirit building up as you go through the grades."
Seniors '80s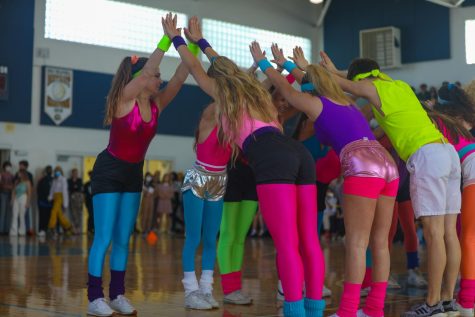 "What inspired my outfit was the 1980s dance aerobics, bright colors, positive attitudes, headbands, and sweatbands," band senior Jonathan Tordi said. "I think there's a lot of really good contenders out there this year. I'm excited that we're leaving a legacy behind for future students, I'm hoping to give it our all this year."
"We started by picking songs, and then we researched them and made sure that they were made in the '80s. Once we finished that, we started picking out the sequence of the songs and what order they were (going to) go in, and then we started choreographing," dance senior Emma Jaffe said. "​​We've worked really, really hard to get this all together and seeing everyone be very dedicated to learning it and picking it up and see(ing) everyone be so excited to watch the dances is the best part."
"(It's a) fun time to be with peers and see everyone supporting every major and grade level," theatre senior Camila Manrique said. "I'm actually sad because, as a freshman, I always wanted to do the final spirit week dressed as goth and be in the '80s, but now that is the last one, (it's) sad."
If you could time travel, which generation would you go back to?
Sorry, there was an error loading this poll.