Corrections were made to this story on [3/12/2022]
A word was misspelled in the story's deckhead. The word "segwaying" has been corrected to "segueing." Additionally, the story stated Anna Miller was a digital media major. Anna Miller's correct major is visual. The major has been rewritten to the correct one.
The story below has been corrected with the noted revisions.
After a week of activities and spirit, the seniors bolted out of the gym with shouts and cheers, and the juniors made their way over to the right side of the bleachers, taking the place of the graduating class.
The Pep Rally and Multicultural Show served as the finale to Spirit Week. Choreographed dances, games such as musical chairs and basketball, skits, and karaoke comprised the two hour long Pep Rally. After the seniors' win, students gathered in the field during lunch before heading to the Multicultural Show in Meyer Hall. The show represented cultures across campus through dance, poetry, fashion, and music.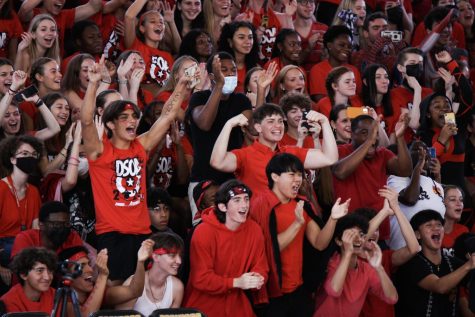 Just over a day earlier, when the 3:40 p.m. bell rang on Thursday, March 10, students kneeled on the pavement next to Freshman Hill, chalk in hand. Students, including visual sophomore Anna Miller, worked on the sophomore class's winning chalk drawing for four hours — an illustration of the Teenage Mutant Ninja Turtles.
"We were so excited. We thought the juniors were (going to) win because they were making paint with their chalk," Miller said, referring to when it was announced that the sophomore chalk drawing won.
SGA and class council members stayed after school until 8 p.m., decorating their class section in the gym to gain as many points as possible. There were streamers of blue, green, red, and black attached to the basketball backboards and large signs behind the bleachers of each grade level. All different kinds of props went on display: blow-up aliens, extra large Marvel-themed balloons, green balloons, and blue confetti. 
"Decorating the gym was stressful," theatre senior Raunak Manchanda said. "We even came early today to continue the setup, but it was a lot of fun and it all worked out in the end." 
On Friday morning, students filed out of buildings across campus as each grade level was dismissed to the gym over the intercom. Seniors were released first to the field to organize their senior entrance. The freshmen were dressed in blue in accordance with their "Rio" theme, sophomores were dressed in green for "Teenage Mutant Ninja Turtles," and juniors were dressed in red for Marvel. They all waited until a purge siren blared, marking the seniors' arrival.
"It was nice to walk out, especially in the beginning when all the seniors walked out and all the people were still on the stands chanting 'Two-oh two-two,'" strings senior Tai Thomas said. "Everyone was hyping up our class. It's reliving a tradition."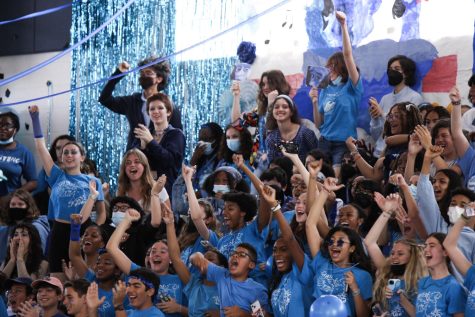 As each grade level chanted their graduation year and pounded their feet on the bleachers, communications seniors and SGA co-presidents Christian Chantayan and Sheevam Patel announced the first game: musical chairs. Two students from each grade stood in front of the chairs at the center of the gym, with every passing moment having a slight eruption of chants. 
Each grade level organized a class skit and karaoke routine for the Pep Rally, starting with the freshmen and endings with the seniors. The skits featured science teacher Elyce Hill flapping her arms, dressed as a bird of paradise; foreign language teacher Thomas Ruth wearing a red wig; science teacher Stephen Anand acting as Peter Parker; and students in inflatable alien costumes running across the gym floor.
"I've never experienced something like the Pep Rally today," theatre sophomore Blake McCall said. "My expectations were high from the start, but they (the students) still overpassed everything I had thought was going to happen."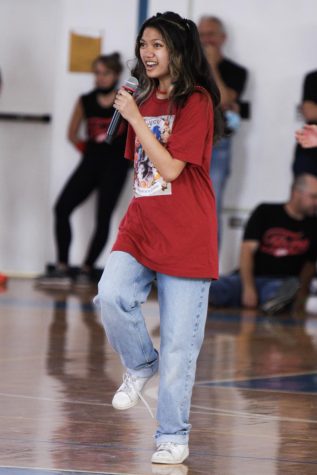 Following a rap performance by theatre freshman George "King Smooth" Boltic and McCall, a group of teachers and administration "took over the music," as Principal Blake Bennett put it, and performed their choreographed routine to songs reflecting their theme of the 1980 movie "Fame."
"That was the most excited I've ever gotten," theatre junior McKayla Mokotoff said. "I was screaming so much. I was going crazy. The teachers' dance was so impressive."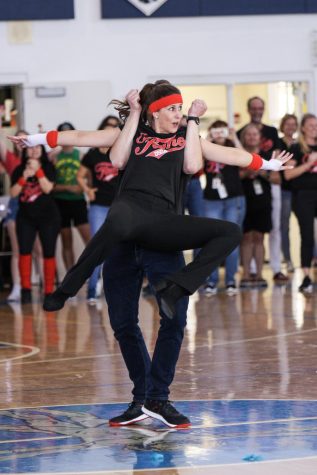 Following the faculty's performance, students chanted and clapped as Chantayan and Patel announced that it was time for the long awaited Pep Rally tradition — the dances. 
"I really like dancing. I've never been in a ballerina-type dance class," vocal junior Makenzie Seibel said. "I've done little things on the side like hip hop and things like that. I've seen how cool the dances look online, so I wanted to participate because it just seems really fun to look back on in a couple years."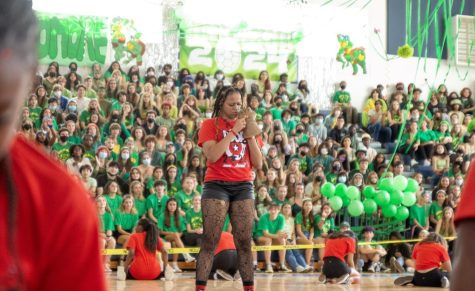 Hours of set-up and rehearsals came to fruition for Chantayan as he stood in the center of the gym, yelling into the microphone, announcing that the seniors won.
"I feel incredible. All the work that I've been doing this year, and even last year when I joined SGA for the first time as a co-corresponding secretary," Chantayan said. "Everything has been culminating to this moment. All the work that we put in, all the months that we worked. This is what we did it for and to be able to be on the gym floor, hyping everyone and giving that spirit is incredible. The entire time, my mouth was open (in) awe of what was going on."
After the Pep Rally, students gathered in the field to listen to music and take photos and then went to fifth period where students were released to Meyer Hall for the Multicultural Show. The show was organized by the cultural societies on campus and featured student performances, which reflected the cultures across school.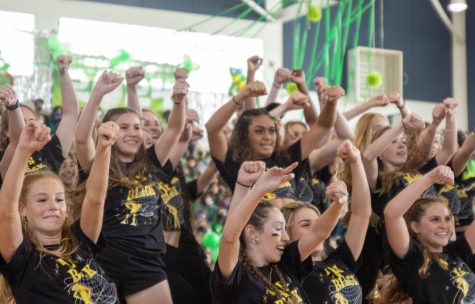 Among the performers was vocal junior Daniella Salazar. She and a group of eleven singers and instrumentalists performed "Quimbara," a salsa classic by Celia Cruz. 
"My culture is my backstory," Salazar said. "It's how I, and many other Hispanic people, grew up. To share a culture is to share a backstory and history with a whole community that is so unique and diverse and filled with so much love. I am so proud to be a part of a culture. I am so proud of and connected with others like me."
The Multicultural Show was held in 2019, but it was canceled last year in accordance with the altered Pep Rally day of livestreamed, pre-recorded dances. Salazar saw the show her freshman year and "wanted the chance to share (her) culture with the school."
"I want people to love my culture as much as I do," Salazar said. "Of course, just one song isn't enough to represent all of Latino culture, but if it makes one person go and listen to some salsa music that would make me so happy. To know that we were able to connect with people and make a lasting impact." 
As the 3:40 p.m. bell rang, students walked to their cars, to the bus loop, or to the Tri-Rail. Embraces and smiles were shared as students passed by each other. 
"It's about as amazing as you can imagine it to be," Chantayan said, referring to his final Spirit Week. "This is our final year. This is the mark we make on Dreyfoos, and I think we made an incredible mark."