DREYFOOS AND DORIAN
As a Category 5 storm, Hurricane Dorian had immediate, devastating effects on the Bahamas, as well as lasting impacts on its people. In response to this catastrophe, millions have come together to help the victims of the deadly storm—including several students.
"We are taking small donations like sanitary wash, washcloths, and bars of soap […] and we're putting it in giant donation boxes," vocal senior Czhen Beneby said. "We're going to give them to my aunt, who runs HeadKnowles Hurricane Relief, [an organization in Orlando]." 
Some students even traveled to the island nation to show their support, like communications freshman Faith Parkinson, who helped deliver water to the tragedy-stricken nation from Sept. 6–8. 
"We were working with NEMA [National Emergency Management Agency]," Parkinson said. "We were in charge of getting them water, [which] we had tons and tons of, because their water piping and systems were broken."
Communications junior Annika Stevens lived in the Bahamas for 10 years before coming to the United States. Her mom, Kirsten Stevens, founded the organization Bahamas Strong with her brother before Hurricane Dorian's arrival so that they could help more people. The organization acts as a messenger and network for relief efforts, and it allows relief work to be done more efficiently.
"What we do is we operate as the philanthropic intermediary," Ms. Stevens said. "But the bigger role that we play is to connect supplies, people, resources, medics, trauma counselors, [and] people that want to help in some way or another. We connect them to the need directly in the Bahamas." 
Dreyfoos students have even begun to use the school's resources to contribute to the cause. Theatre junior Vivien Haim is planning an art showcase in November, all proceeds from which will go toward relief efforts.
"When people are going through a hard time, we can help," Haim said. "We can get a showcase that can possibly earn money, and we can all come together as a community to do something good for people who are less fortunate."
In several cases, personal ties to the nation have driven students and parents to participate in relief efforts. For others who helped out, it was because they felt a moral obligation to help the people in the country.
"It couldn't stay in my head that the Bahamas literally has nothing right now and people are struggling, and nobody is really doing anything," Haim said. "It really is something different when you're the one making a difference for them, and you're the one involved in caring and pushing to make [change]."
Students engaged in relief efforts are continuing to make strides, and those responsible for them are still looking for others to get in on the action and help out the victims of the hurricane.
"[Our goal was to] get high school students and people who work just to get them to notice that you can gather supplies from around the corner or your garage," Beneby said. "We want to make it very known that small things do matter, and you can help."
For more information on how to donate, go to bahamasstrong.org
Your donation will support the student journalists of Dreyfoos School of the Arts. Your contribution will allow us to purchase equipment and cover our annual website hosting costs.
About the Writer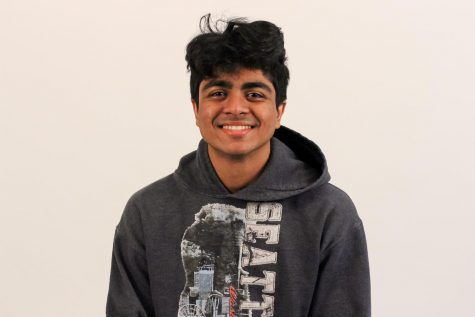 Sheevam Patel, Writer
Sheevam Patel is a third-year staffer on The Muse. Writing for The Muse has been an amazing experience for him, and he is excited for his third year on...