The Jolly Behind the Jubilee
On Dec. 10, the Artists Reaching Out to Society (A.R.T.S.) Club will host a holiday celebration for unprivileged kids in the county
Needless to say, snow is not common in Florida. But soon, garlands, snow dusted trees, and twinkling lights will adorn each corner of the media center, creating a winter wonderland. The holiday decor is all to welcome dozens of children to celebrate the annual Jefferson Jubilee. 
The Jefferson Jubilee is hosted by the Artists Reaching Out to Society (A.R.T.S.) Club and is a holiday event for pre-K students from four different Title 1 schools in Palm Beach County. The event features gifts donated by members of the club, live music, and A.R.T.S. Club members dressed up as Mr. and Mrs. Claus as well as Anna and Elsa from "Frozen." 
"These kids are underprivileged, so anything that they receive on Friday is going to mean the world to them," A.R.T.S. Club co-president and visual senior William Dhana said. "They will be able to experience some of the Dreyfoos magic that we have here and feel the holiday spirit that they wouldn't normally get at home." The Jefferson Jubilee was formerly called Title 1, but was later renamed in honor of the late A.R.T.S. Club sponsor Lea Jefferson, who started the event seven years ago. Jefferson passed away in 2015 due to cancer, but her legacy lives on through the Jubilee and the A.R.T.S. Club, which she shaped into what it is today. 
"What was once just a holiday party has now become a remembrance of an inspiring teacher from our school," social studies teacher and co-sponsor of A.R.T.S. Club Sarah Ray said in a recent email to faculty. 
In the past, A.R.T.S. Club students delivered gifts to the schools in Belle Glade, but in recent years, the preschool school students come to campus and spent the day in the decked out media center.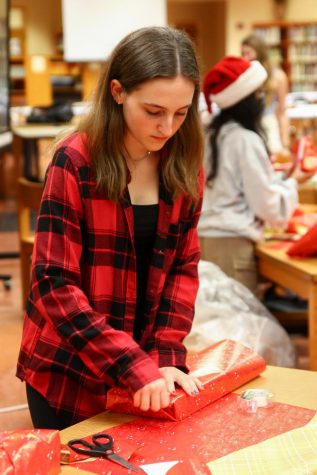 "I think it's really special that our school is able to do this," A.R.T.S. Club co-vice president and theatre senior Raunak Manchanda said. "We're able to donate and provide for them because every kid deserves to have a good holiday season." 
A.R.T.S. Club has been in existence for about 20 years and is the largest club on campus with about 500 members. Jefferson Jubilee is just one of the two major events the club puts on throughout the year, along with A.R.T.S. Camp in the summer. The Jubilee addresses the club mission to "​​give without expecting anything in return to benefit others." 
All members of A.R.T.S. Club are able to donate gifts to the Jubilee. In August, a worker from the Title 1 Office in Belle Glade gathered a wishlist of four presents from each of the 68 children participating. Last month, members of A.R.T.S. Club volunteered to purchase two or more of those gifts. This year, each child will receive five or six gifts.. 
"My favorite part was seeing how excited the students here are to be helping somebody. You would think that they were gonna get gifts themselves," Spanish teacher and co-sponsor of A.R.T.S. Club Marina Ratchford said. "Everybody was trying to get a slip (with the assigned gifts and student). They were fighting to get specific slips and we ran out."
The gifts were delivered to school throughout the last month and organized in Mrs. Ray's room. The back of her classroom overflowed with dolls, toy cars, and plastic dinosaurs until, on Dec. 6, dozens of A.R.T.S. Club members carried the toys to the media center and wrapped each one. 
"Everyone was doing their part," Dhana said. "It's awesome to see it finally coming to fruition after weeks of planning, analysis, and looking at spreadsheets."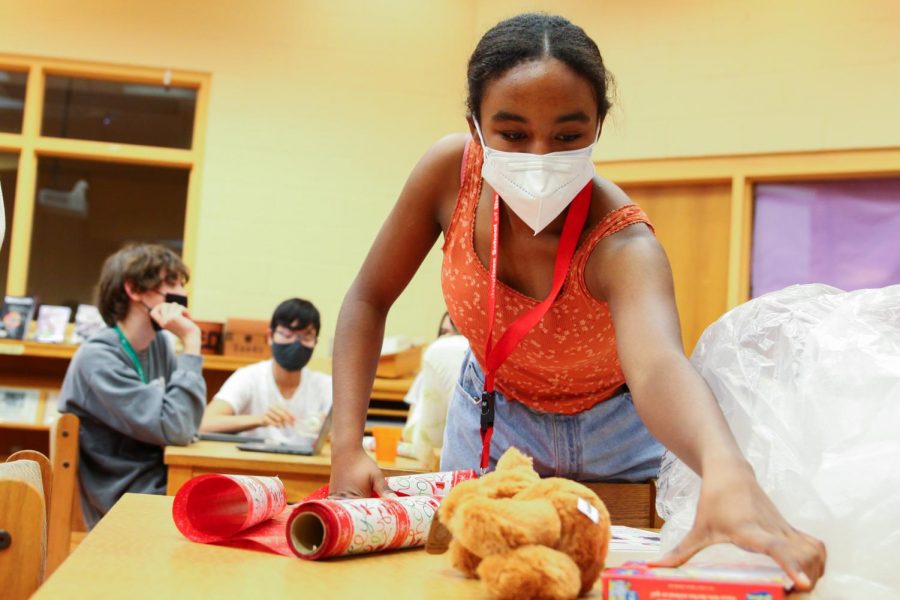 The wrapping party started with commotion. While it was rainy outside, the media center was bright and filled with conversation. The club officers went over the instructions, and even beginner wrappers became skilled by the end of session. Some wrappers found spots on the floor, while others went back and forth carrying the finished gift to the back rooms of the media center. The group finished half an hour before they expected, and there was no need for the wrapping party planned for the next day. 
"At first, it was a bit overwhelming because it was so hectic with everyone trying to get the presents and bring them in with the rain," digital media sophomore Arianna Mejia said. "But after everybody settled down and we went over the rules, it was a really fun experience because we got to wrap presents and get into the holiday spirit." 
Music and dance students will give live performances during lunch on Friday for the Jubilee. Theatre major Catarina Ocasio will don a red and white costume, transforming into Mrs. Claus for a photo-op with the children before they open their gifts. Students dressed as Anna, Elsa, and Santa Claus will also be making an appearance. 
"I'm honestly really excited, especially for the kids. I'm also a little nervous. I hope they like me," Ocasio said.
This will be the first Jubilee in two years. It has required months of planning and fundraising. The event is just another one of the campus traditions returning this year and is once again giving students an opportunity to give back to the community. 
"This would not be possible without our incredible members," Dhana said. "So them donating to us and working for us, for wrapping parties and for setup, it's huge. It's huge. And it means the world to these kids."
View this post on Instagram