STREAMING CANVAS SHOWCASES STUDENT FILMS
Three elements are engrained in a filmmaker's process: pre-production, production, and post-production. During Streaming Canvas, student filmmakers engaged in a fourth: presentation.
On March 9 at 7 p.m., students, teachers, and parents filed into Meyer Hall for the film department's annual film festival, Streaming Canvas. In collaboration with the Dreyfoos Film Association and students from various majors, the department put together a live event that highlighted the tenacity that students dedicate towards their craft.
"Streaming Canvas is the one and only film event that we have all year," communications teacher Ruby Hernandez said. "It is our one opportunity, one night for two hours, to showcase all the hard work that goes on throughout the year."
With former communications and film teacher Ancil Deluz retiring at the end of last year, hosting Streaming Canvas was a new experience for Ms. Hernandez, as she was in charge of the selection and planning procedure for the festival. Throughout the year, Ms. Hernandez aided students in the production aspect, and in the weeks leading up to the occasion, considered films from students of all grades in different genres.
"Ms. Hernandez [played] such an important role for the success of Streaming Canvas," digital media senior Radley Docekal said. "She encourages us to bring our stories to life and continues Deluz's legacy, but in her own way."
Preceding the festival, students spent months going through the creative process of filmmaking. Both inside and outside of class, students spent time scriptwriting, shooting, and editing to create the final products to be submitted.
"I think it's important that people understand how hard it is to make student films," communications junior Dylan Priday said. "Most people are accustomed to high-definition videos, million dollar films, but students don't have those kinds of resources. The fact that we are still able to make good films without them is insanely impressive."
The show opened with six trailers teasing films and proceeded with the screening of a total of 27 films. Ranging from music videos to montages and suspenseful shorts, the event spotlighted diverse film styles, all the while providing parents and teachers with insight to the work done in the department.
"I think that people are used to associating teens with angst and dramaticism, but there's so much more that goes into our art," communications sophomore Kristina Robinette said. "Everybody's got different stories to tell, and I think Streaming Canvas did an incredible job this year at displaying that."
The film festival featured the collaborative efforts of students across all grades and majors. While digital media and communications majors dominate the festival's aspects, theatre students also participated, and vocal senior Gabriela Goddard and band seniors Allen Cadet and Dustin Hill live scored the film "Lure" by communications senior Marianna Kaimakliotis. The musicians performed for the audience before the show and during intermission as well.
"It was amazing to collaborate with such a different major," Goddard said. "I feel like us, as such different art majors, need to do things together and create art [because] that's what we go to this school for."
In addition to a showcase opportunity, Streaming Canvas was an important fundraising event for the film department. Ticket sales were set at $5 for students and $10 for adults, and T-shirts were being sold at a price of $20. The Communication Arts Parent Association (CAPA) also donated concessions that were sold to bring in funds and provide new equipment that will allow technical improvements for the film classes in the coming years.
"This was definitely one of, if not the most, financially successful film festivals that we have held," Hernandez said. "Filmmaking is an incredibly time-consuming and tedious labor of love, but exhibiting to friends and family makes it all worth it."
Film Feature
Among the filmmakers featured in Streaming Canvas, several students shared their inspirations for creating the films submitted.
Gaia
"My film was inspired by the story of creation with Gaia. I wanted to show an embodiment of mother nature and the different gods that created earth, according to the stories in Greek mythology."
-Communications sophomore Emilia Boulon
https://drive.google.com/open?id=1ZgG_PJ0ojwKstaEdqIQ99TJcJKzBOz0J
Go With Me
"What truly inspired me to create these characters and tell this story was the separation people often feel, in times of crisis or loss, when surrounded by countless others going through similar situations. I believe that a simple moral that I have always followed is to reach out to others and come together to overcome crisis rather than pushing people away in an act of denial."
–Theatre senior Alexander Ostaffe
https://www.youtube.com/watch?v=b1NNjb8tWJI
DFOOS
"I started my film back in December. I would bring my camera to school everyday and capture little videos around Dreyfoos that I found interesting and worthy of filming."
-Communications Junior Dylan Priday
https://drive.google.com/file/d/1Yxz1yMR_O67L0Al9izAxlhhaehx0rldU/view?usp=sharing
Game Of Love
"I wanted to explore what it's like to date as a young person, with the added inspiration of an 80s aesthetic and 'tag yourself' memes. I think it was nice to make something that didn't necessarily need a deeper message. It was just a fun opportunity to explore costume, location, and editing."
–Communications sophomore Kristina Robinette
https://drive.google.com/file/d/1jpVJjF7NI5kMn4MZq9hkWhD8wnOrLaYd/view?usp=sharing
My Kind Of Woman
"It was basically inspired off the common beauty standards of women and what's expected of females appearance in society which fit really well with Mac Demarco's song 'My Kind of Woman' and we thought it would fit really well with all the women movements going around now like the #MeToo, and Time's Up movements."
–Communications junior Skye Lenkersdorf
https://www.youtube.com/watch?v=XVr_UQG5HYE
Midnight
"'Midnight' was inspired by a short story that Janelle Puckering had written and an interest in making a suspense film. Our film actually turned out a little different from the script just because when we were filming we came up with a bunch of new ideas on the spot."
–Communications sophomore Julia Porter
https://drive.google.com/open?id=1sZDNx9FQP6jTzz843KqlbLMfYf42_IU1
Love At First Sight
"The idea for my film came from watching witty romantic comedies over the years. I have always like quick wit dialog and comedy.I decided to submit my film because I thought the quirky teen comedy I produced would resonate well with the audience attending."
-Digital media senior Radley Docekal
https://drive.google.com/file/d/1SeYOzZZ8YQpZMIWdwNtbwikYVD4NNuWn/view?usp=sharing
About the Writer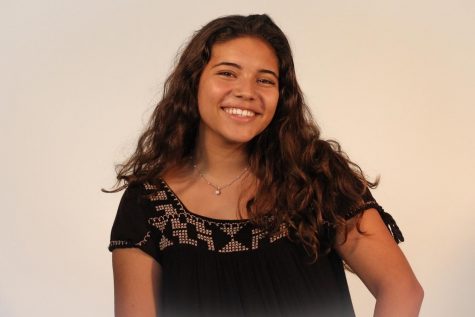 Anamaria Navarrete, Assistant Managing Editor
Communications senior Anamaria Navarrete is a third-year staffer for The Muse and an assistant managing editor. She enjoys all sorts of music and is very...