After dancing, free throws, skits, and musical chairs, the seniors once again took home the win in the Pep Rally. Juniors ended in second place, sophomores in third, and freshmen in fourth. Although the annual Pep Rally has come to an end, the Pep Rally spirit is present as the excitement and enthusiasm can still be felt throughout the students and staff of the school and into spring break. But for some, this excitement also comes with mixed feelings about the future.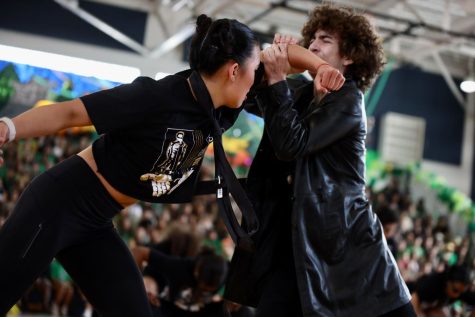 "It's just so fun to be a senior and to finally win the Pep Rally and to just have everything about Dreyfoos culminate into one event," vocal senior Amelia Williams said. "You know, I'm kind of sad. I'm actually really sad because I love Dreyfoos so much and the Pep Rally and Spirit Week have been such a big part of the Dreyfoos experience."
For the seniors, the latest Pep Rally is not only their last, but is one of the last big events before graduation. To celebrate a final win, seniors flooded from the bleachers as they won the Pep Rally, supported by their win in the Battle of the Bands on Wednesday.
 Although they didn't claim first place in any of the activities, the freshmen won second place three times and still showed their spirit throughout the week.
"I think that I've never really got the chance to be just like everyone else," visual freshman Blue Gilliam-Buran said. "And then, you know, scream and hype people up. It was very fun, and I really hope I get to stay in the school, and I get to do it again over and over again."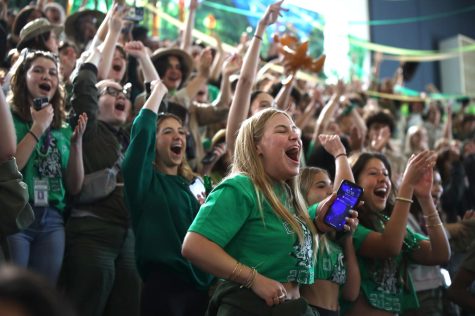 The sophomores also secured some top spots in the Pep Rally, coming in first place for the dances and second place for the skit. With their theme being "Jumanji," the dancers got the crowd to their feet with songs like "Anaconda" by Nicki Minaj in their Pep Rally dance. These events leave some sophomores reflecting on their place on campus and their transition to juniors.
"It's pretty cool. I really liked the sophomore dance," vocal sophomore Abigail Miller said. "I'm kind of scared for junior year though because that means that at the end of the Pep Rally we move over to the senior spot, and I think I might cry. It's really weird that we're halfway through the school year, right?"
The Pep Rally is one of the events that marks the juniors' transition to seniors, since the Pep Rally ends with the juniors sliding over into the senior spot on the bleachers. For some, it's an emotional moment. 
"It's crazy. I can't believe I'm gonna be a senior in a few months," band junior Gui Cooper said. "It makes me uncomfortable, truly. I'm almost done with everything I know. Everything's gonna be different soon, knowing there's only two pep rallies left in my whole life. I'm just happy to get to spend them at Dreyfoos."