It's Time to Learn About HBCUs
The Black Student Union celebrates their third day of BSU spirit week by educating students on Historically Black Colleges and Universities
Throughout history, African American citizens were denied access to educational opportunities. Even after the abolishment of slavery, deeply-rooted racism and Jim Crow laws still existed, discouraging Black students from obtaining a college degree. 
HBCUs changed all that. 
The Black Student Union (BSU) dedicated their third day of BSU Spirit Week to educating students about the opportunities within Historically Black Colleges and Universities (HBCUs). Students interested in learning more gathered in the Media Center during lunch Feb. 22, repping HBCUs by wearing college merchandise and colors, like Howard University's maroon and ​​Florida A&M University's green and orange.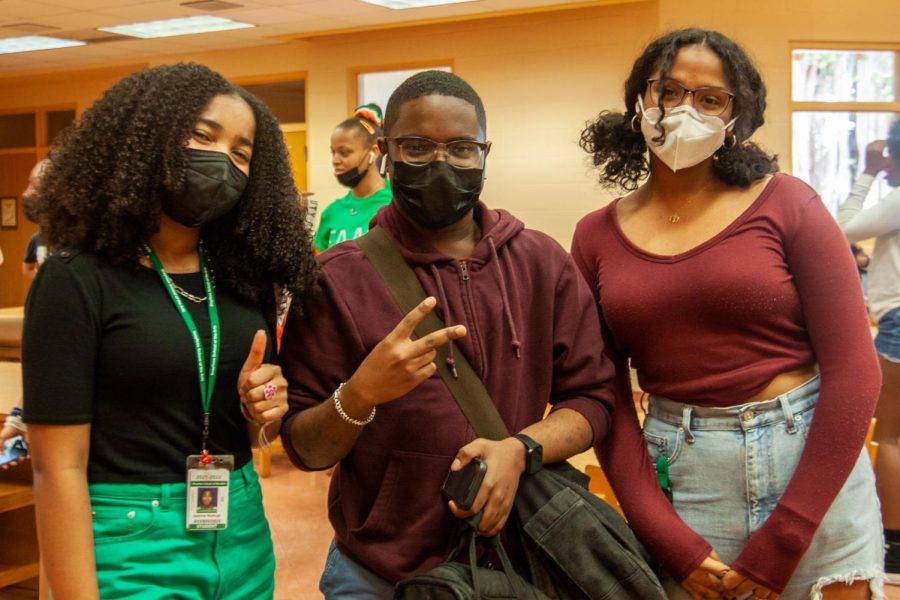 "It's so important for people, especially Black people, to know that FSU isn't (the only option)," dance senior and BSU historian Hope Noncent said. "HBCUs were made for them. They have a home, they have a place. It's where you go to embrace Black culture. You embrace who you are. You know you're around your people. It's a family. You have a safe space to be at." 
While HBCUs were founded with the intent to give Black students a safe space to learn, they accept students from all races and ethnicities. 
"HBCUs have a wealth of knowledge," assistant principal and BSU sponsor Teneisha Finney said. "We have people from all over the world who go on to do major things. There is a big push on culture at HBCUs, so it's very important to get students of all ethnicities and expose them to HBCUs."
As BSU officers listed the names of many HBCUs, intermittent applause interjected the presentation for the students' respective favorites. Communications senior and BSU co-vice president Se'maj Griffin was the only student who stood up and cheered for the Bethune-Cookman University wildcats, her parents' alma mater. 
"Our school now is majority white, and we must (tell the students) that there's majority Black schools," Griffin said. "There's always a different narrative at these schools, and it's good to tell it especially since we are the Black Student Union. That is our job, to promote Black schools."
The meeting attempted to dispel any stigmas that HBCUs provide a lower-quality education than predominantly white institutions (PWIs) by informing students of the majors and opportunities these schools provide. While HBCUs are commonly underfunded, Griffin says that there is more to them than their well-known marching bands and step teams.  
"Looks can be deceiving," Griffin said. "The movies (about HBCUs), like 'Drumline,' are mostly focused on the bands. Another movie is mostly focused on step dance culture. And while that's great to represent us, there isn't enough media representation of the education. So, what you see is not necessarily what's going on. While there are a lot of cultural things, there are a lot of books being hit as well."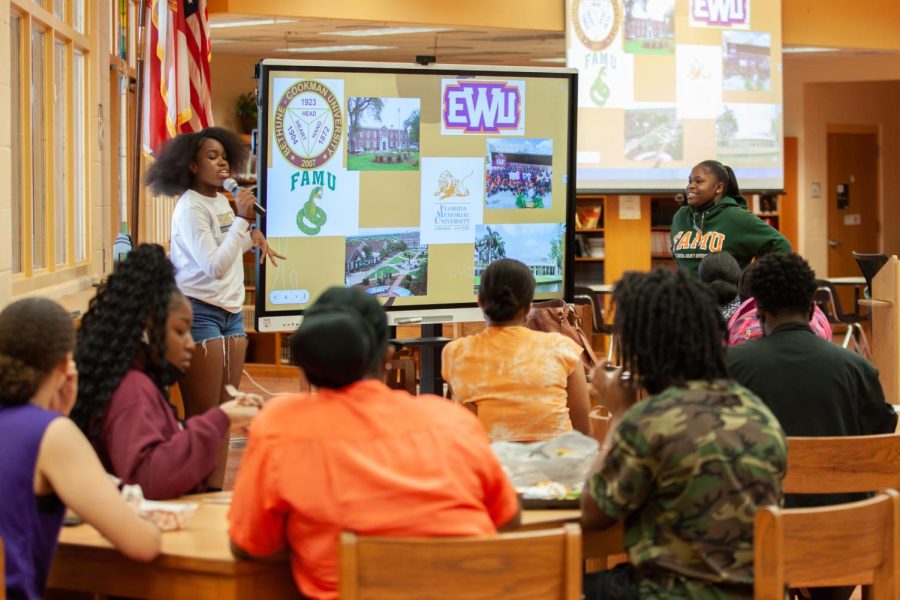 During the presentation, BSU officers noted that HBCUs serve as a community and a safe space for many black individuals, providing a facility for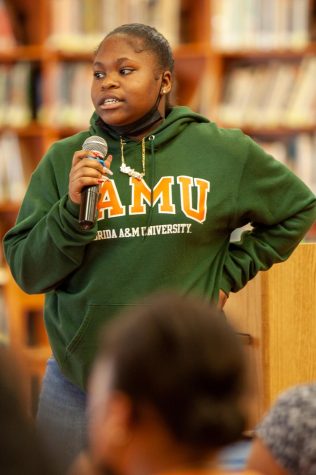 education that may have been absent in the past. They allow those students to obtain higher education and pursue careers of their choosing.
"You don't see a lot of (famous) Black people, unless they're actors," theatre senior and BSU historian Aalycea Herring said. "You don't really hear a lot about Black people in interior design. So, why not make a change?" 
Throughout the meeting, BSU officers each shared information about the arts opportunities, Greek life (like Black fraternitie
s and sororities, including the The Divine Nine), and encouraged the underclassmen to look into HBCUs. At the end, officers handed out goodie bags filled with sweet treats and keepsakes engraved with messages encouraging diversity. 
"Go to HBCUs," said Noncent. "They're beautiful. They're great. You never have to feel like you're singled out. Spread the knowledge about HBCUs to all your friends. Let people know."