SAGV'S WEEK OF ACTION
Dreyfoos' chapter of Students Against Gun Violence (SAGV) held the Week of Action event starting on Monday, Oct. 1, and concluding on Friday, Oct. 5, with goals of registering student voters and persuading people to "vote orange."
"To vote orange is to vote for politicians that will fight for gun reform and who will, once voted into office, take real legislation change to protect all people from gun violence," SAGV board member and communications sophomore Katherine Oung said.
Beginning with solidarity for gun violence victims and leading to a voter registration initiative, Week of Action followed the initiative of the same name hosted by former First Lady Michelle Obama the week prior.
"We wanted students to go from honoring the victims and throughout the week listening to survivors and then going on to really take action in a tangible way, which is through voting," Oung said.
SAGV student committees organized these events in an attempt to ensure that every club member could participate in the planning process. The week consisted of three events occurring on Monday, Wednesday, and Friday.
Monday
The Week of Action began with a moment of silence in the cafeteria on Oct. 1, the one-year anniversary of a mass shooting at the Route 91 Harvest music festival in Las Vegas, Nevada. Before observing the moment of silence, SAGV board members took to a megaphone and read the 59 names of the people who died in the shooting.
"All the students were very respectful," SAGV board member and band junior Sam Goldstein said. "As I was looking around, I could see that the students truly cared about what we were doing."
Wednesday
Students headed to the Brandt Black Box Theater to hear from March For Our Lives activist Delaney Tarr, a survivor of the 2018 Parkland shooting at Marjory Stoneman Douglas High School. She spoke about activism accessibility and voting.
"[The presentation] was a chance to get [Tarr's] perspective on what we can do as young students to create change," digital media freshman Becca Feinberg said. "I learned that it's really important to keep people excited about voting and be educated about what's going on in the world and what we can do to change it."
Friday
The events on Monday and Wednesday aimed to build momentum among the student body to generate excitement for a voter registration party at lunch on Friday to carry through to the midterm elections. The Collective, a student band, played outside while SAGV members and adult volunteers helped students sign up in the cafeteria.
"We got two volunteers from the League of Women Voters, which is a nonpartisan organization from West Palm Beach that is dedicated to helping everyone register to vote in our county," SAGV board member and communications senior Kavyasree Chigurupati said. "It was very important to do so."
The club had reached out to the League of Women Voters before the event, since volunteers from the organization had assisted in registering student voters in the past.
Students who were 18 years old could register to vote and those above 16 could pre-register in the cafeteria. Those who did so were rewarded a "Vote Orange" pin, a voter's guide with information on 2018 candidates and amendments, and a sticker.
"We raised awareness for how common gun violence is," Goldstein said. "I think we helped students realize that change needs to happen and we need gun reform."
SAGV's initiative began by selling "We Need Change" t-shirts to raise funds for Stoneman Douglas victims, leading up to the planned walkout with an estimated 1,200 students to City Hall last year. So far, SAGV has organized six initiatives and hopes to continue the movement into this year.
"A lot of Dreyfoos students are involved because with recent events that have happened so close to here, it really sparks people's interest in how to change it," Feinberg said.
Your donation will support the student journalists of Dreyfoos School of the Arts. Your contribution will allow us to purchase equipment and cover our annual website hosting costs.
About the Writer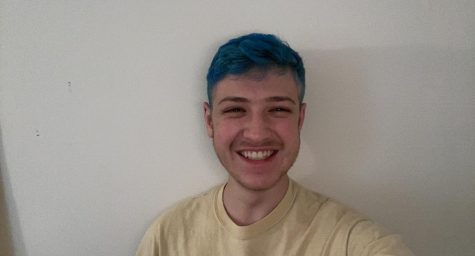 Michael Pincus, Content Team Editor
Michael Pincus is a third-year staffer and Content Team Editor. He loves writing, watching movies, exploring nature, and drinking iced coffee. Yes, he...