LET'S USE OUR "ARMS" TO EMBRACE THE VICTIMS OF MARJORY STONEMAN DOUGLAS HIGH
There is an evil presence that weighs heavily on our developing generation. A presence that we can not scare away or subside. This presence is here to stay, and we are willingly equipping it with arms.
Columbine High, Sandy Hook Elementary, Marjory Stoneman Douglas High; the list of schools that have turned into crime scenes continues endlessly, and will carry forward until our country initiates change. The unthinkable has become a pattern; it is no longer unthinkable, but familiar. Everytown for Gun Safety, an organization that analyzes gun violence and school shootings, reported that since the Sandy Hook Elementary shooting in 2012, there have been 200 school shooting incidents.This averages out to around one school shooting per week.
Alyssa Alhadeff, Nicholas Dworet, Jaime Guttenberg; each one of these children, along with 14 other victims, had dreams and plans. They had lessons to learn and people to reach. They had lives to live and contributions to make to the world. They were studying for tests, shopping for prom dresses, and expecting to see the next day.
There is a dark cloud that rests over our country, and the American population has had a number of reactions. It is wrong to humanize the shooter, or to argue that he fell victim to mental health obstacles. It is wrong to sweep the evident issue under the rug, or establish a motive. There is no justification for this. We need to destroy the roots of this horrid weed. We must refuse to bury them; if we plant them, they will only grow.
According to an analysis by Texas State University and the State University of New York, in the United States as well as 13 other countries, there have been 166 mass shootings between the years 2000 and 2014. Out of those shootings, 133 took place in the United States. The corruption is unmistakably present, and it is imperative that we acknowledge the severity of this issue.
I was hiding in a closet for 2 hours. It was about guns. You weren't there, you don't know how it felt. Guns give these disgusting people the ability to kill other human beings. This IS about guns and this is about all the people who had their life abruptly ended because of guns. https://t.co/XnzhvuN1zd

— carly (@car_nove) February 15, 2018
It is no coincidence that most politicians seemed to go radio silent on social media platforms when the news broke. The National Rifle Association (NRA) is a million-dollar organization which aims to thrive off of the weapon market, even if it means they have to scroll past every video of screaming children and lifeless bodies without making a statement.
However, the NRA was not the only social media account that seemed to be running slowly on Wednesday. President Donald Trump, who received over 30 million dollars from the NRA in his 2016 campaign, offered his "prayers and condolences" to the victims and their families. In his string of tweets, he failed to connect the tragedy with the easy accessibility of guns to the public. Following in the president's footsteps, many politicians offered their thoughts and prayers to those at the crime scene. "Thoughts and prayers" is a stale term that government leaders pull out of their back pockets for times like this; it's politician speak for "I feel bad, but not bad enough to fight for your security."
My prayers and condolences to the families of the victims of the terrible Florida shooting. No child, teacher or anyone else should ever feel unsafe in an American school.

— Donald J. Trump (@realDonaldTrump) February 14, 2018
However, many continue to fail to realize that the effects go far beyond the death toll we see on the news. The National Center for PTSD states that 77 percent of kids who are present at the time of a school shooting may develop post-traumatic stress disorder. Symptoms include "pervasive and disruptive anxiety, nightmares, difficulty sleeping, flashbacks, aggression, emotional detachment, and even physical pain."
The surge of pain caused by school shootings has ignited motivation within the American population to overpower the problem. We must now take that motivation and turn it into a solution. We must examine why 19-year-olds are bearing rifles. We need to enhance our system of background checks in order to ensure our safety. The simple power of observation can prevent the widespread anguish caused by reckless acts of hatred. We can eliminate the risk of danger if we identify and report the possibility of a threat to our safety.
@realDonaldTrump hello I'm the 16 year old girl who tweeted you that I didn't want your condolences, I wanted gun control, and went viral because of it. I heard you are coming to my community soon. I would love for you to hear my opinions on gun control in person.

– a survivor

— sarah // #NEVERAGAIN (@sarahchad_) February 16, 2018
We will rise above this evil. We will turn this deep sadness into purpose. We will avenge the death of every one of the 17 victims that have fallen. We will not let this act of wicked destruction impair our ability to fight for every student. We will let this evil hear our roaring battle cry.
About the Writer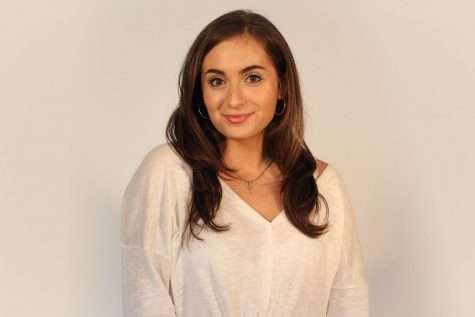 Sasha Monaco, Assistant Managing Editor
Communications senior Sasha Monaco is a third-year member of The Muse. She is excited to represent Dreyfoos' diversity as an assistant managing editor....