DREYFOOS HOLDS DAY OF ACTION IN HONOR OF DOUGLAS SHOOTING VICTIMS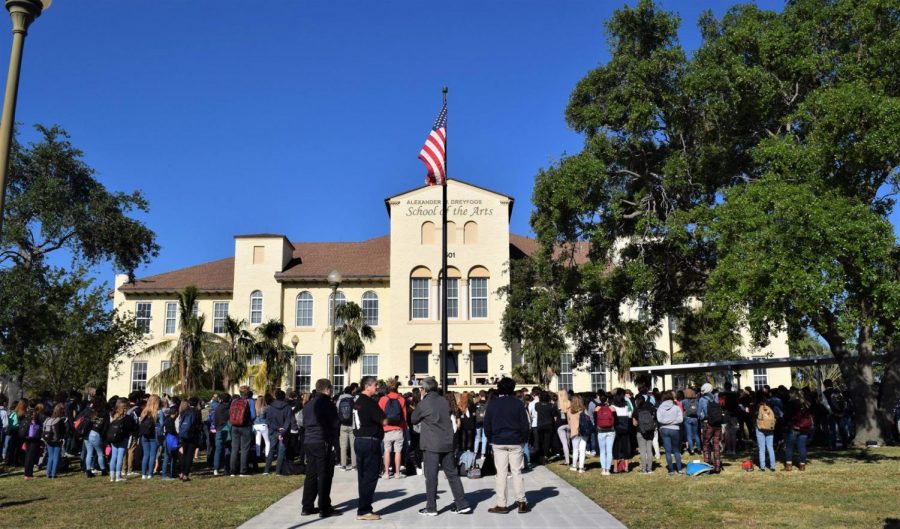 As the gusty March air picked up, students across campus worked their way to the front lawn of Dreyfoos adjacent to CityPlace. Nearby residents gathered at the school gates, observing the hundreds of students with curiosity. The emotion overwhelmed some; friends clasped hands and wiped tears from their eyes as the words of Principal Dr. Susan Atherley, a representative of Congresswoman Lois Frankel, and students echoed across the field.
Schools across the nation partook in the 17-minute walkout on March 14, which marked one month since the shooting that took 17 lives at Marjory Stoneman Douglas High School. The Student Government Association (SGA) and other student representatives worked with Dreyfoos' administration to organize a day of action that would allow students to share their hearts with the victims and their passion for the political issues at hand.
"It was so important for us and other schools around the country to walk out because we are not only showing our support for Marjory Stoneman Douglas and Parkland, but we are keeping the momentum for this movement alive," senior class president and communications senior Zachary Stoloff said.
This was the third event organized by students since the tragedy. On Feb. 23, students walked out of class and marched to West Palm Beach City Hall to demand change and have their voices heard. In addition, there have been countless cries for action from Dreyfoos students through letters and calls to their representatives. Seeds Literary Magazine organized "Art for the Heart," collecting works of art on the issue in collaboration with several other high school literary magazines. The works collected will be shared directly with the students and faculty at Marjory Stoneman Douglas.
"We walked out today because it shows our solidarity [against] gun violence, and it also shows that this movement is nowhere near an end," communications sophomore Lillian Khanna said. "In fact, we are still just starting our push towards making our schools a safer place."
After hearing words from students and administrators, it was asked that the walkout participants begin 17 minutes of silence to honor each victim of the Douglas shooting. At each minute mark, the name of a victim was read.
"I was crying," English teacher Peggy Mellon said. "I started thinking it could have been one of you all just as easily, and that would be something I don't think I could cope with. I just think the loss of those 17 [people] was tragic, and it leads to the rest of us needing to do something more. If we can actually succeed in making change, then they haven't died for nothing."
About a week before the event, the senior class council sold t-shirts displaying an image of a school, half Dreyfoos and half Douglas. The shirt, designed by digital media senior Ava Campana, read "Dreyfoos Stands With Douglas." The shirts were given out to any student or staff member who made a $5 donation to the cause. Each shirt came with a thank you note and a sticker honoring one of the victims. The note encouraged students to perform a random act of kindness in memory of the 17 victims and attach the sticker.
"I was inspired by the students at Dreyfoos who created the 'We Need Change' shirts," Stoloff said. "I thought the idea was brilliant, and it really conveyed solidarity and support. I wanted as many students, teachers, and faculty as possible to be able to wear a shirt that reads, 'Dreyfoos stands with Douglas' on the front and the names of the 17 victims on the back."
Even though most of the participants believed the schoolwide walkout to be a significant chance to demand change, students such as Khanna are convinced that it is only the beginning in a long chain of push-backs against gun violence.
"If we are going to continue our momentum, and if we want to make sure that schools become safer, it starts on the local level; it will include attending meetings, talking to representatives, and making sure you're well versed in politics in your community," Khanna said. "While it may seem minuscule, writing letters, making calls, doing walkouts, and protesting are all great."
As more and more students begin to reach voting age, the reoccurring piece of advice for young people looking to make a change is to get out and vote. Digital media senior Sage Albert and vocal senior Bijou Aliza have campaigned for a student voter registration drive and are helping students register to vote during lunch. The state of Florida allows people to pre-register to vote as young as 16 years old.
"It's so important for students to register to vote because it's how you make your contribution to America. Voting is our duty and students need to use their vote to make changes they believe in," Albert said. "The issue right now is gun violence, and I think that everything that has happened will empower more students than ever before to go out and vote. We need to show the people in charge that we are a force to be reckoned with and they can't just ignore us any longer."
The emotions running through the hearts and minds of children countrywide has led to a campaign for increased school safety. Dr. Atherley and Dreyfoos faculty implemented new security procedures in response to the shooting; all students were given identification badges that they need to present to get into a building when it is locked. Teachers now have duty shifts during their free periods where they man the front door of a designated building and ensure that those entering have a pass.
"The security measures added, such as locked classrooms, students wearing IDs, and teachers standing watch at building entrances, are viewed as an inconvenience by many," social studies teacher and SGA sponsor Wendy Zietz said. "But I am willing to deal with the grumbling to keep children safe. Isn't safety the bottom line? I cannot begin to imagine what is like for the Douglas teachers who now have an empty seat in their classrooms. Wearing an ID and carrying a pass is a small price to pay to never have to experience the unimaginable."
Charity Lewis, Rep. Frankel's outreach coordinator, spoke on the congresswoman's behalf, and Delano Allen, a legislative assistant for State Senator Bobby Powell, attended the event to support the movement and Dreyfoos' students.
"As I looked out to the 1,300 students standing together in silence, I couldn't imagine how devastated and angry I would be if this happened here at Dreyfoos," Stoloff said. "This is my family and my home. The victims had family and a home in Parkland. It's unfathomable."
About the Writers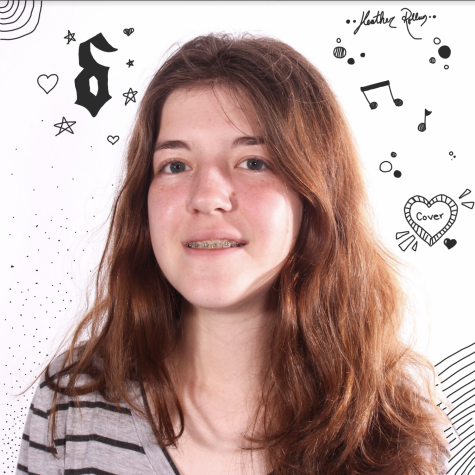 Heather Rollins, Cover Editor
Heather Rollins is the Co-Editor of the Cover section. She enjoys writing, filmmaking, and reading sci-fi and fantasy books. Cover section...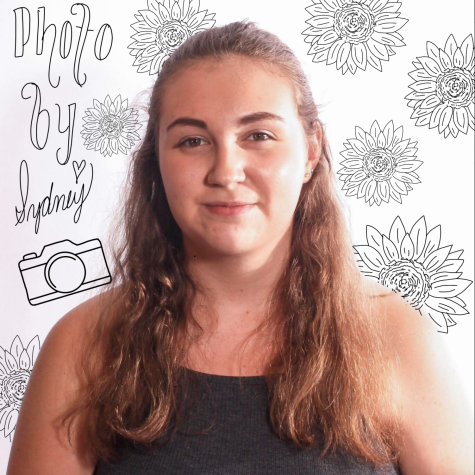 Sydney Webb, Photo Staffer
Sydney Webb is a second-year Photo staffer on The Muse. In her free time, she can be found playing with her dog, writing, or trying out Tasty recipes....