Halloween Trends
Halloween gives children, teens, and adults the chance to express their creative side, or lack there of, every year by dressing up in a costume. Past and current television shows, movies, political figures, and fashion trends often are the inspiration for most of these costumes. At Dreyfoos, students are allowed to dress up during school, as long they still follow dress code.
"My favorite part about Dreyfoos on Halloween is seeing everybody dress up and everybody's creative minds. It really shows that we have a lot of spirit and try our best to make our characters come to life," dance senior Darius Hickman said.
Some popular trends this year were Donald Trump, Hillary Clinton, and Ken Bone costumes. These political figures were all the rage, flooding the streets and parties this year. Eighties styles are very popular in today's fashion; just put together some scrunchies, high waisted jeans, a wicked shirt, chunky sneakers, and you are a blast from the past. In makeup, the matte look was very popular in the beginning of 2016, but towards the end of this year, glowing, metallic looks on eyelids, lips, and the top of cheekbones started to emerge. Lots of space girls, aliens, and futuristic themed costumes and makeup looks were expected this year. For couples costumes, the Joker and Harley Quinn from Suicide Squad was a popular choice among young people, especially for those into comics.
"I decided to be futuristic because I wanted to be appropriate but cute, and I thought my friend and I looked a lot like the main characters of an old [Disney channel original] movie, 'Zenon: Girl of the 21st Century,'" strings junior Nicole Lickstein said. "They don't sell costumes for our characters, so it did take some time getting all the pieces together, but in the end it was really fun."
A recurring theme this Halloween was the idea of strong, independent women. Eleven from Stranger Things, Olympic vault and floor gold medalist Simone Biles, Beyoncé from her iconic music video "Hold Up", and Rey from Star Wars were all featured this year at Dreyfoos.
"I think a lot of people chose their costumes based off of what they saw was popular [in pop culture]," vocal sophomore Danielle Smith said. "I think a lot of people want to go towards those sorts of costumes because [the characters] make a great impact on everyone else."
About the Writer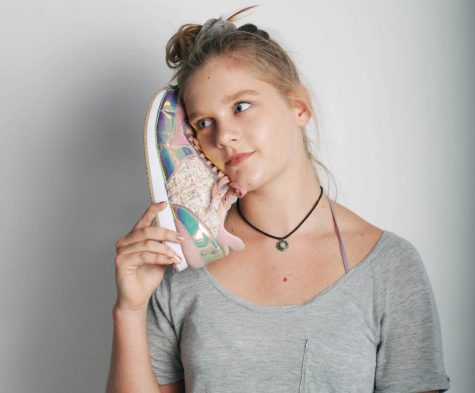 Emily Sweetz, Entertainment Staffer
Dance junior Emily Sweetz is a first-year Entertainment staffer for The Muse. After Sweetz won a writing contest in elementary school, English has been...