Thousands of students file into the red auditorium seats of the Kravis Center for the Performing Arts, welcomed by the sounds of live jazz playing. But when the lights dim, their chatter muffles to an occasional whisper as a booming voice welcomes them to the school's annual Prism concert in the first school-wide in-person viewing since pre-COVID-19.
Last year, the show took place in person at the Kravis Center, but the day-time rehearsal was only accessible to students virtually. This year, however, students and community members from across the county were invited to the seats at the downtown theatre.
"It was more exciting to see people's faces but also just to have people in the audience," vocal sophomore Ella Frost said. "It was like there was more energy, and people were more spirited."
However, this contrast was an adjustment for some music majors, including band sophomore Philip Margolis, who were used to performing their pieces for a lack of a crowd. The rehearsals that took place for 10 hours on Monday, Dec. 5 were for a nearly empty audience.
"This is the first time we did (Prism) with a live audience, so it added the aspect of nervousness," Margolis said. "I couldn't really see into the audience, so it didn't really affect me that much, but I know some people that felt nervous seeing the amount of people during it."
There were over 2100 students from around Palm Beach County in the audience, including those from Bak Middle School of the Arts, The Conservatory School, and Allamanda Elementary school. As Principal Blake Bennett said in her speech to introduce the show, it was a chance for potential Dreyfoos students to get a taste of the "magic."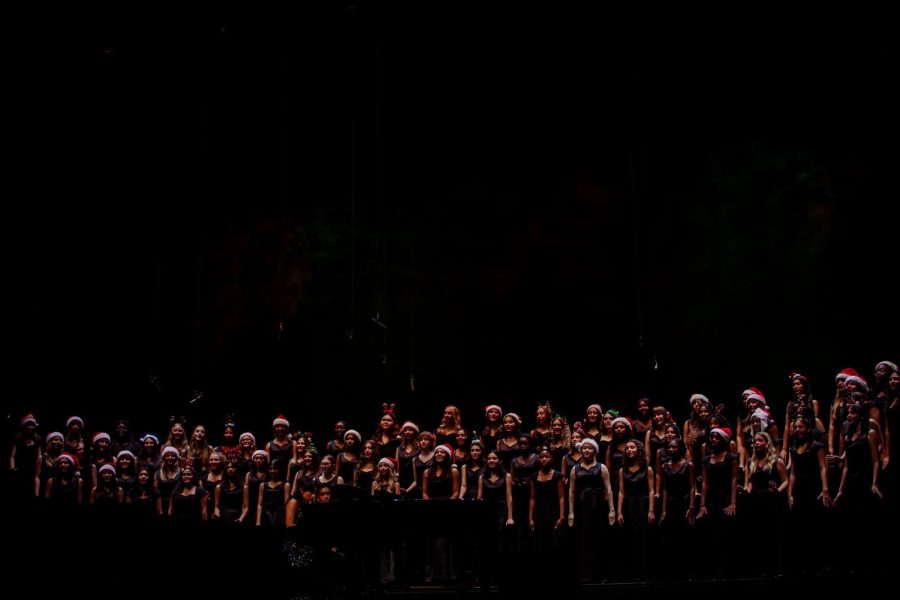 "It definitely felt different being a student because you know the people on stage," communications freshman Lila Goldin said. "A lot of them are your friends, or at least your classmates, so you feel more of a connection to the music."
More than 400 prepared leading up to the performance, such as band sophomore David Aloni who spent his week at extra rehearsals for Prism, both after school and during lunch. 
The week leading up to the school viewing, students began planning, through social media, to wear formal attire to watch the event. Eventually, the idea gained popularity, and SGA sponsored a dress-up day to make it, "Black-Tie Tuesday." While some people were just dressed in jeans or sweatpants, others donned gowns, heels, and suits. 
"I felt like I was going to an opera to be honest," Alonso said. "I felt very fancy, and that made me like (Prism) even more."
By dressing up, students contributed to the spirit of the "biggest" music concert of the school year.
"It was very exciting, especially after having that experience last year," Aloni said during the lunch period after the show. "I kind of knew how it went, but this year, the energy from the students made it so different … It was way more fun and exciting."